Russian Deputy Foreign Minister Sergei Ryabkov on Wednesday said Russia will consider U.S. and NATO vehicles transporting weapons on Ukrainian territory as "legitimate military targets."
Ryabkov made the comments during an interview with the Russian state-owned news agency TASS. Ryabkov also told the outlet that any efforts by Western countries to impede Russia's military will be "harshly suppressed," Reuters reported.
The comments followed reports about the success Ukraine has had using "Switchblade" drones and other security aids sent by the U.S. A White House fact sheet in mid-March detailed that the U.S. would provide Ukraine with millions of rounds of ammunition in addition to air defense systems and more. On Tuesday, Deputy Defense Secretary Kathleen Hicks told reporters that the Pentagon is considering providing Ukraine with even more advanced weapons.
It is unclear what vehicles are used to deliver the supplies from other countries into Ukraine, but The Conversation wrote in mid-March that there are believed to be secret drop-off spots along Ukraine's border in NATO countries for Ukrainian convoys to collect.
Should there ever be a U.S. or NATO transport vehicle within the country, and Russia strikes it, experts fear the result might be retaliation. Such a scenario could then set forth a fear held since the start of the invasion: If Russia saw an accidental conflict as a direct provocation, it could drag other countries into the war.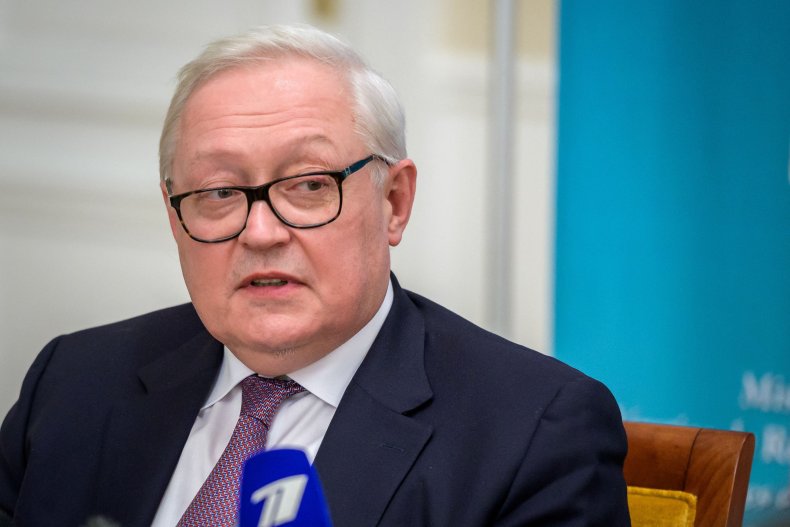 The U.S. has thus far walked a fine line in regards to Ukraine President Volodymyr Zelensky's request for military weapons. The Pentagon resisted offers from Poland to give MiG-29 fighter jets to a U.S. base in order for a transfer to Ukraine. The U.S. has similarly not given in to Zelensky's call for a no-fly zone to be established over part of Ukraine.
As Pentagon spokesman John Kirby told reporters on March 9 about the MiGs, U.S. participation in such a move "may be mistaken as escalatory and could result in significant Russian reaction that might increase the prospects of a military escalation with NATO."
Now, Russia has warned that vehicles carrying armaments meant for security in Ukrainian territory could have crossed the line.
"We are warning that U.S.-NATO vehicles with weapons that move across the Ukrainian territory will be viewed by us as legitimate military targets," Ryabkov told TASS.
He added, "We are making the Americans and other Westerners understand that attempts to slow down our special operation, to inflict maximum damage on Russian contingents and formations of the DPR and LPR [Donetsk and Luhansk People's Republics] will be harshly suppressed."
Thomas E. Graham, a fellow at the Council on Foreign Relations, wrote a report published on March 8 that addressed concerns that Russia may try to broaden its war.
Graham argued that one of the "indicators" that Moscow may be trying to spread the conflict is that it "would undoubtedly argue" that it "had been forced by Western actions." He wrote that this would include the Kremlin preparing the public with "official statements" and a "greater media focus on escalating Western 'aggression.'"
"The Russian military intervention in Ukraine could easily escalate into a larger conflict stretching from the Baltic to the Black Sea and further west into Europe," Graham warned. "Anything short of 'victory' will be decried as surrender or appeasement in the West, while Russia will not capitulate on a matter it considers vital to its security and prosperity."
Newsweek reached out to the White House and the Russian Foreign Ministry for comment.
Update 4/14/22, 3:43 p.m. ET: This story has been updated with additional information.