Twenty-one Senate Republicans flipped their position on sending additional aid to Ukraine, voting Thursday in favor of the $40 billion package and increasing bipartisan support for the measure. But a lone GOP senator from Alabama went the other way.
Senator Tommy Tuberville was among those voting against the massive humanitarian and military aid package, which was approved by a 68-11 vote.
"I'm not against the why, I'm against the how we're doing it," Tuberville told Fox News while speaking about his vote. "I'm all for giving them, you know, money every month for a while. But when you take money like we're doing, $40 billion, and just throwing it out there, how do you keep up with it?"
Party leaders had hoped to pass the bill last week, but Republican Senator Rand Paul single-handedly delayed the vote after raising objections about foreign spending during a time of rising inflation. Paul was joined by 10 other GOP senators in voting no on Thursday.
Tuberville was the only senator who voted "no" after voting for the first round of Ukrainian relief, in March. The other 10 senators, including Paul, have been consistent in voting against providing assistance to Ukraine.
The other nine senators were Marsha Blackburn of Tennessee, John Boozman of Arkansas, Mike Braun of Indiana, Mike Crapo of Idaho, Bill Hagerty of Tennessee, Josh Hawley of Missouri, Mike Lee of Utah, Cynthia Lummis of Wyoming and Roger Marshall of Kansas.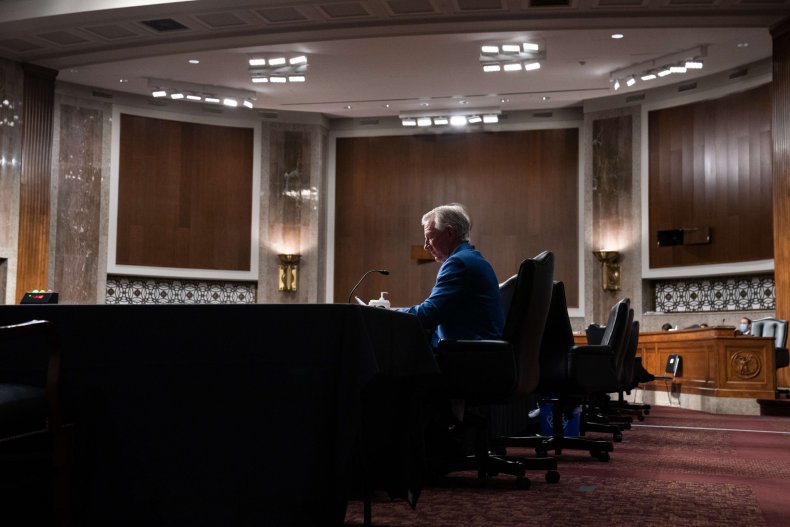 While all the senators who voted against the aid package were Republicans, the pool of Republicans voting against funding Ukrainian relief has dwindled in the past two months.
When the Senate voted on a $1.5 trillion appropriations package—which included $13.6 billion in emergency aid to Ukraine—in March, many more GOP senators voted no, compared with the vote on Thursday. Thirty-one were opposed in March, nearly three times the 11 who were against the most recent bill.
The 21 senators who voted for the $40 billion package on Thursday are:
Richard Burr of North Carolina
Bill Cassidy of Louisiana
Tom Cotton of Arkansas
Kevin Cramer of North Dakota
Ted Cruz of Texas
Steve Daines of Montana
Deb Fischer of Nebraska
John Hoeven of North Dakota
Ron Johnson of Wisconsin
John Kennedy of Louisiana
James Lankford of Oklahoma
Jim Risch of Idaho
Mitt Romney of Utah
Mike Rounds of South Dakota
Marco Rubio of Florida
Ben Sasse of Nebraska
Rick Scott of Florida
Tim Scott of South Carolina
Dan Sullivan of Arkansas
Thom Tillis of North Carolina
Pat Toomey of Pennsylvania
It was expected that there would be wider bipartisan support this time around, given that a number of senators, such as Romney, had previously voiced support for helping Ukraine. But he said he opposed the last bill because of the "last-minute" nature of the measure.
"We have got to end the absurd process of jamming through last-minute, trillion-dollar, thousand-page spending bills without meaningful input from more than a handful of members," Romney said in a statement after the vote.
"Forcing us to swallow the bad to get the good is concerning, unsustainable, and no way to govern over the long-term," the Utah Republican added. "While I strongly support providing Ukrainians desperately needed aid, I ultimately could not support the rest of this bloated spending bill for the aforementioned reasons."
President Joe Biden is expected to quickly sign the measure into law. In a statement responding to the Senate's passage of the bill, Biden applauded Congress and thanked leaders from both parties for "moving this bill quickly to ensure there is funding for these important needs."
The measure will bring total U.S. spending on Ukraine to roughly $54 billion in just over two months.
"We have provided a historic amount of security assistance to Ukraine to date, and my Administration will continue to expedite the delivery of additional weapons and equipment for which Congress has provided authority," Biden said in his statement.
Update 5/19/22, 3:53 p.m. ET: This story was updated with a comment from Senator Tommy Tuberville.