Rand Paul Says U.S. Doesn't Need to Be 'Sugar Daddy' to Ukraine
Senator Rand Paul said Friday the U.S. doesn't need to be a "sugar daddy" for Ukraine while speaking about his move to block quick passage of a new aid package, worth about $40 billion, for the country.
"It's sort of the same argument that President Trump made. Everybody needs to step up, but the NATO allies need to step up and we don't need to be the sugar daddy and the policemen of the world, that we have to do everything," he said. The Kentucky Republican made the comments while speaking on The Clay Travis & Buck Sexton Show.
On Thursday, Paul blocked a fast-tracked vote for the assistance package, objecting that the bill did not include creation of a special inspector general to monitor how the aid will be spent. Democratic Senate Majority Leader Chuck Schumer and Republican Senate Minority Leader Mitch McConnell both offered to allow an amendment vote on Paul's requested change, but Paul said that he wanted the language to be added to the legislation.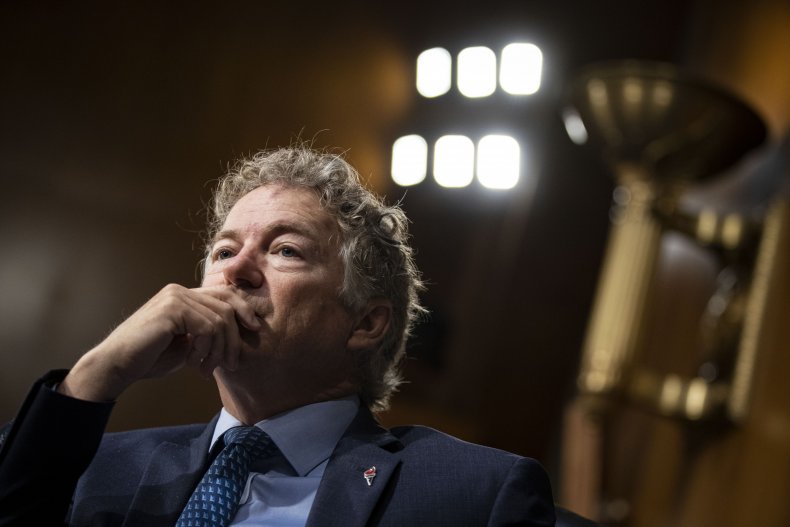 "My oath of office is to the U.S. Constitution, not to any foreign nation. And no matter how sympathetic the cause, my oath of office is to the national security of the United States of America. We cannot save Ukraine by dooming the U.S. economy," Paul tweeted Friday about his decision.
He clarified while speaking on The Clay Travis & Buck Sexton Show that he is "sympathetic" to Ukraine but that his loyalty ultimately lies with the U.S.
"I want Putin to be defeated. I think what he did is an awful aggression," he said. "But my oath of office is to my country. If we bankrupt our country, who's left to help anyone?"
The senator also took aim at both Republicans and Democrats, who he said "are so eager to send our money to a foreign country they don't want to have any sufficient oversight."
The bill is expected to pass sometime next week, but without the unanimous consent in the Senate that was required for the fast-tracked vote, it will have to go through the typical procedural steps, according to The Washington Post.
Paul noted the expected passage in another tweet on Friday but reinforced his desire to have an inspector general appointed to monitor the spending.
"They'll eventually pass the spending without me, as they always do, but at the very least they need to include oversight," he wrote.
In a statement sent to Newsweek, a Paul spokesperson said that the senator "has received outstanding support from Kentuckians who are understandably more concerned with affording gas, groceries, and finding baby formula than they are concerned with sending billions of dollars to another country."
Update 5/16/22, 10:30 a.m. ET: This story was updated with a statement from a Rand Paul spokesperson.