Ukrainian, Finnish, Swedish, and American troops are among those who will be taking part in Estonia's "Siil"—meaning "Hedgehog"—military drill beginning next week, which will bring together more than 15,000 troops from 10 countries as Russian President Vladimir Putin grapples with a resolute Ukraine and expanding NATO.
Tensions between Russia and its Western adversaries spiked again this week with Finland's public commitment to NATO membership. Sweden is expected to follow suit shortly, both nations prompted to shed their historical policy of neutrality by Russia's invasion of Ukraine in February.
Major General Veiko-Vello Palm, the deputy commander of the Estonian Defence Forces, briefed journalists on Friday on the upcoming exercise. Major General Jeffery D. Broadwater, the deputy commanding general of the U.S. V Corps, also spoke with reporters about Hedgehog, and the U.S. Army-led Defender-Europe drill.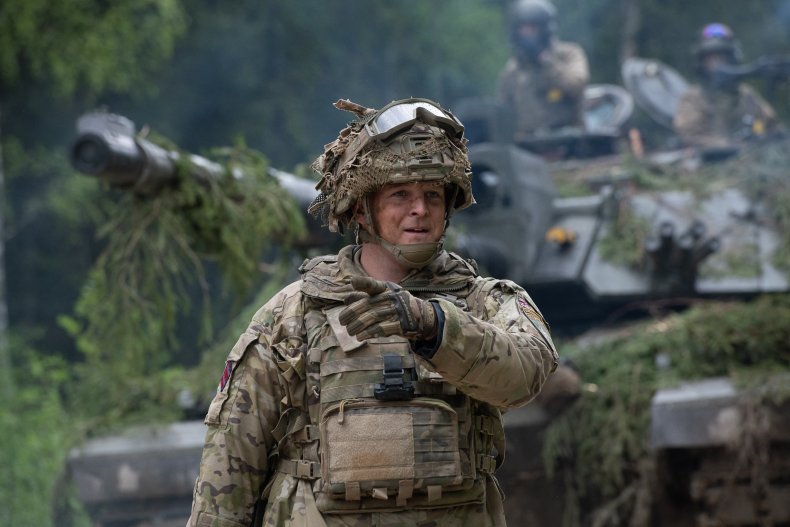 This exercise will take place simultaneously across nine European countries and involve more than 3,400 U.S. and more than 5,000 allied and partnered foreign troops, including Swedes.
The briefing was held on the sidelines of the Lennart Meri Conference in Tallinn, Estonia, an annual event focused on foreign and security policy issues from eastern and northern European perspectives.
Next week's Hedgehog drill will simulate an attack on Estonia—the enemy representing Russia—and analyze the ability of local, NATO, and other international partner forces to respond. Improved interoperability and communication between the multinational allied force, commanders said, are key goals.
Palm confirmed that Hedgehog will include small numbers of Ukrainian and Georgian troops, both non-NATO members and European Union aspirants who in recent years have been victims of Russian aggression.
The ambitions of both countries to join NATO are key Russian grievances, and Ukraine's exclusion from the transatlantic alliance remains one of Moscow's foremost demands for any negotiated peace to end the ongoing war.
"I would like not to go into details, but we are talking about a few people, not tens or hundreds of people," Palm told Newsweek when asked how many Ukrainian and Georgian personnel would participate in the drills.
"Both of those countries have been participating for years, especially during this exercise. Normally they want to participate in Hedgehog, to better understand the NATO approach, NATO decision-making.
"Nothing replaces the real deal. You can read the manual, you need to exercise and practice that. This is a really good experience."
"Even though they are in war, and we are actively in contact with them and helping them...they still have their training programs and they still educate their officers and non-commissioned officers," Palm added of the Ukrainians taking part.
The Hedgehog and Defender drills were planned before Russia's invasion of Ukraine. Palm said Hedgehog remains largely unaffected by the ongoing war, though noted some "nuances" have developed given the international situation.
"We have been planning for this exercise for years. The scale, our aims, the main exercise objectives have been unchanged, they have been the same for more than a year," he said.
"But, of course, there are certain small nuances that have changed, and definitely there are more allies than originally was planned."
Palm was referring to the British-led NATO presence in the country which was expanded in February amid concerns around Russia's military build-up around Ukraine. "So that was definitely unexpected, but very good," Palm said. "Very good problems to deal with."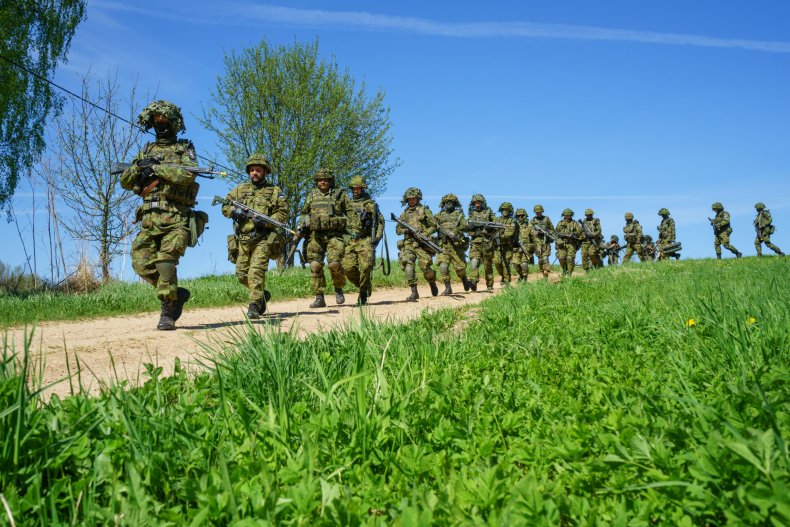 Russian personnel, Palm said, will not be attending the 2022 Hedgehog drill as observers as they have done for past iterations of the war games.
"We have notified the international community of the exercise," Palm said, "but we would not have allowed Russian observers for this exercise."
The Estonian commander noted that Russian troops are based within 40 miles of the exercise location in southern Estonia, across the border to the east. These units, he claimed, have been badly weakened by the fighting in Ukraine.
One, the 76th Guards Air Assault Division based in the Russian city of Pskov, has been particularly badly mauled. "The 76th has been mainly conducting funeral processes for the soldiers that have been killed in Ukraine, which is a very good activity for them."
"This is a fact, the last funeral they had was actually this week," Palm added.
The military exercises come shortly after Russian officials threatened retaliation against Finland for its decision to join NATO, which is expected to be formalized over the coming weeks in the run-up to the NATO summit in Madrid at the end of June.
Kremlin spokesperson Dmitry Peskov said Thursday when asked about Finland's decision: "Russia will be forced to take retaliatory steps, both of a military-technical and other nature, in order to stop the threats to its national security that arise in this regard."
Peskov did not elaborate, but Russian officials have previously threatened to deploy nuclear and hypersonic weapons in the Baltic region if Finland and Sweden joined NATO.
Russia has long framed its aggression against Ukraine as a necessary response to NATO encroachment, which Moscow says is a plan to contain and smother Russia. Putin and his top officials have expanded on this justification as Western nations have rallied to help Ukraine defend its territory.
This week, former president and current deputy chairman of Russia's security council Dmitry Medvedev said Western support for Kyiv risks nuclear escalation.
"NATO countries pumping weapons into Ukraine, training troops to use Western equipment, sending in mercenaries and the exercises of Alliance countries near our borders increase the likelihood of a direct and open conflict between NATO and Russia," Medvedev said in a post on his Telegram channel.
"Such a conflict always has the risk of turning into a full-fledged nuclear war," he added. "This will be a disastrous scenario for everyone."
Newsweek has contacted the Russian Foreign Ministry to request comment.