Ukraine Deputy PM Warns of 'Endless War' With Russia, Lays Out EU Demands
Ukraine's "unconditional victory" against Russia must be paired with the European Union's acceptance of it as a new member of the bloc, said Olga Stefanishyna, Ukraine's deputy prime minister for European and Euro-Atlantic Integration.
In an interview with Newsweek, Stefanishyna said that long-term containment of the threat posed by President Vladimir Putin's Russia will depend on a symbiosis between Kyiv and Brussels, which can be accelerated by declaring Ukraine an EU "candidate country" regardless of misgivings among some union members.
"It's absolutely clear, and it is confirmed by us and by EU leaders, that no future of Europe is possible without Ukraine," Stefanishyna said. "And no future of Ukraine is possible without Europe."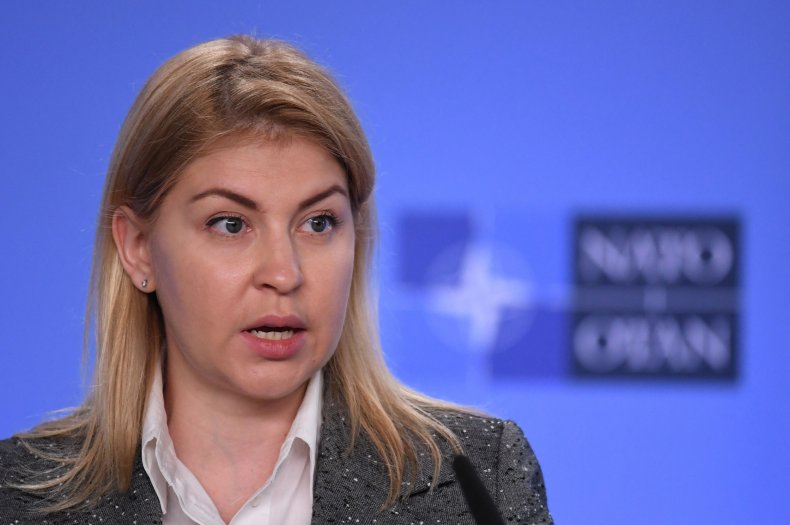 EU membership, Stefanishyna said, is part of the "unconditional victory" that Ukraine now believes is possible. Ukraine's victory, she added, would represent "the unconditional victory of democracy, and the unconditional victory of these values."
"There is a large consensus, not only among EU leaders but across transatlantic [partners] including the U.S., Canada, and generally the G7 group, that if this war does not end with the unconditional victory of Ukraine...any other scenario is unacceptable," she said.
"Because this will be an endless war, an exhausting war for Ukraine and for European countries which would cause a lot of global crises—like food crises, like energy crises—and which basically would be an answer to Putin that he's been acting effectively and that he can now target any other capital."
Stefanishyna said in Putin's Victory Day address in Moscow "he wasn't talking about the war with Ukraine. He already declared that this was a war against NATO."
Western intelligence initially predicted that Kyiv would fall in 96 hours. Few expected Ukraine's resistance to last a week, let alone more than 10. Ukraine's war goals have shifted, with the backing of Kyiv's Western partners. The war is no longer about survival; Kyiv wants to take back all the land it lost to Russia since 2014.
"Territorial integrity and sovereignty of Ukraine," Stefanishyna said, "is the baseline for any other discussions." When asked whether this included annexed Crimea and occupied Donbas, she replied: "Yes, of course."
"We have shown the whole world that Russia...is not what it represents itself as. We now see the capabilities of the Russian army, we see the capabilities of the Russian leadership," she said.
"It's just the same as domestic violence. We do not have to look like victims and Russians should not look like an abuser. We should be like police officers who are punishing the abuser."
Acting Fast
Ukraine's EU application is one of the seismic events unleashed by Russia's latest invasion.
With Ukrainian and Russian forces now locked in the battle for the Donbas, leaders in Kyiv are trying to lay the foundations for a future Ukraine, embedded in the European family and too strong for Putin to attack again.
The European Commission is currently considering Ukraine's EU application, and is expected to deliver its verdict by the end of June. Ukrainian officials are confident that Kyiv will get the backing of the Commission, even if doubts remain among member states who are represented in the European Council.
President Volodymyr Zelensky's appeals for fast-tracked membership have been rebuffed by Europe's top decision-makers. Ukraine will have to go through the same complex and potentially drawn-out process as other would-be members.
French President Emmanuel Macron said this week that Ukraine could take decades to join the union. Officials in Kyiv are far more ambitious, and see the Commission's coming ruling as a springboard for what they hope will be a relatively rapid journey to full membership.
"We're not skipping any of the stages that are part of this process, we're just acting fast," Stefanishyna said.
"Membership is a gradual process. Now, to make a decision on Ukraine becoming a candidate, nothing is needed except the political will of the leaders, which I think is essential now to ensure the commitment to the territorial integrity and sovereignty of Ukraine, and the commitment to rebuilding and restoring our country based on European values after the war is over."
EU membership would also unlock valuable political and economic support that would help reconstruction, the tab for which could run into the trillions.
"Getting the status of the candidate will allow us to ensure the accountability and traceability of these resources targeted to rebuilding Ukraine, and it will allow member states to take a specific part in this restoration," Stefanishyna said.
The ambition is backed by the vast majority of Ukrainians. Already high, support for joining the EU rose significantly after Russia's invasion. One Rating poll published in April found a record 91 percent support among Ukrainians for joining the bloc.
Aspiring to full EU membership remains enshrined in Ukraine's constitution, and there is very little appetite for removing it.
For all its recent turmoil, support for EU membership has been "continuous throughout different political cycles in Ukraine," Stefanishyna said.
"Presidents, parliaments, and governments changed, but all of these institutions were committed to European integration and Euro-Atlantic integration, which has allowed us to implement a lot of reforms.
"The significant background of reforms and the support of Ukrainian people enforce the process of application on our side."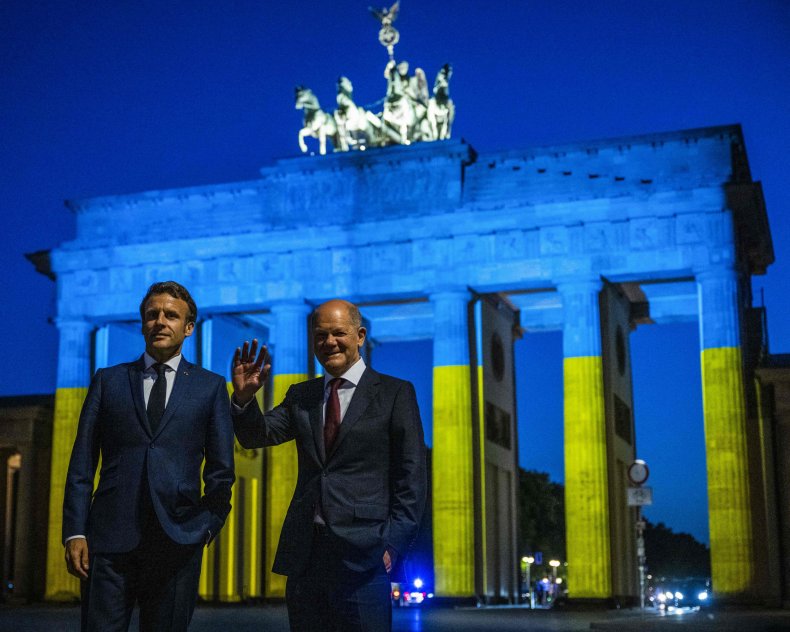 Acting Slow
Now the decision lies with Ukraine's EU partners, who would have to agree unanimously to admit any new member states. Kyiv has enthusiastic support from eastern member states, though others—particularly Germany, France, and Austria—have appeared more hesitant.
German Foreign Minister Annalena Baerbock said during her visit to Kyiv this week: "Ukraine is an integral part of Europe, I wish that we will find a strong and convincing answer to your desire to join—even if there can be no shortcut on the way to full EU membership.
"When we talk about the candidate status, I am confident that the president of the Commission ... will find a good way that we can pave the way for the internal deepening of the EU."
Baerbock added: "Ukraine belongs to the European Union."
Stefanishyna said Baerbock's remarks were welcome, given that Germany had until then been "one of the most ambiguous countries" on Ukraine's full membership prospects. "We're working with all of the capitals," Stefanishyna said.
This work is perhaps easier in nations like Poland, Slovakia, Czechia, Estonia, Lithuania, and Latvia, all of whom have "the sense of the historical suffering we all faced in Soviet times," Stefanishyna said. "But many other countries have questions to discuss and we are working as the government with all of these capitals."
The Commission's verdict in June could sway those who are unsure, Stefanishyna said: "Some of the capitals are very much relying on the conclusion of the European Commission which will be soon released."
The question of Ukrainian membership will have knock-on effects for other aspirants. There are five other current candidate countries—Albania, the Republic of North Macedonia, Montenegro, Serbia and Turkey—with two more—Kosovo and Bosnia and Herzegovina—who have long been hoping to join the list.
Moldova and Georgia—two more targets of recent Russian aggression—also submitted applications shortly after Ukraine.
"In some capitals—like in Germany, like in France, like in the Netherlands—we are very much targeting our efforts to bring the message that the decision over Ukraine is much more than just a decision on enlargement related to one country," Stefanishyna said.
"Enlargement is another element of isolation for Russia, which is essential at this stage, and which is essential to avoid such an autocracy arising around any other country in Europe."
Macron's vague proposal of a new enlargement process is intriguing, but as yet unclear. His "new European political community" could bring benefits to those nations stuck in limbo between the EU and Russia, but might also relegate applicants to second-tier membership with no promise of full accession.
"We still have very little clarity as regards this proposal," Stefanishyna said of Macron's plan, which was received poorly among senior Ukrainian politicians.
"We should avoid anything which would postpone the kind of the decisions which should be taken," she added, referring to Ukraine's desired candidate status.
"We have already tested and utilized all other formats of cooperation, not related to memberships. So any other option which will be suggested at this stage, will not be comfortable for Ukraine.
"We understand that the way to go is membership and it is needed politically to those leaders of the EU the same as for Ukraine...There's clarity that Ukraine will become a member of the EU and we'll do our best to make sure that any decision which will be taken in June will not postpone this process."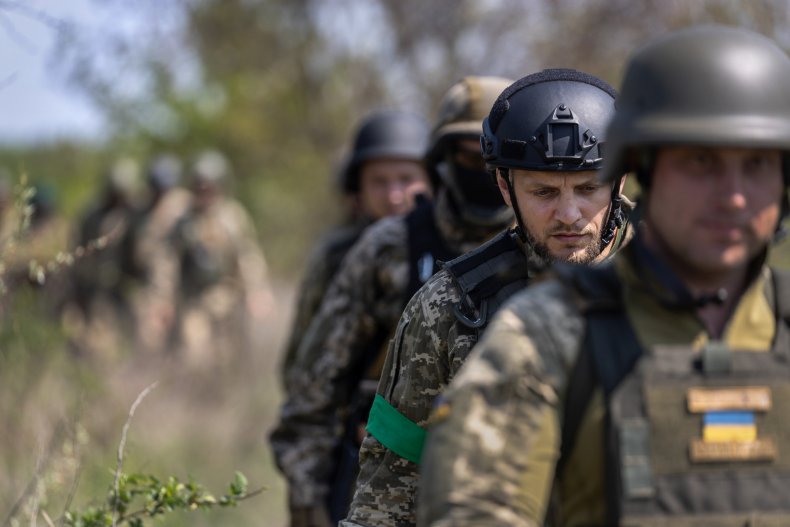 Sanctions Fatigue
The individual and collective response of EU states to Russia's invasion has been unprecedented, but slow. EU ambassadors are still debating the sixth package of sanctions, which will include action on Russian oil imports long demanded by Kyiv.
"The good thing is that there is action," Stefanishyna said when asked if the bloc's slow pace is a source of frustration.
"The war has accelerated, to some extent, some of the issues which have very long been on our bilateral agenda with member states and also with the EU...this war has made us a real family."
The EU family is no stranger to squabbles. Hungary is threatening to veto the latest sanctions package, arguing that an embargo on Russian oil would devastate its economy.
Germany has also been accused of dragging its feet on reducing its dependence on Russian energy, long a grievance of the more Russo-skeptic EU nations on the bloc's eastern flank.
"I think that what the EU and EU leaders have learned over these 76 days of war is that in some areas and sometimes, the EU should act fast," Stefanishyna said.
"None of the EU member states want to sponsor terrorism or finance the gas and oil resources which are targeted to the war in Ukraine. And making this decision fast and effectively is something which is needed.
"I think that this is part of the reforms and part of the agenda which should be at the top of the EU; how to make decisions fast and effectively, to stop the aggression or any other further aggression.
"This war has allowed us to have the privilege of clarity of thinking, and the boldness of decisions which need to be taken because we are fighting the war. Unfortunately, it takes time for leaders to hear us and to make these decisions."
Stefanishyna said she is not concerned about "sanctions fatigue," despite the divisions over fossil fuel embargoes.
"I can confirm that the EU is very far away from reaching any limit in terms of restrictions, especially when it comes to the personal sanctions," she said.
In fact, the deputy prime minister suggested that the Russian energy issue causing so much conflict within the bloc could prove revitalizing.
"These sanctions are really helpful to the EU, because this is about the solidarity they are now building among member states where each member state supports those who will be the most vulnerable or affected," she said.
"I'm sure that after the sanctions are imposed and enforced, they will begin a new chapter for the energy market in the EU."
Newsweek has contacted the Russian Foreign Ministry to request comment.