How Joe Biden's $33bn Ukraine War Plan Compares to NATO Defense Budgets
President Joe Biden has asked Congress to approve immediately his proposed $33 billion package for Ukraine, which includes $20 billion for the country's armed forces defending against renewed Russian offensives in the eastern Donbas region.
The defense money in Biden's latest proposed aid package dwarfs Ukraine's own military coffers, and is more than three times larger than the country's 2021 military expenditure of almost $6 billion, per data from SIPRI—the Stockholm International Peace Research Institute—which tracks arms spending worldwide.
A $13.6 billion aid package approved in March had already given $6.5 billion to the Pentagon to allow it to deploy more troops to eastern Europe and provide weapons to Ukraine.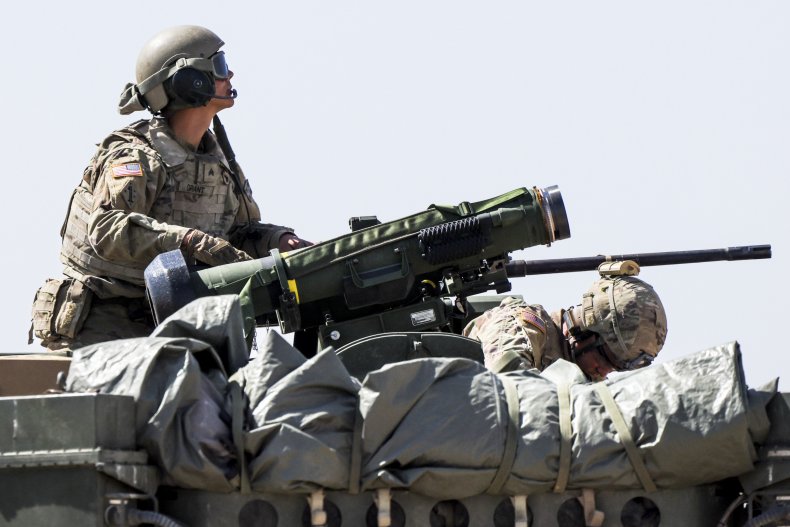 Taken together, the military aid from the two major funding packages would total $26.5 billion—more than four times the value of Ukraine's recent annual defense spending. Combined with Kyiv's own expenditure, the aid brings the value of Ukraine's military capabilities to some $32.5 billion.
The U.S. aid alone would put Ukraine 14th in the world in terms of annual military expenditure—more than nations such as Israel ($24.3 billion) and Iran ($24.6 billion), according to SIPRI data.
It would also swell the value of Ukraine's military capability beyond the annual military budgets of NATO nations such as Canada ($26.4 billion), Spain ($19.5 billion), Turkey ($15.5 billion), and Poland ($13.7 billion), among others.
Adding Ukraine's own military budget would put the country 11th in the global military spending table—above NATO nations such as Italy ($32 billion) and alliance partners such as Australia ($31.8 billion)—behind South Korea ($50.2 billion) in 10th position.
Other top NATO spenders include the U.K. ($68.4 billion), France ($56.6 billion), and Germany ($56 billion).
Russia spent some $65.9 billion on its forces in 2021, which comprise one of the largest militaries in the world. The U.S. spends by far the most of any country in the world on its military at $800.6 billion.
The Ukrainian and Russian militaries are now engaged in the pivotal battle for Donbas.
Having been defeated in the Battle of Kyiv, the invading Russian troops need a victory to seize back the momentum and give Moscow more leverage in the stalled peace talks.
Ukraine's armed forces have already defied pre-war expectations. Russia's "thunder run" attempt to seize Kyiv failed, the motivated and well-trained defenders inflicting severe losses on the enemy and forcing them to retreat from the north of the country.
Officials in Ukraine and their Western backers are openly talking about a Ukrainian victory. If the Ukrainians can defeat the Russian push in Donbas, this victory would be closer than ever.
Ukrainian leaders and their advocates in the West have been urging the U.S. and its fellow NATO nations to expand military support for Kyiv. Officials have consistently warned that their forces do not have enough heavy weapons like tanks, armored vehicles, and long-range artillery.
Kyiv has also repeatedly asked for help to close the sky to Russian jets and missiles, which continue to inflict serious damage on defending troops, civilian areas, and key infrastructure.
Andriy Yermak, the head of President Volodymyr Zelensky's office, said on Twitter that Biden's proposed package "is an important contribution to [Ukraine's] freedom and the future of democracy."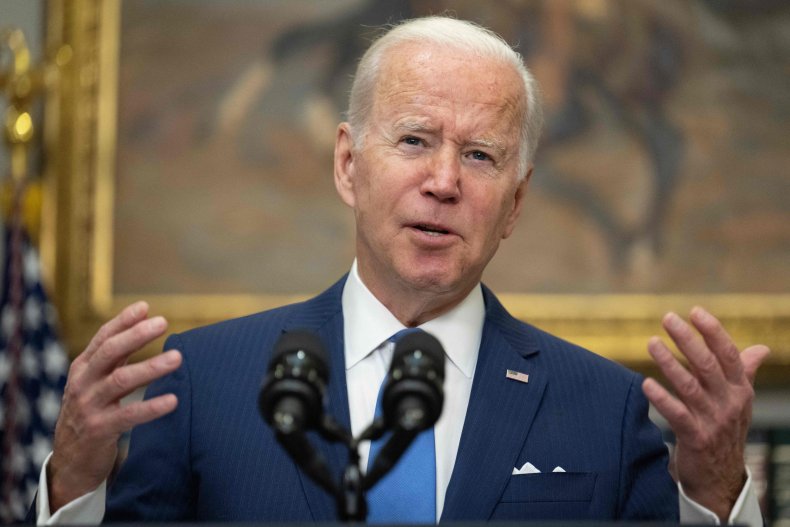 Biden's proposed package will also contain $8.5 billion in economic assistance, $3 billion to support humanitarian relief, and money to expand American production of crops and strategic minerals to make up for the war's impact on Ukrainian exports.
The military portion of the package includes $6 billion for the Ukraine Security Assistance Initiative and $4 billion for the State Department's Foreign Military Financing Program. The funds will mean more artillery, armored vehicles, anti-armor weapons, and anti-aircraft capabilities for Ukrainian troops, the White House said.
Biden said the cost of the package was "a small price to pay to punish Russia and aggression, to lessen the risk of future conflicts."
"The cost of this fight, it's not cheap, but caving to aggression is going to be more costly if we allow it to happen," the president said. "We either back the Ukrainian people as they defend their country or we stand by as the Russians continue their atrocities and aggression in Ukraine."
Biden said the White House has already used up the $13.6 billion in aid approved by Congress in March.
"Basically, we're out of money. And so that's why today, in order to sustain Ukraine as it continues to fight, I'm sending Congress a supplemental budget request," the president said.
"It's going to keep weapons and ammunition flowing without interruption to the brave Ukrainian fighters and continue delivering economic and humanitarian assistance to the Ukrainian people."
Kremlin spokesperson Dmitry Peskov condemned the proposed assistance. "The tendency to pump weapons, including heavy weapons, into Ukraine, these are the actions that threaten the security of the continent, provoke instability," Peskov said.
Biden dismissed such concerns on Thursday. "Despite the disturbing rhetoric coming out of the Kremlin, the facts are plain for everybody to see," he said. "We're not attacking Russia. We're helping Ukraine defend itself against Russian aggression."