A NATO official warned Friday that it could be years before the Ukraine war comes to an end.
Speaking to the BBC on day 64 of Russian President Vladimir Putin's war against Ukraine, NATO Deputy Secretary-General Mircea Geoană said officials must prepare for the possibility that the conflict could last months, and even years.
"It's clear that the next few days and weeks could prove decisive, but the war would probably take longer," said Geoană. "Could be weeks, could be months, could be even years—it depends on a lot of factors."
Geoană said he anticipates however that the war Putin began on February 24 will eventually be won by Ukraine.
"But, in the end, probably this will be fought and won, hopefully, by Ukraine on the battlefield," he said.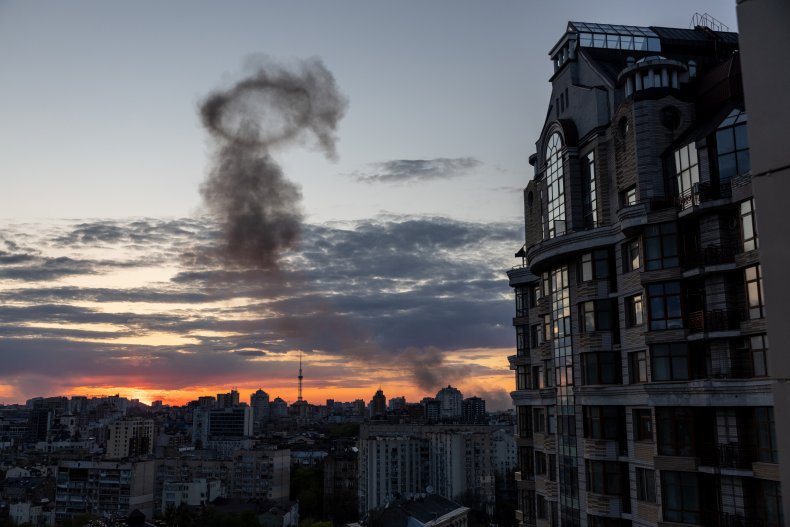 His remarks come amid stalled peace negotiations between Russia and Ukraine, as Ukrainian President Volodymyr Zelensky has accused Russian forces of deliberately targeting civilians across the country, and days after Putin declared that his offensive in the country had moved to a new phase—focusing on Ukraine's east.
Tensions between the two countries soared Thursday as Russia launched missile strikes on Ukraine's capital. Ukrainian forces said Russia hit Kyiv with missiles as United Nations Secretary-General António Guterres visited to meet with President Volodymyr Zelensky.
The capital's Shevchenkivsky district was struck by two missiles, the Kyiv Independent reported.
Rescue officials said nearly a dozen people were wounded in the attack that came two weeks after the Kremlin said it would withdraw troops from the Kyiv area. Kyiv mayor Vitali Klitschko said three people were hospitalized.
"Russia [struck] Kyiv with cruise missiles right when [Guterres] and Bulgarian PM [Kiril Petkov] visit our capital," Ukrainian Foreign Minister Dmytro Kuleba tweeted, calling the attack a "heinous act of barbarism."
Zelensky said the missile strikes took place "immediately after" he held talks with Guterres.
"This says a lot about Russia's true attitude to global institutions, about the efforts of the Russian leadership to humiliate the UN and everything that the organisation represents," the leader said. "Therefore, it requires a strong response."
"We cannot think that the war is over. We still have to fight. We still have to drive the occupiers out," he added.
Remarks from Zelensky in recent weeks suggest that he will be unlikely back down to Moscow's ambitions to take full control of the Donbas in Ukraine's east. The Ukrainian president asserted on April 10 that he will not be willing to give up any part of Ukraine for peace.
More recently, Zelensky said he would walk away from the negotiating table should Putin push for potential independence referendums in the eastern territories currently controlled by Russian military forces.
"If our people in Mariupol are killed, if pseudo-referendums are announced in the new pseudo-republics, Ukraine will withdraw from any negotiation process," Zelensky said, according to The Kyiv Independent.
An intelligence update from the British defense ministry Friday notes that the "Battle of Donbas remains Russia's main strategic focus."
Newsweek has contacted Russia's Ministry of Foreign Affairs for comment.