Putin Won't End War Until He Ousts Zelensky, Former Kremlin Official Says
A former Kremlin official recently said that Russian President Vladimir Putin won't end the war with Ukraine until President Volodymyr Zelensky is ousted from power.
During an interview with the Conflict Zone on Germany's DW News, Russia's former Deputy Foreign Minister Andrei Fedorov said that Putin "will not stand back."
"He will continue until he reaches the goal," Fedorov said, noting that he has known Putin for many years. "And the goal is to change, frankly speaking, change the regime in Ukraine."
The comments by Fedorov come as the war continues to rage between Russia and Ukraine after Putin invaded the neighboring nation in February.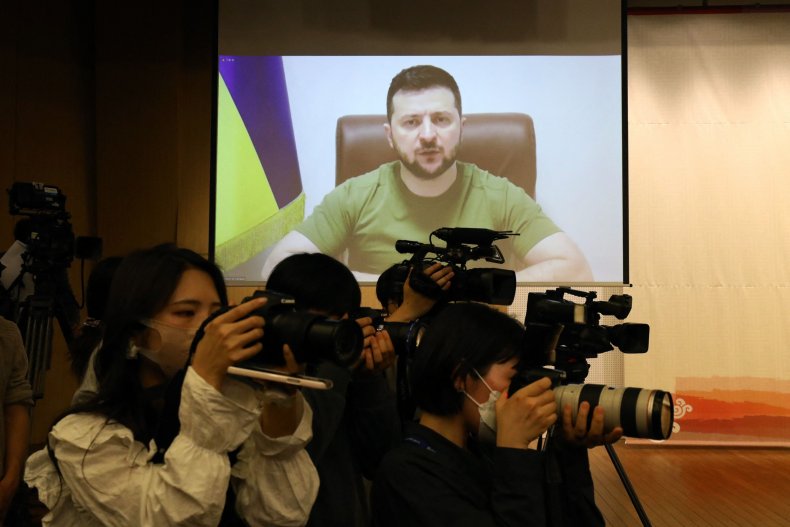 During a press conference on Tuesday, Putin spoke about peace talks with Ukraine but said that "Such inconsistency on fundamental issues creates certain difficulties in reaching final agreements acceptable to everyone on the negotiation track."
Putin continued, "And until this happens, the military operation will continue until it is fully completed and the tasks that were set at the beginning of this operation are solved."
Putin also said on Tuesday that Russia's military operation in Ukraine is helping to save people, as well as "simply taking measures to ensure the security of Russia itself."
During the interview with the Conflict Zone, Fedorov made similar comments, saying that the "feeling" within the Kremlin is that "the victory is near." Fedorov went on to say that the feeling within the Kremlin is that victory will be reached "in the coming days, or maybe the coming weeks."
"This will turn Ukraine leadership on their knees and they will agree on any document to sign," Fedorov said.
In February, Putin called on Ukrainian citizens to "take power into your own hands," Politico reported.
On the other hand, Zelensky has said that he does not plan to stand down to Russian forces amid the ongoing invasion. In February, Zelensky posted a video of himself in Ukraine's capital of Kyiv and said "Let's get things straight. We are here, we are not laying down any arms, we are going to defend our nation."
As fighting has continued between the two nations, the U.S. and NATO nations have continued to criticize Russia and Putin, while also imposing sanctions on the country's economy. The U.S. and other NATO nations have also supplied Ukraine with military supplies, which has recently prompted backlash from Russia.
On Wednesday, Russia's Deputy Foreign Minister Sergei Ryabkov said that vehicles sent by the U.S. and other NATO delivering military supplies will be seen as "legitimate military targets."
Newsweek reached out to the ministry of foreign affairs in Russia and Ukraine for comment.