The Biden administration has authorized another round of assistance to Ukraine totaling $800 million amid the ongoing conflict with Russia, the White House announced Wednesday.
President Joe Biden said in a statement that the aid will take the form of weapons, ammunition and other security assistance for Ukraine.
"The Ukrainian military has used the weapons we are providing to devastating effect. As Russia prepares to intensify its attack in the Donbas region, the United States will continue to provide Ukraine with the capabilities to defend itself," the statement read. The U.S. authorized an earlier $800 million security aid package for Ukraine on March 16.
While the U.S. has so far avoided direct military involvement in the Russia-Ukraine War, the government has repeatedly condemned Russia's invasion and attempted to provide assistance through economic sanctions, supplies and other means. Biden has also used stronger rhetoric than some other world leaders when referring to Russian President Vladimir Putin and his operation in Ukraine.
Biden called Russia's actions in Ukraine a "genocide" for the first time on Tuesday, a move that French President Emmanuel Macron refused to follow.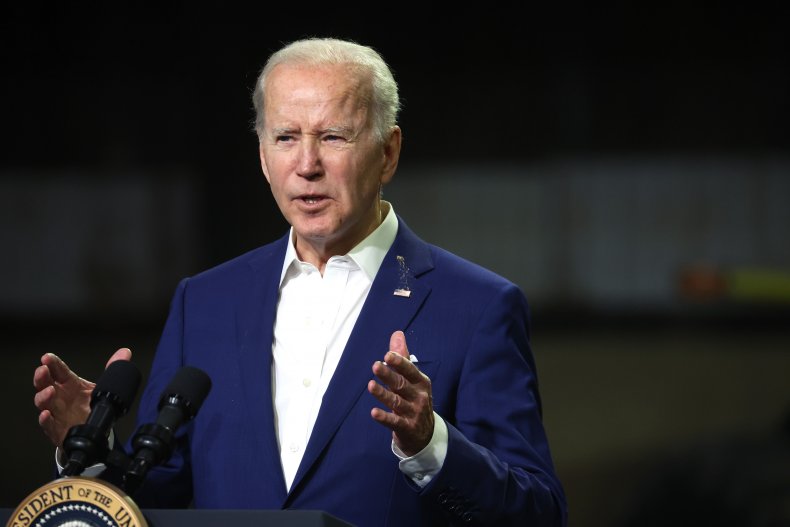 The earlier $800 million package for Ukraine included anti-aircraft systems, firearms, ammunition, body armor and helmets, according to a White House fact sheet.
The White House did not immediately provide a full breakdown on the numbers and types of items that would be included in the new package, but Biden said that it will contain "many of the highly effective weapons systems we have already provided and new capabilities tailored to the wider assault we expect Russia to launch in eastern Ukraine."
The new capabilities will include artillery systems, artillery rounds and armored personnel carriers.
Biden said that he informed Ukrainian President Volodymyr Zelensky of the assistance during a call and that the "steady supply" of weapons to Ukraine by the U.S. and allies "has been critical in sustaining its fight against the Russian invasion."
"It has helped ensure that Putin failed in his initial war aims to conquer and control Ukraine. We cannot rest now," the White House statement read. "As I assured President Zelensky, the American people will continue to stand with the brave Ukrainian people in their fight for freedom."
Reuters correspondent Idrees Ali, who cited the Pentagon, said in a tweet that the weapons package includes 11 Mi-17 helicopters, 18 155mm Howitzers, counter-artillery radars and 200 armored personnel carriers. Reporter Chris Cavas, who also cited the Pentagon, shared what looked to be a comprehensive list of the U.S. aid package items. The list included 30,000 sets of body armor and helmets and medical equipment, as well as chemical, biological, radiological and nuclear protective equipment.
Zelensky, who called for additional weapon supplies in a video message earlier on Wednesday, tweeted that he had spoken with Biden and discussed the "additional package of defensive and possible macro-financial aid."
Newsweek reached out to Ukraine's Foreign Ministry for comment.
Update 4/13/22, 3:50 p.m. ET: This story was updated with additional information and background.