Emmanuel Macron Refuses to Join Biden in Calling Russia Actions 'Genocide'
French President Emmanuel Macron has urged caution over denouncing the Russian invasion of its neighbor as a "genocide" against Ukrainians, refusing to join U.S. President Joe Biden in his accusation.
"I called it genocide", Biden said on Tuesday, adding that it has "become clearer and clearer that Putin is just trying to wipe out the idea of even being able to be Ukrainian."
"More evidence is coming out of the horrible things that the Russians have done in Ukraine," Biden told journalists after a domestic policy event in Iowa. "And we're going to only learn more and more about the devastation. We'll let the lawyers decide internationally whether or not it qualifies, but it sure seems that way to me."
He had earlier said in his speech: "Your family budget, your ability to fill up your tank—none of it should hinge on whether a dictator declares war and commits genocide a half a world away."
Russia has rejected accusations of committing atrocities since its forces invaded Ukraine.
Biden's comments were praised by Ukraine's President Volodymyr Zelensky, who said these were "true words of a true leader."
"Calling things by their names is essential to stand up to evil," Zelensky wrote on Twitter. But Macron does not share the same opinion.
Speaking to France 2 on Wednesday, Macron said an escalation of words against Moscow will not help end the war, and leaders should be careful with the language they use when talking about the unfolding war.
"I would say that Russia unilaterally unleashed the most brutal war, that it is now established that war crimes were committed by the Russian army and that it is now necessary to find those responsible and make them face justice," Macron said.
"I am prudent with terms today," Macron said, as quoted by AP.
"Genocide has a meaning. The Ukrainian people and Russian people are brotherly people.
"It's madness what's happening, it's incredibly brutal. But at the same time I look at the facts and I want to try as much as possible to continue to be able to stop this war and to rebuild peace. I'm not sure that verbal escalations serve this cause."
Macron has spoken with Putin several times since the invasion in his effort to keep lines of communication open.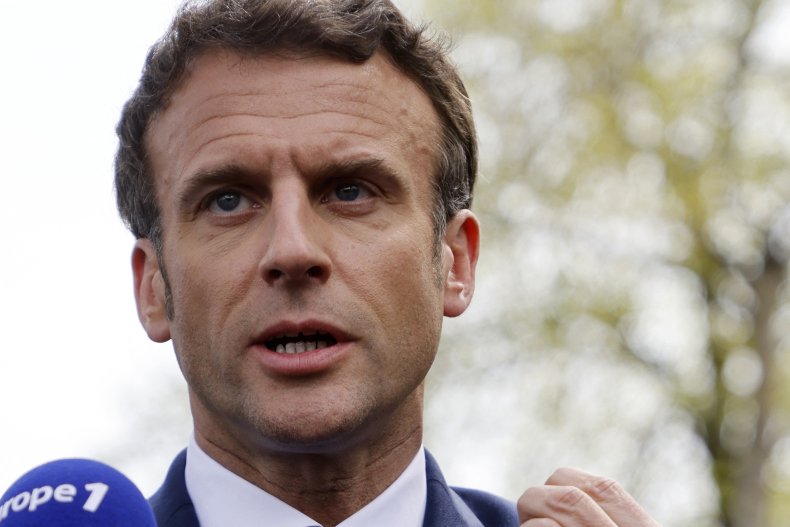 In a tweet published on Wednesday morning, Ukraine member of parliament Inna Sovsun replied to Macron's comment referring to Ukrainians and Russians as "brotherly people," asking not to "call #Ukrainians and #russians brothers.
"We want nothing to do with them. If we could live on different planets, that would have been great. So, don't, s'il vous plaît."
In his interview with France 2, Macron said he will be engaged in calls with Putin and Zelensky in the coming days.
Macron is currently busy ramping up his campaign efforts for the upcoming runoff that will see French voters decide to either re-elect the current president or choose a far-right candidate, Marine Le Pen, as leader of the country, for the first time in the history of France's Fifth Republic.
UPDATE 04/13/22 at 10:02 a.m. EDT: This article was updated to add more Macron quotes and reaction.
UPDATE 04/13/22 at 11:24 a.m. EDT: This article was updated to add more Macron quotes and reaction.