'Genocide': Biden Uses the Word for First Time to Describe War in Ukraine
President Joe Biden appeared to call Russia's invasion of Ukraine a "genocide," for the first time labeling the increasingly bloody conflict as a grave crime against humanity.
Biden made the comment Tuesday in Iowa while announcing new initiatives to lower the cost of energy, which has skyrocketed following Russia's attack against Ukraine. The president, who has previously walked back remarks on Russia, now joins others who have said Russia's aggression amounts to genocide.
"Your family budget, your ability to fill up your tank—none of it should hinge on whether a dictator declares war and commits genocide a half a world away," Biden said at an event in Menlo, Iowa.
During his speech, Biden touted actions his administration is taking to tame record inflation and gas prices. Federal figures released earlier Tuesday showed the year-over-year consumer inflation rate for March soared 8.5 percent. The average price for a gallon gas is currently at $4.10, an increase of 43 percent from a year ago, according to AAA.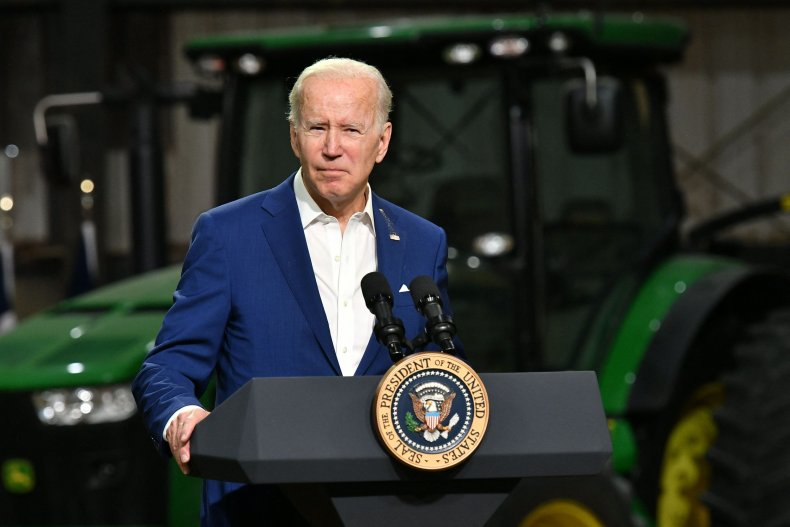 Biden said he was addressing the "Putin price hike," a reference to Russian President Vladimir Putin. He said he was authorizing the release of 1 million barrels per day for the next six months from the Strategic Petroleum Reserve in an attempt to bring down the price of gas.
"This is by far the largest release of our national reserves in history," he said. "It's a wartime bridge to increase oil supply as we work with U.S. oil producers to ramp up production this year."
Biden also said the U.S. Environmental Protection Agency is preparing to issue an emergency waiver to allow more ethanol to be used in gas products in an effort to boost fuel supplies.
Speaking to reporters as he prepared to depart Iowa later that day, Biden reiterated his assertion that Russia is committing genocide in Ukraine.
"It has become clearer and clearer that Putin is just trying to wipe out the idea of even being—being able to be Ukrainian," Biden said, citing what he called mounting evidence of atrocities.
He added, "We'll let the lawyers decide internationally whether or not it qualifies, but it sure seems that way to me."
The notoriously gaffe-prone Biden last month walked back a comment that Putin "cannot remain in power," which seemed to call for regime change in Russia. The White House followed up with a statement saying that Biden's point was that Putin "cannot be allowed to exercise power over his neighbors or the region."
Biden later told reporters that his words were an expression of his "moral outrage" at the invasion, adding that he considered Putin a "war criminal."
U.S. and other officials have accused Russia of committing war crimes in Ukraine after reports have emerged that Russia has deliberately targeted civilians.
By calling Putin's actions "genocide," Biden is accusing the Russian leader of a serious crime under international law. The term was developed to describe Nazi Germany's attempt to exterminate Jewish people during the Holocaust. It has since been used by the United Nations to describe attempts to "destroy, in whole or in part, a national, ethnical, racial or religious group."
Eugene Finkel, a Holocaust expert, told Newsweek earlier this month that "I am actually a firm believer that we are dealing with a genocide."
Vitali Klitschko, mayor of Ukraine's capital city Kyiv, has also accused Putin of "genocide" after numerous bodies of civilians were discovered in the city of Bucha after the withdrawal of Russian troops.
Update 4/13/22, 6:20 p.m. ET: This story has been updated with additional information and background.