Volodymyr Zelensky Outlines Ukraine Victory Against Russian Invasion
Ukrainian President Volodymyr Zelensky has outlined what a victory for Kyiv would look like following Russia's invasion.
"Victory. First of all, our people would definitely feel victory," Zelensky said via an interpreter in an interview broadcast Sunday on CBS' 60 Minutes with correspondent Scott Pelley, who traveled to Kyiv to meet face-to-face with the leader.
A victory for Ukraine would also see the return of Ukrainians who fled the country after Russian President Vladimir Putin launched his invasion of the country on February 24, said Zelensky.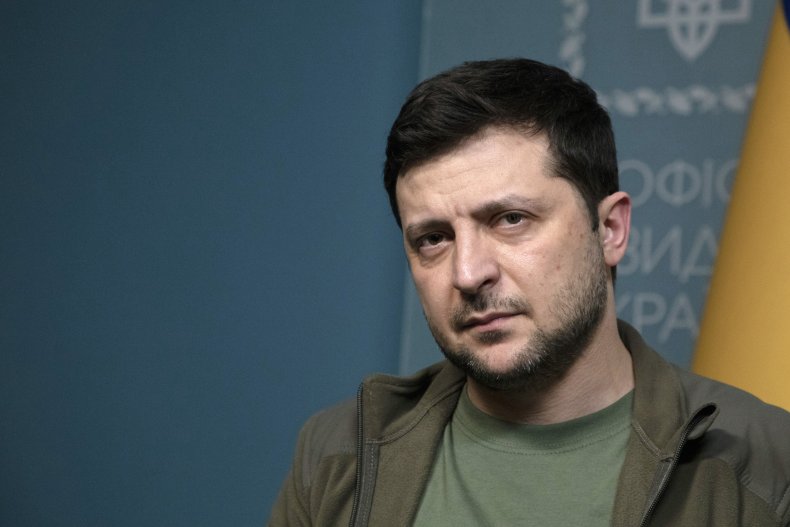 "They [Ukrainians] will come back," he told Pelley. "The return of refugees is blood for the body of Ukraine. Without them, there's nothing."
The UN Refugee Agency (UNHCR) said Sunday that more than 4.5 million people have fled Ukraine since Russia launched its war against the country more than one month ago. Roughly 2.6 million of those fled to Poland, more than 686,000 to Romania, and more than 400,000 each to Hungary and the Republic of Moldova.
The Pew Research Center, a nonpartisan American think tank, said on March 25 that Putin's invasion of Ukraine had created "one of the biggest refugee crises of modern times."
Zelensky also said that Ukraine will be victorious when Russian bombardments end.
"We would recover our territory. There would be no Russian soldiers in our country," the president said.
"Yes, I understand they [Russian forces] will not withdraw from Crimea, and we'll be arguing and negotiating for one territory or another in the south of our country, the Donbas. I know exactly what [has to] happen, after which we can say, 'this is victory.' But, if [you don't mind], I'm not going to talk about it just yet."
One of Ukraine's provisions that was discussed prior to Putin launching his invasion against Ukraine, was to recognize Crimea as Russian territory. Russian forces invaded the territory in 2014 and annexed the Crimean Peninsula from Ukraine.
"Overall, we're not ready to give away our country," said Zelensky when pressed by Pelley on whether he would be willing to give up any part of Ukraine for peace.
"I think we've already given up a lot of lives. So we need to stand firm for as long as we can. But this is life, different things happen," he said.
As of April 10, there have been 4,232 confirmed civilian casualties in Ukraine, including 1,793 killed and 2,439 injured, according to the office of the UN High Commissioner for Human Rights (OHCHR).
The OHCHR said the death toll includes 458 men, 294 women, 27 girls, and 46 boys, as well as 69 children and 899 adults whose sex is yet unknown. The actual figures are considerably higher, the agency noted.
"I will definitely not recognize that [Crimea as Russian territory]. And they would like to take the southern parts of our country, I clearly understand that questions like this will be raised in negotiations, if there ever are any," asserted Zelensky.
The Ukrainian leader added, "But we were not ready to give up our territory from the beginning. Had we been willing to give up our territory, there would have been no war."
Newsweek has contacted Russia's Ministry of Foreign Affairs for comment.