Ukraine's Zelensky Reveals Hard Line for Ending Russia-Putin Peace Talks
Ukrainian President Volodymyr Zelensky on Saturday detailed several negotiation points that he said would cause his country to step away from peace talks with Russia, noting new territorial claims from Russia would be a major sticking point.
Peace negotiations have stalled since Ukraine accused Russia of committing war crimes by massacring civilians in communities near the capital city of Kyiv. Last week, the Financial Times reported a Kremlin spokesperson said a document containing demands that Russia wants met before ceasing its attacks was delivered to Ukraine, but Zelensky has said he did not receive any such document. On Tuesday, United Nations Secretary-General António Guterres is scheduled to meet with Russian President Putin in Moscow to discuss how to end the war.
Zelensky was fielding questions from reporters representing news outlets from around the world during a press conference held at one of Kyiv's metro stations. A question was asked about how Ukraine would respond during peace negotiations if Russia pushed for potential independence referendums in the eastern territories currently controlled by Russian military forces. Zelensky responded that any such demand would result in his walking away from the table.
"If our people in Mariupol are killed, if pseudo-referendums are announced in the new pseudo-republics, Ukraine will withdraw from any negotiation process," Zelensky said, according to The Kyiv Independent.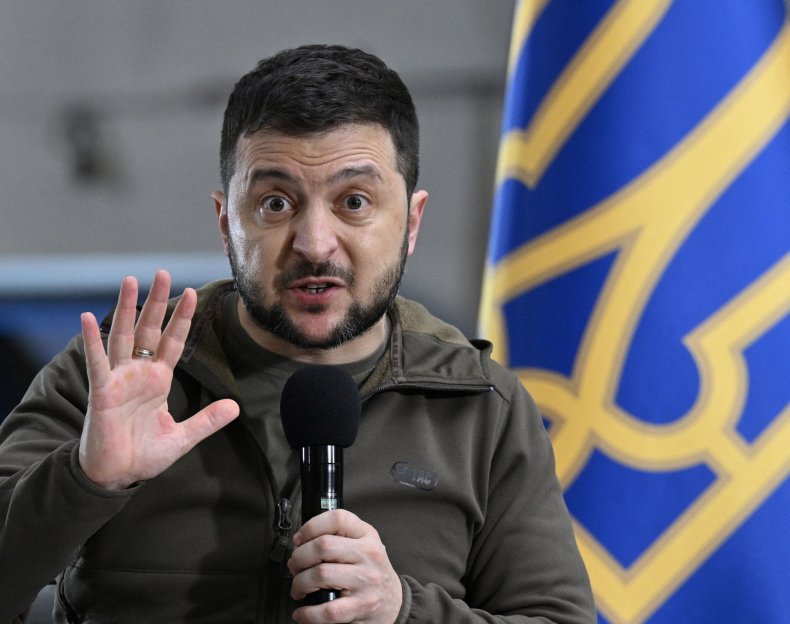 Last week, Putin announced his troops had successfully captured Mariupol, a strategic port city that has been under siege for weeks. However, fighting continues in the city, and some Ukrainian forces remain as Russia attempts to seal off the area.
Zelensky reiterated multiple times throughout Saturday's press conference that he is ready to hold peace talks and wishes to do so face-to-face with Putin. Although he said he didn't want to meet with the Russian leader, Zelensky noted that "the war can be stopped by the person who started it."
"I want to stop the war and end it. There is a diplomatic path and a military one. Any healthy person chooses the diplomatic path because he knows that even if it is difficult, it can prevent the loss of millions of people," Zelensky said.
Until there is peace, he added, Ukraine will keep fighting to recapture territories that Russian forces have seized since the invasion began on February 24.
"My position as president is: Whatever they [Russian forces] occupy, we will return. It will not be a matter of eight years, like from 2014. It will be immediate. This is a matter of weapons. If we have enough of them, we will immediately begin to recapture the occupied territory," Zelensky said.
Newsweek reached out to Ukraine's Foreign Ministry and the Russian Foreign Ministry for comment.