Russia Win in Donbas Would Threaten Kyiv, Influence Course of War: Zelensky
As Russia focuses its military advance toward Ukraine's eastern Donbas region, Ukrainian President Volodymyr Zelensky warned that losing the territory could threaten the capital Kyiv.
In an interview released Sunday with CNN's Jake Tapper, Zelensky stressed the importance in protecting the embattled region.
"For us, the battle for Donbas is very important. It is important for different reasons, for the reason of safety, first of all. Our grouping located in Donbas is one of the best military we have. It's a large grouping and Russia wants to encircle them and destroy them," he said. "This is why it is very important for us to not allow them, to stand our ground, because this battle...it can influence the course of the whole war."
The Ukrainian leader added that he does not "trust" the Russian military to end the conflict at Donbas, warning that if they won in the east, troops could again advance toward the capital city.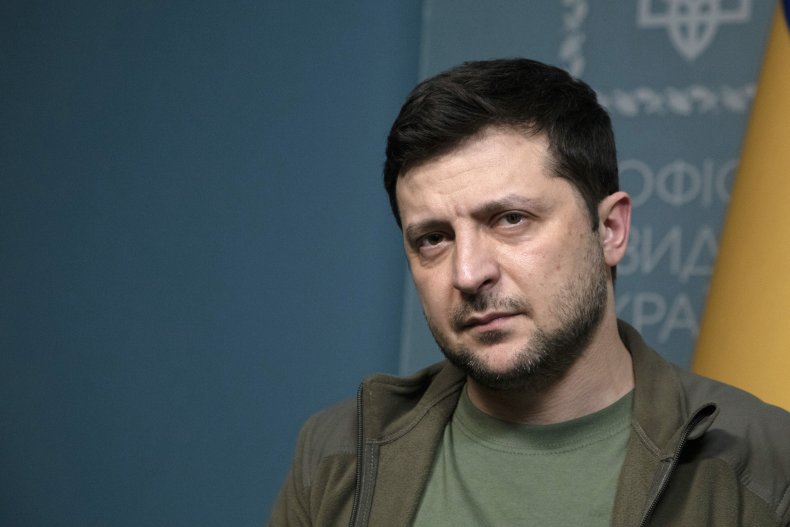 "We understand that the fact that we fought them off and they left, and they were running away from Kyiv, from the north, from Chernihiv and from that direction," Zelensky said, referring to Ukraine's successful mission to protect Kyiv from falling to Russian troops in the last several weeks. However, he added, "it doesn't mean if they are able to capture Donbas, they won't come further towards Kyiv."
His comments come as the Russian military is continuing to focus its efforts on capturing Donbas, after its troops were met with fierce Ukrainian resistance in the first phase of the war. Now, Moscow is preparing tens of thousands of soldiers for a major new offensive in the east—a heavily disputed region that Russia has recognized as independent.
Experts who recently spoke to Newsweek said the latest phase in the war could present Russia with certain advantages, such as a narrower front and more open terrain, but noted that the Russian military continues to face low morale and logistical issues.
"Their army has now taken heavy casualties, and morale is now much lower than it was on February 24," Dr. Stephen Biddle, an adjunct senior fellow for defense policy at the Council on Foreign Relations, told Newsweek.
"Many of the units they will commit in the east have been withdrawn from the north, where their offensive failed and where many of these units were hit hard in earlier fighting. Their enthusiasm for combat may be significantly reduced by their experience in the north," he added.
Meanwhile, Russian troops have also been conducting a bloody battle in the besieged port city of Mariupol. Zelensky said that tens of thousands of Ukrainian soldiers and civilians have been killed as Moscow attempts to fully capture the area. On Sunday, Russia warned that remaining Ukrainian fighters in Mariupol would be "eliminated" if they do not surrender soon, The New York Times reported.
Russia has been accused of committing brutal war crimes since the invasion. Earlier this month, extremely graphic images emerged showing mass graves and corpses with their hands tied behind their backs in the town of Bucha where hundreds of civilians were murdered. Russian troops have also been accused of killing children, as well as raping and torturing women, and using chemical weapons against Ukrainian soldiers.
Last week, President Joe Biden likened the civilian killings to genocide.
"I have the same opinion as President Biden," Zelensky told CNN on Sunday. "Look what happened in Bucha. It's clear that is not even a war, it's a genocide. They just killed people. Not soldiers, people. They just shot people in the streets. People were riding bicycles, taking the bus or just walking down the street."
Newsweek contacted the foreign ministries of Russia and Ukraine for comment.