Russia Could Hold Some Crucial Advantages in New Phase of Ukraine War
Russia could hold key advantages in the next phase of its war against Ukraine but the nation's military forces will also be facing difficulties as the Ukrainians redeploy their army to the east of the country.
A major new offensive is expected as Russia attempts to reverse its fortunes following fierce Ukrainian resistance since the beginning of the invasion on February 24 and the failure to capture the capital city of Kyiv.
Experts who spoke to Newsweek suggested that while the new theater of conflict presented the Russians with certain advantages, the situation would still be difficult for the invading force amid low morale, logistical issues and the casualties they have already sustained.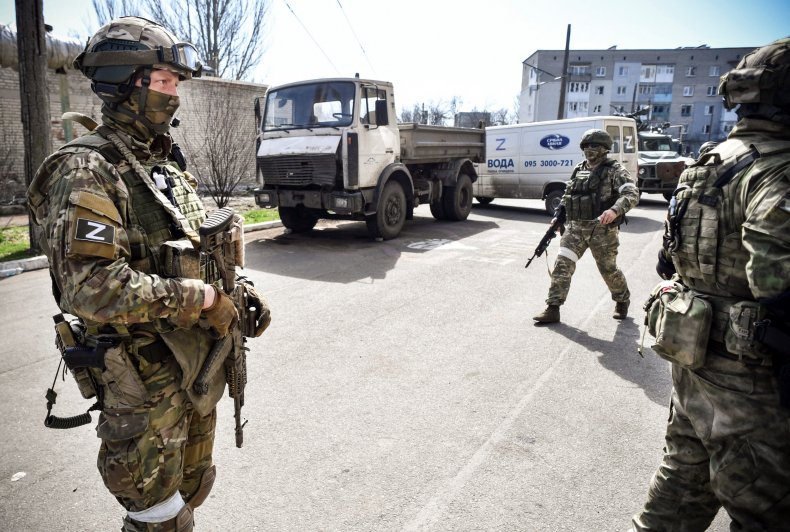 Russia is turning its focus to the eastern region of Donbas—home to the self-proclaimed People's Republics of Donetsk and Luhansk, which Russia has recognized as independent.
President Vladimir Putin may also be looking for a victory he can present to the Russian people amid crippling economic sanctions imposed by the U.S. and its allies, and the protracted and costly conflict.
A Narrower Front
Dr. Stephen Biddle is an adjunct senior fellow for defense policy at the Council on Foreign Relations. He told Newsweek that Russian forces will have more than "trivial advantages" in the east but there were "structural weaknesses" that would be difficult for Russia to fix.
"Russia will indeed have some advantages this time," Biddle said. "The terrain is more open in the east, which will make cover and concealment harder for Ukrainian defenders."
"The Russians presumably won't make the mistake of spreading themselves so thinly across six to 10 axes of advance this time, but will concentrate on a narrower front," he said.
"Russian armor may not be left as exposed and unsupported this time. Russian supply lines will be shorter, and they're clearly trying to stockpile supplies forward this time. These are not trivial advantages," Biddle explained.
Morale and Logistics
Biddle stressed that there were also major disadvantages that Russian forces had not faced at the beginning of the conflict.
"Their army has now taken heavy casualties, and morale is now much lower than it was on February 24," Biddle said.
"Many of the units they will commit in the east have been withdrawn from the north, where their offensive failed and where many of these units were hit hard in earlier fighting. Their enthusiasm for combat may be significantly reduced by their experience in the north," he went on.
Biddle explained that Russia's early losses were "shouldered disproportionately by Russia's best troops."
"Where they have fresh reserves to commit in the east, these will often be second-rate units," Biddle said. "Russian logistics units were hit hard in the first month—supply lines will be shorter in the east, but the Russians have now lost more than 800 trucks, so these shorter supply lines will be served by a weaker logistical element."
Russia's Poor Performance
Dr. Patrick Bury is associate professor in security at the University of Bath in the U.K. He also told Newsweek that Russia could have an advantage in the east of Ukraine "theoretically" due to shorter supply lines but pointed to underlying problems in Russia's forces.
"In reality the poor performance of the Russian army exemplified near Kyiv cannot be alleviated quickly," Bury said.
"For example, Russian C3—command, control and communications—have been generally abysmal thus far, while even in the Donbas they still lack functioning rail heads, so are forced to move their logistics mainly by road—again constraining their ability to advance," he explained.
Bury said that despite some Russian advantages "we are also likely to see their major issues continue, which the Ukrainian army will be adept at exploiting."
"At the moment it's a battle of the build up in Donbas—which side can get the most effective kit and manpower into the area the quickest," he said.
Stephen Biddle struck a similar tone, telling Newsweek that "the poor skills and motivation Russian forces displayed in the first month stem in part from deep, underlying structural features of the Russian army and the Russian state."
"It is far from clear that these underlying factors are remediable. If they are not, then the skill imbalance displayed in the war's first month is likely to reappear in the east," he said.
A Long War
Dr. Matthew Schmidt is the director of the International Affairs program at the University of New Haven, Connecticut and taught strategic planning at the U.S. Army's School of Advanced Military Studies. He told Newsweek there was now "a race to position for the next phase for both sides."
"General Dvornikov is trying to establish a defensive line of contact that encompasses the whole of the Donbas, more than just the occupied territories," Schmidt said.
"He needs to put his forces in a defensive position to hold that line, in part because the loss of officers has made complex offensive operations unfeasible. Being on the defense gives an advantage and is easier to command, so he doesn't need top-tier officers as much," he said.
General Aleksandr Dvornikov, who has been referred to as "the Butcher of Syria" for his role in the war there, has been placed in command of the invasion by Putin following Russia's difficulties in the conflict.
Schmidt said that Ukraine is "racing to shift to offensive ops in order to disrupt Russia's transition to the defensive, and to keep that line of contact as small as possible in case negotiations mean giving any territory Russia holds."
"They face problems of exhaustion and lack of the right weapons. Trench warfare without tanks will favor Russia," he said, adding that armored Humvees the Biden administration plans to send to Ukraine would be "critical" as a substitute for tanks against dug-in Russian troops.
"This is now likely a long war," Schmidt said.
Testing General Dvornikov
Schmidt said Russia had so far commanded "the OPTEMPO [operational tempo]" where their operations "forced the Ukrainians to react in order to defend populations and places."
He said that the Ukrainian forces "are fundamentally structured as a defensive military, in large part because weapons constraints force them to be."
"It's critical that they transition to offense and begin dictating OPTEMPO, that is, executing operations at a pace and type that Dvornikov has to react to instead of shaping the war," he said.
Schmidt explained that Dvornikov "has never fought in a theater where he didn't command OPTEMPO."
"This lack of experience in commanding offensive ground ops in a truly contested environment, unlike Syria, and with bad morale and a degraded officer corps, will test him like never before," he said.
More Brutal Attacks
Schmidt said that in the face of successful Ukrainian operations, it's likely Dvornikov "will react with more and more brutal attacks on civilians, perhaps even well outside the area of operations (AO)."
"In doing so, he'll force Ukrainian units to shift focus outside the Donbas AO in order to respond to the threat of further attacks on civilian populations, especially because it's unclear he has the combat effectiveness to stay on the offense across the line of contact," he said.
Schmidt said Dvornikov would have to wait "two to three months to get replacements trained and in the AO" and that even then they would be "second- and third-tier officers anyway because that's not enough time to train up."
"That's another reason the war is likely to drag on, unless Ukraine can hit hard and fast enough to force an advantageous peace deal," Schmidt said.