A former adviser to the Russian government has warned that Russian President Vladimir Putin could risk losing power if he escalates the ongoing conflict in Ukraine.
Andrey Kortunov, a former adviser to the committee on international relations of the Russian Duma, told BBC's Today program on Thursday morning that Putin needed a success he could present to the Russian people.
"At least he needs something that he can present to his constituency at home as victory," Kortunov said.
"The question is, how much is enough? And if you follow his most recent statements—I think just two days ago he made another statement arguing that the sole mission of this operation in Ukraine is to protect the people of Donbas—if this is the case, that implies that it's not about a regime change in Ukraine," he said.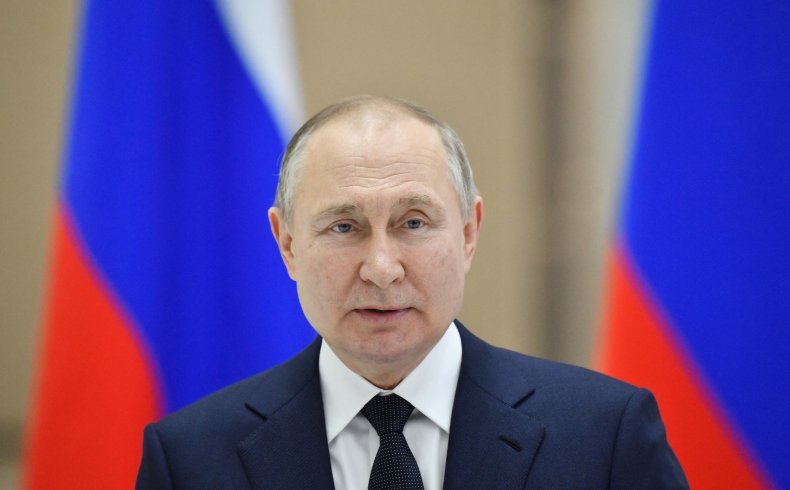 "It's not about destroying Ukraine in its current form but rather about securing the gains that Russia has achieved in the east of the country," Kortunov went on. "I think that this is something that has to be somehow verified or falsified within the next couple of days."
Kortunov, who is currently Director General of the Russian International Affairs Council, suggested that Putin might have to engage in escalation to ensure that victory but that this would carry political risks.
"Well, the question is of course, about the price the Kremlin's ready to pay for continuing this operation," Kortunov said.
"And some people here in Moscow argue that in order to continue, the Kremlin will have to escalate and that might imply both horizontal and vertical escalation that might require even some kind of limited mobilization," he said.
"But if it happens, then I think political risks for the Russian leadership will increase because people in Russia [do] not really want to go fighting against Ukrainians," he went on.
"At least the majority of the Russian population, in my view, is not bloodthirsty and definitely the public support of the leadership might go down if this whole thing escalates or if this whole thing lasts for too long," he said.
The interviewer asked Kortunov whether Putin was under any real political pressure given his vast personal power and he agreed that authority in Russia is "highly centralized."
However, Kortunov said that some of Putin's advisers likely had concerns about the situation, particularly the economy, which has been affected by sanctions.
"I see signs of fatigue," Kortunov said. "I think that, you know, there is a natural kind of tiredness about the whole situation. Maybe it's too early to say that the Russian public is changing its views on the conflict, but definitely it cannot last for too long."
Newsweek has asked the Russian Foreign Ministry for comment.