War on Ukraine Children: 142 Dead, 230 Injured, Over 64% Driven From Home
As Vladimir Putin's assault on Ukraine inches toward the two month mark despite countless war crime allegations, Ukrainian civilians are left to try to pick up the broken pieces and try to salvage their war-torn country. Among those most impacted by the violence are Ukrainian children, caught in the crossfire of Russia's unrelenting attack against its neighbor.
Despite growing calls from the international community to end the bloodshed, Putin on Tuesday vowed to continue the invasion until his country emerges victorious, a promise that will keep innocent children near the frontlines of a brutal war zone.
"Every day the war continues," Manuel Fontaine, UNICEF's emergency programmes director, said in a statement, "children will continue to suffer."
According to UNICEF, more than 64% of Ukraine's children have been forced from their homes since the invasion began almost seven weeks ago, a grim milestone that is likely to have consequences for generations to come.
"They have been forced to leave everything behind," Fontaine said. "Their homes, their schools, and often, their family members."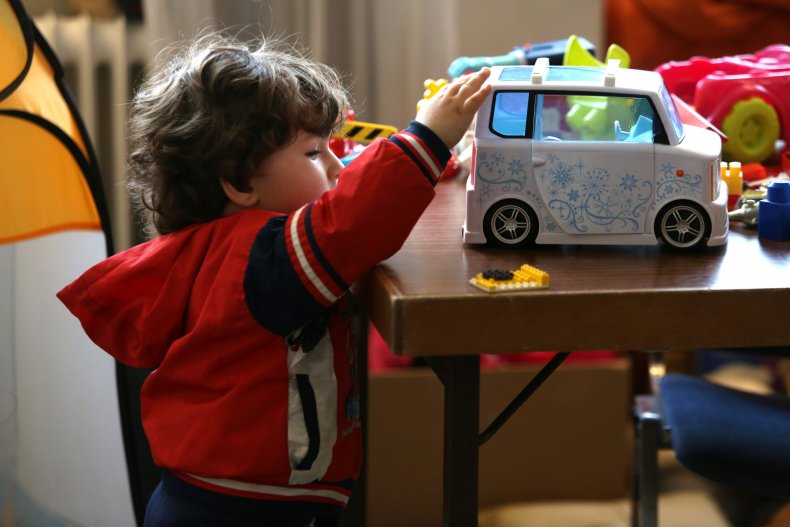 Inside Ukraine, children, families and communities remain under attack. Those trapped in cities like Mariupol and Kherson, Fontaine said, have now gone weeks without running water and sanitation services, a regular supply of food, or medical care.
Many of them are sheltering underground, he added, waiting for the bombs and violence to stop.
"UNICEF is deeply concerned for children and families stranded in, or unable to leave, encircled areas due to heightened security risks and lack of safe exit routes," the agency said in a press release.
"The situation inside Ukraine is spiraling," Catherine Russell, UNICEF executive director, said in the release.
And beyond the country's borders, the conditions are no less harrowing as Ukrainian children are forced to grapple with the unfamiliar and heartbreaking reality of trying to escape a brutal war zone.
"Children are hearing explosions, and they are being asked to flee their homes with just the clothes on their backs," Emily Wight, Save the Children global media manager who is currently based in Lviv, told Newsweek.
At one of our child-friendly spaces in Bucharest, Wight said, an 8-year-old boy was drawing a picture. He drew a tank, two women and a house on fire.
"The risk to their mental health and potential for long-term trauma," she added, "cannot be underestimated."
Davyd, a 7-year-old boy from Bucha, recalled the terrifying events of his family's evacuation from the city, Forbes reported, with vocabulary that reveals a childhood interrupted by war.
"When we were driving, we saw a lot of burned-out cars," Davyd said, according to Forbes. "Some cars were shot at with children inside ... When a plane was flying low, I felt something bad in my stomach. I threw up."
As the war continues to escalate, increasing numbers of children are witnessing things no child should ever have to see — and the resulting trauma could last a lifetime.
"The 2- to5-year-olds are constantly playing and needing lots of attention," Raegan Hodge, CARE senior manager of emergency communications who is based in Poland, told Newsweek. "But around age 6 we have witnessed more traumatization."
"Some children are profoundly affected," she added, "and are unresponsive or have run away."
Voices of Children, a charitable foundation that aims to ensure no child is left alone with the trauma of war, has given these children a voice to share their story with the world.
"Maria is only 10. In a few weeks, she turns 11," a blog post reads. "The girl is not waiting for birthday presents, because she thinks that now is not the best time for them."
"My name is Lerochka, I am 6," another blog post reads. "Yesterday it was terrifying to sit in the basement. Putin, get out of my country, get out of Ukraine!"
"How can we not come back if our cat and dad are there?" Solomon, a 10-year-old boy, said of returning to his home in Kyiv.
"Mom, I don't want to be killed," another young child said.
Whether across the border or still inside the country, this war continues to be a nightmare for Ukraine's children — and time is running out to save them.
On a mission in Ukraine, Fontaine met a young boy named Vlad in an intensive care unit in Zaporizhzhia, a city in southeastern Ukraine.
"His grandfather told me that Vlad was in a vehicle with 10 people when they came under fire," Fontaine said. "Six people were injured, including Vlad."
"Vlad, who is a 4-year-old," Fontaine added, "was shot twice in the stomach as he was escaping with his family from a contested area."
Though still unconscious, Vlad is expected to survive. But for countless others, their story will have a different ending.
The United Nations (UN) has verified the death of 142 children, UNICEF said, with nearly 230 injured.
"The true figures are most certainly much higher given the scale of the attacks," Fontaine said. "And they have been hurt in the very places where they should be safest — their homes, emergency shelters, even hospitals."
For the children who escape death, protection from added harm is far from guaranteed.
"Next to all the children's drawings of Ukrainian flags and colored pages at train stations," Hodge said, "are posters for lost children."
The inherent vulnerability of children, but especially of those who have suffered the unthinkable, puts them at a huge risk of trafficking, exploitation and abuse. And that danger increases significantly when a child is unaccompanied.
Gillian Triggs, UNHCR's assistant high commissioner for protection, spoke Tuesday on the risks of trafficking and exploitation facing refugees from Ukraine.
"We know that the risks of gender-based violence, trafficking, abuse, psychological trauma and family separation increase in times of conflict and displacement," Triggs said, "but given the gender profile of this refugee outflow, and the fact that many children have fled alone, these are now multiplied."
Though data of this nature is difficult to ascertain, Triggs said, the U.N. agency remains on high alert and is actively working to counter any and all potential exploitation.
But more needs to be done, and humanitarian partners can only do so much, Fontaine said in an urgent call to end the bloodshed.
"It is time to end this war," Fontaine said. "Ukraine's children cannot afford to wait."