Russia Clearing Dead Bodies From Mariupol To Hold 'Victory Carnival'—Ukraine
The Russian military is clearing dead bodies and is planning a "Victory Day parade" in the besieged Ukrainian port city of Mariupol to celebrate taking control of it, Petro Andryushchenko, an adviser to the city's mayor, has claimed on Telegram.
"Judging from the whole array of data, the occupiers are planning to hold a 'victory carnival' in Mariupol in case their 'special operation' is successful," Andryushchenko said.
He said that Kostyantyn Ivashchenko, who is directing Russian forces in Mariupol, was ordered to "clear a part of the city's central district of rubble and dead bodies to ensure that a parade can be held on 9 May."
"The good news is that there are no vehicles or people in the city to carry out such events," Andryushchenko said.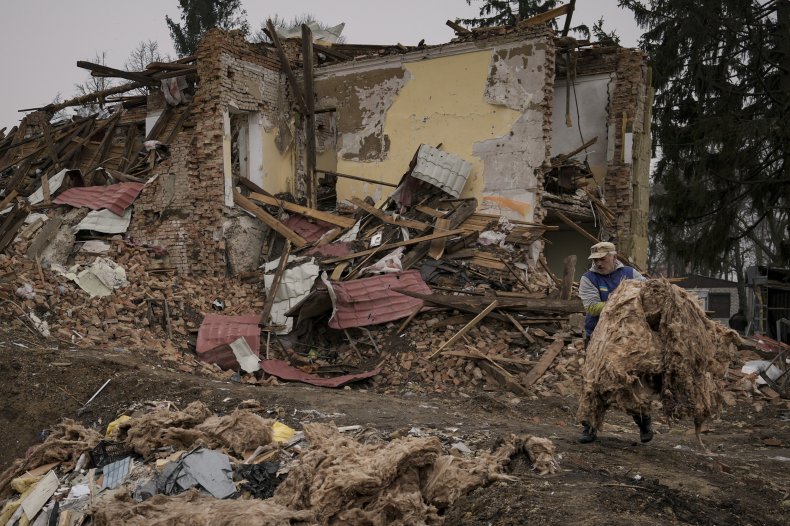 The parade would fall on "Victory Day," Russia's largest public holiday held every May 9 to celebrate triumph over Nazi Germany in the Second World War.
There is also a highly symbolic parade of the Russian Federation's armed forces, which takes place on Moscow's Red Square on that day each year.
Newsweek has contacted the Russian foreign ministry for comment.
Russia still has not seized control of Mariupol despite it being under heavy bombardment for weeks, with thousands of civilians reportedly killed. The city's mayor, Vadym Boichenko, said on Tuesday that about 21,000 of the city's civilian residents had been killed in the conflict. But he stressed that it was difficult to calculate the exact number of casualties since street fighting had started. Thousands more remain trapped in the city.
"We know and there is evidence that bodies disappear from the streets," Boichenko said in televised comments on Tuesday night. "We know that there are so-called concentration places where they hide bodies and they then plan to destroy the evidence of tortures they committed in the city of Mariupol. We call it genocide, we call it war crime."
Many war experts believe that Mariupol will eventually fall, but Ukrainian forces are continuing to fight the Russians from holdouts in underground bases. There have been reports that Ukrainian forces are running out of food and are on the precipice of surrendering.
Since March 25, Moscow's short-term objectives appeared to have shifted after failing to take the capital Kyiv. Russia has said that the first phase of its "special military operation" was complete and it would focus on "liberating" the eastern Donbas region, where Russian is traditionally spoken more than Ukrainian. Putin's forces have also been intensifying its attack of some parts of southern Ukraine, including Mariupol.
Russia's defense ministry said on March 25 that Russian-backed separatists controlled 93 percent of the Luhansk region and 54 percent on the Donetsk region, the two areas that make up the Donbas.