China Speaks Out After Joe Biden Accuses Russia of 'Genocide'
China has repeated calls for calm and refused to be drawn into a debate about possible war crimes in Ukraine after Joe Biden accused Vladimir Putin and his troops of committing "genocide."
Biden was speaking in Iowa on Tuesday when he used the word for the first time, describing his Russian opposite number as a dictator who "declares war and commits genocide half a world away." The American president later said the pointed declaration, which carriers implications in international law, was deliberate.
Zhao Lijian, a spokesperson for the Chinese Foreign Ministry, said Beijing was aware of Biden's charged remarks, but his brief response suggested Beijing would remain noncommittal about the Kremlin's actions, 46 days into the invasion of Ukraine.
"On the Ukraine issue, China has always believed the top priority is for all relevant parties to remain calm, exercise restraint, cease hostilities as soon as possible and avoid a large-scale humanitarian crisis," he said at a regular press briefing on Wednesday.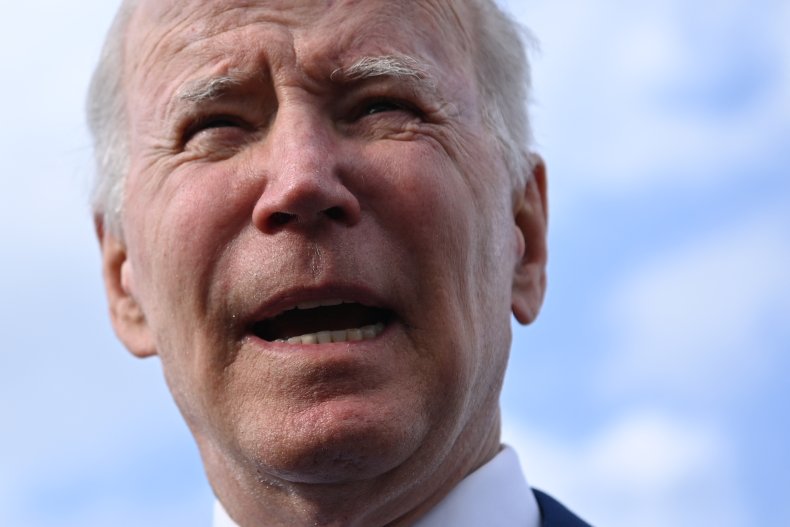 "All efforts by the international community should help to de-escalate tensions instead of adding fuel to the flame, and to promote a diplomatic settlement instead of heightening tensions," said Zhao, whose answer represents Beijing's generic response to a war it still refuses to call an invasion.
The Biden administration, as well as that of former President Donald Trump, formally accused China of committing genocide against Uyghurs in Xinjiang, a charge that continues to draw forceful pushback from Beijing.
Speaking to a press gaggle before boarding Air Force One, Biden said: "Yes, I called it genocide, because it's become clearer and clearer that Putin is just trying to wipe out the idea of even being able to be Ukrainian."
"The evidence is mounting; it's different than what it was last week. More evidence is coming out of…literally, the horrible things that the Russians have done in Ukraine," he said. "And we're gonna only learn more and more about the devastation."
The United States has called for a UN-led independent investigation into the conduct of Russian soldiers in Ukraine amid allegations of war crimes. "We'll let the lawyers decide internationally whether or not it qualifies, but it sure seems that way to me," Biden said, in a move praised by Ukrainian President Volodymyr Zelensky.
Meanwhile, in Russia's Far East on the same day, Putin told reporters he had "no other choice" but to attack Ukraine. Moscow's military operation would continue "until its full completion," he said.
Since the start of the war on February 24, Beijing has sided with Moscow in all meaningful areas, sharing Russian disinformation and opposing sanctions and arms shipments to Kyiv—much to the frustration of leaders in the West.
After the Bucha killings emerged this month, Zhang Jun, China's envoy to the UN, told the Security Council that the reports of civilian deaths were "deeply disturbing." He suggested Beijing would back an international probe into the circumstances, but said the relevant facts needed to be established before accusations could be leveled against either Russia or Ukraine.
Kyiv says Bucha is only one example of the atrocities Russian forces have committed as they attempt to occupy Ukraine. Officials in Moscow claim the scenes were either faked, staged, or both.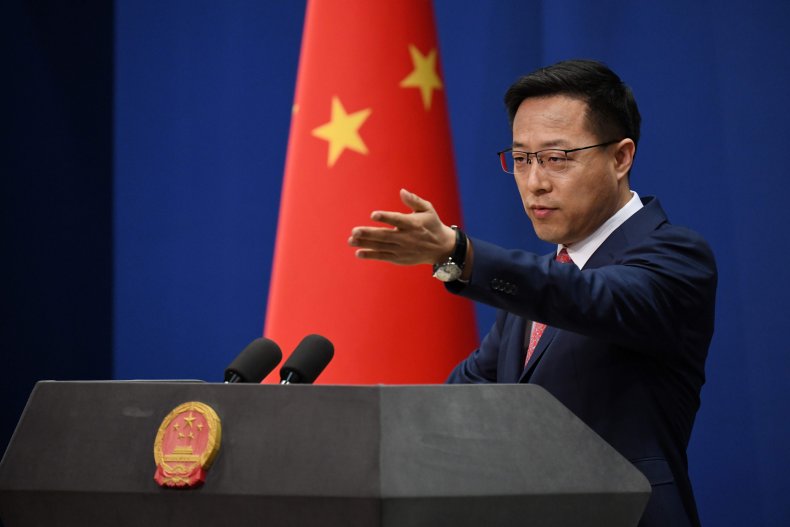 This week, China again rebuffed calls for it to make an assessment about responsibility for the missile strike at the Kramatorsk train station, where Ukrainian authorities said 57 people, including children, were killed and 109 injured by a Russian ballistic missile on April 8.
The Kremlin blames Kyiv but has given conflicting accounts of its official position.
On Monday, Zhao said the cause of the attack at Kramatorsk still needed to be verified, and that Beijing supports an investigation into the matter.
"At the same time, we believe that humanitarian issues shouldn't be politicized. Any accusations should be based on facts. Before the full picture is clear, all sides should exercise restraint and avoid unfounded accusations," he said.
Zhao said Russia and Ukraine "have very different assertions about the situation," a position that could undermine international support for Ukraine.