Pro-Kremlin Media U-Turns Over Kramatorsk Station Attack in Ukraine
Pro-Russian media outlets were reported to have said Russian missiles struck Ukrainian forces at a railway station in eastern Ukraine, before Moscow denied responsibility for the attack.
Ukraine's state railway company said more than 30 people had been killed and over 100 wounded in Friday's strike on Kramatorsk train station, where thousands of civilians had gathered to evacuate to safer parts of the country. Ukraine has blamed Russia for the attack.
The Kremlin has denied responsibility, with spokesman Dmitry Peskov saying Russian forces had no missions scheduled for Kramatorsk on Friday.
The Russian defense ministry, which Newsweek has contacted for comment, said on state TV network Zvezda that the attack was a Ukrainian hoax and that the missile that struck the station was only used by Ukrainian forces.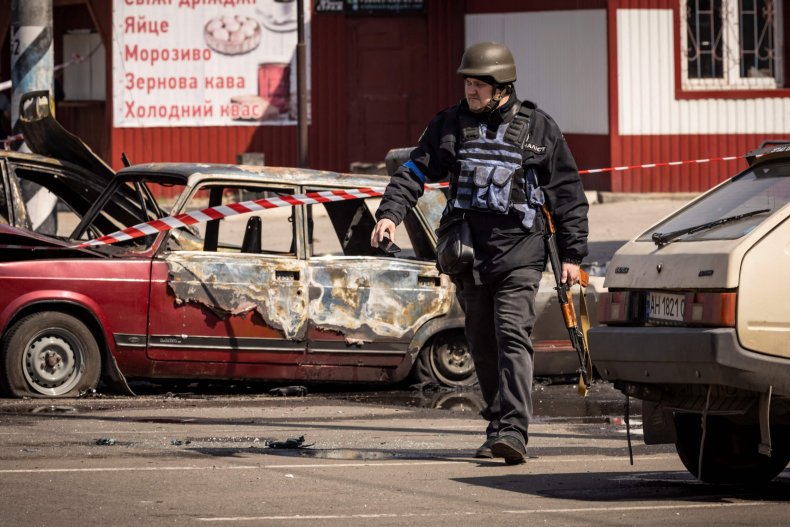 But pro-Russian Telegram channels appeared to tell a different story in posts no longer in the channel's timelines, although screenshots are still available.
A post still available on Friday afternoon on the channel of "Vоенкор diZa," the account of a correspondent for the ANNA news agency who reports for Russia's Channel 1, linked the attack to the supposed transportation of Ukrainian military equipment.
Soon after the strike, the post said there was "information that the night before, the Armed Forces of Ukraine drove a trainload of equipment there. This information is being verified."
A screenshot of the post was shared by journalist Julian Röpcke who wrote: "Kremlin affiliated media first proudly reported the #Kramatorsk massacre, claiming their missile hit an ammunition train that arrived yesterday evening."
"After the appearance of civilian casualties, they started blaming Ukraine," it continued.
Independent Russian-language news outlet The Insider said pro-Kremlin Telegram channels reported Russian forces were firing at Ukrainian "militants" at the railway station but when images of dead civilians emerged, "these entries were altered."
Financial Times journalist Max Seddon referred to Russian denials of the downing of a an airliner in 2014 in a tweet which said, "just like with MH17, pro-Kremlin bloggers posted footage of what they said was a Russian attack on Kramatorsk—then deleted them once the civilian toll was clear."
Meanwhile, The Daily Beast reported that Russian soldiers were bragging about the hit on Telegram in messages that were later edited or disappeared altogether, according to several accounts by journalists in the region.
The Bellingcat investigative news site tweeted that one of the rockets was a Tochka-U, a Soviet-era tactical ballistic missile.
Despite Moscow's claims it no longer used them, the Eastern Europe based Conflict Intelligence Team, said it believed that Russia began re-deploying Tochka-U in March.
Pavlo Kryrylenko, a regional government official, said after the attack Russian forces "knew exactly where they were hitting and who they were targeting."
Kramatorsk is in Donetsk, a pro-Russian region in the Donbas. Before Russia invaded Ukraine, the Kremlin recognized Donetsk, as well as the pro-Russia oblast of Luhansk, as independent states.