Putin Taking Over Donbas From Ukraine Could Cost Russia Over $20 Billion
Ukrainian President Volodymyr Zelensky said Sunday his country would be willing to declare neutrality and compromise on the status of the contested Donbas region to achieve peace with Russia. Should the offer play out, though, Russian President Vladimir Putin may find rebuilding the region could cost him up to $20 billion or more.
Donbas is located in southeastern Ukraine and comprises the Donetsk and Luhansk regions. Moscow-backed separatists have controlled much of Donbas for years, but Putin officially recognized the territorial claims of the separatists only days before he launched military attacks on Ukraine at the end of February.
Zelensky indicated Ukraine would be willing to compromise during a 90-minute Zoom interview with independent Russian journalists. However, Ukraine's head of military intelligence, Kyrylo Budanov, said he believes Putin instead wants to split Ukraine in two, with Russia controlling the eastern section, Reuters reported.
The cost of reconstruction for Donbas alone would be in the tens of billions, according to some estimates. In 2020, the Vienna Institute for International Economic Studies (WIIW) placed a pre-invasion price tag of $21.7 billion for reconstruction efforts in the region.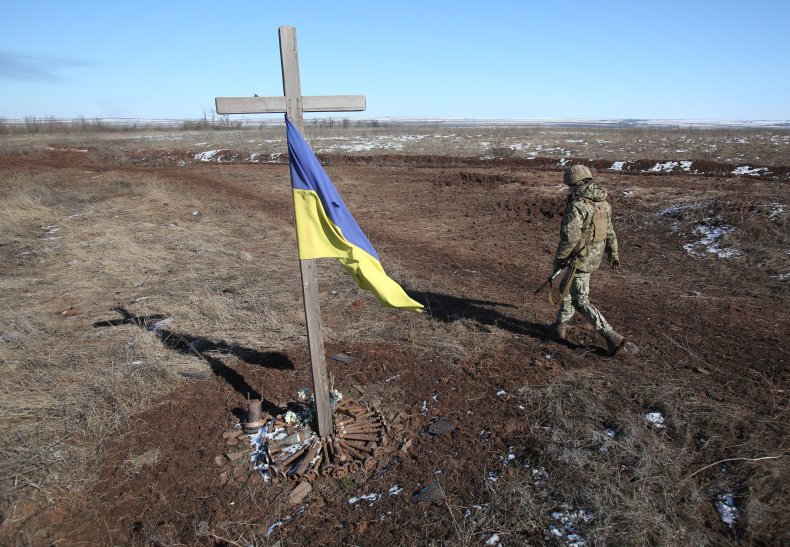 When WIIW calculated the costs of rebuilding Donbas two years ago, it noted that 44 percent of the $21.7 billion estimate came from "damage to physical capital," while 40 percent was attributed to "human capital expenditures" and "mitigation of environmental threats" made up 16 percent.
"The direct damage caused by violent actions is not the most significant cost driver in the long run. Forty-two percent of the restoration costs can be attributed to the disruption of business continuity and the degradation of state capacity that accumulated over years of inaction," the Austrian research institute wrote.
The conflicts in the region at the time were much smaller than what's occurred since Russia's February 24 invasion of Ukraine began. But even in 2020, WIIW said the reconstruction costs would be too large for Ukraine to cover alone. The figure was more than 40 percent of the annual revenues in Ukraine's state budget, or 16 percent of the country's gross domestic product, in 2018.
Previous annexations by Russia have also cost Putin, notably Crimea. In 2021, Al Jazeera reported that seven years after the region joined with Russia, the Kremlin had spent tens of billions of dollars on infrastructure projects.
Similarly, after two wars in Chechnya, Russia now spends as much as $3.8 billion a year on maintaining its regime in that republic alone, according to March 11 article in The Conversation.
If much of its economic assets remain frozen for much longer, Russia might face difficulties in covering any reconstruction efforts in Donbas. As a result of the war in Ukraine, Russia's economy could shrink by anywhere from 7 to 15 percent next year, The Conversation said.
Newsweek reached out to Ukraine's Ministry of Foreign Affairs and the Russian Foreign Ministry for comment but did not hear back from either in time for publication.