Putin Plans to Split Ukraine in Two a la Koreas: Ukraine Intel Chief
Ukraine's military intelligence chief Kyrylo Budanov said Sunday that he believes Russia wants to split the country in two, likening the ongoing conflict to the division of North and South Korea after World War II.
"In fact, it is an attempt to create North and South Korea in Ukraine," said Budanov, according to Reuters, who added that Ukraine's army would strongly push back against Russian forces to prevent that from happening.
"In addition, the season of a total Ukrainian guerrilla safari will soon begin. Then there will be one relevant scenario left for the Russians: how to survive," he said.
On the same day, a leader in the self-proclaimed Luhansk People's Republic, located in separatist Donbas region of Ukraine, said it could soon hold a referendum on joining Russia, according to Reuters. Donbas is the site of both Luhansk and Donetsk, two breakaway regions in the eastern part of the country that are controlled by Russian-backed separatists.
Meanwhile, a top Russian general said Friday that troops will shift their focus in the war toward "liberating" eastern Ukraine.
"Our forces and means will concentrate on the main thing—the complete liberation of Donbas," said General Sergey Rudskoy, the head of the main operational directorate of the Russian General Staff.
A senior U.S. defense official confirmed the change of plans to ABC News on Saturday, saying that it is believed Russia is seeking to make gains in eastern Ukraine as a "potential negotiating tactic at the table," and to cut off Ukrainian forces in that part of the country.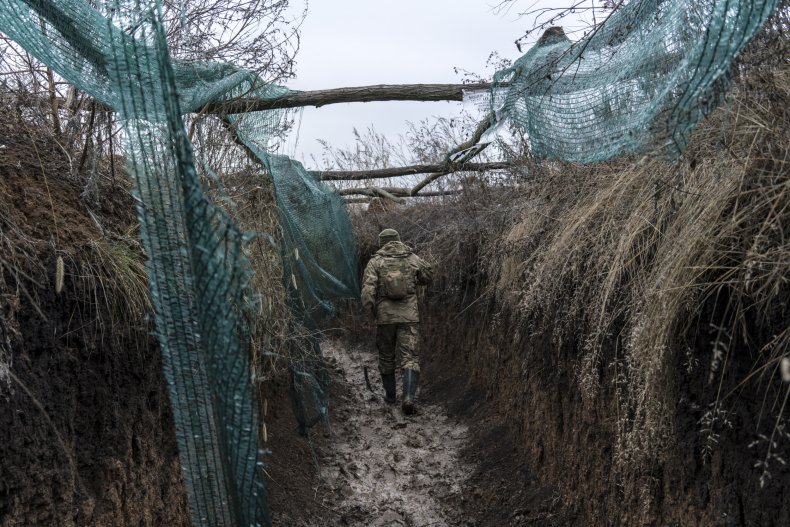 Eastern Ukraine has long been a hotly contested region. Following Russia's annex of Crimea in 2014, rebels loyal to Moscow seized government buildings in Donetsk and Luhansk, and began a long and bloody process of claiming the region as their own. Over 13,000 people have died fighting in the region since.
According to Rudskoy, Russian-backed separatists now control 93 percent of the Luhansk region and 54 percent of the Donetsk region.
Russia's plan to focus on Ukraine's eastern front comes after more than four weeks of fighting across the country. So far, Russian troops have failed to seize any major Ukrainian city, but the invasion has displaced an estimated 10 million people and killed over 1,100 Ukrainian civilians, according to the United Nations.
On Saturday, President Joe Biden called Russian President Vladimir Putin a "butcher," and claimed in a fiery speech that he "cannot remain in power." However, the White House attempted to walk back those statements shortly after, stating that the U.S. has no strategy for a regime change in Russia.
Newsweek contacted Russia's foreign ministry for additional comment, but did not hear back in time for publication.