China's Uyghur 'Genocide' Ongoing in Xinjiang—U.S. Human Rights Report
As Joe Biden accuses Russia of "genocide" in Ukraine, his administration says China continues to commit the same crime against Uyghurs in Xinjiang, according to a new State Department report published on Tuesday.
Its country report for China said more than a million Uyghurs and members of mainly Muslim ethnic minority groups had been arbitrarily imprisoned, deprived of their physical liberty, and subjected to forced sterilization, coerced abortions and rape. Beijing's repressive policies in northwest China also included "draconian restrictions on freedom of religion or belief, freedom of expression, and freedom of movement," said the report covering 2021.
An additional two million Muslims were forcibly enrolled in daytime "re-education" classes, the document said. China justifies the practice—now in its sixth year—as part of a region-wide campaign to root out terrorism and religious extremism. Xinjiang's more than 1,000 internment camps, Beijing says, are "vocational training centers," from which learners "graduate" and are assigned work, either locally or in other provinces, in a move the U.S. considers forced labor.
"Since 2017 the government used this broad definition of extremism to detain more than one million Uyghurs, ethnic Kazakhs, Kyrgyz, and other Muslims in re-education or detention centers, designed to instill patriotism and erase their religious and ethnic identities," the report said. Last year, China "intensified the use of state-sponsored forced labor in detention camps, prisons, and factories in and outside Xinjiang."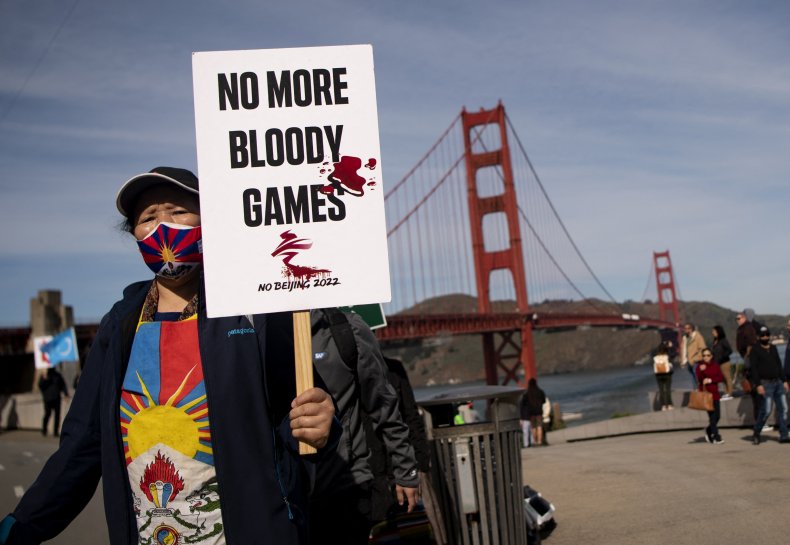 The Biden administration believes China's policies for the region—overseen from the very top of the leadership tree—amount to "genocide" and "crimes against humanity," a determination first made in the final days of the Trump administration. Beijing considers the regular assessments by Western governments flagrant interference in its internal affairs.
Under the UN Convention on the Prevention and Punishment of the Crime of Genocide, genocide covers "acts committed with intent to destroy, in whole or in part, a national, ethnic, racial or religious group." Researchers and human rights groups find evidence of this in Xinjiang's systematic oppression, and in government documents that declare objectives including the "optimization" of the Uyghur population through birth control measures.
"In Xinjiang there were reports of custodial deaths related to detentions in the internment camps. There were multiple reports from Uyghur family members who discovered their relatives had died while in internment camps or within weeks of their release," the State Department's report said.
"Members of the minority Uyghur ethnic group reported systematic torture and other degrading treatment by law enforcement officers and officials working within the penal system and the internment camps," it noted. "Survivors stated that authorities subjected individuals in custody to electric shock, waterboarding, beatings, rape, forced sterilization, forced prostitution, stress positions, forced administration of unknown medication, and cold cells."
Cases of repression and intimidation reached beyond China's borders. Not only were Uyghurs in Xinjiang denied passports to travel abroad, their relatives living overseas were also denied visas to visit, said the report.
In March, the U.S. sanctioned Chinese officials it said were responsible for "transnational repression" of religious activists including Uyghur Americans. Secretary of State Antony Blinken accused Beijing of efforts to "harass, intimidate, surveil, and abduct members of ethnic and religious minority groups, including those who seek safety abroad, and U.S. citizens, who speak out on behalf of these vulnerable populations."
China denied the allegations as "malicious lies," and imposed counter-sanctions on unnamed American officials.
The assessment by the U.S. that genocide is ongoing in Xinjiang has opened the door for many governments in Europe to do likewise. Continually emerging reports and frequent testimonies from survivors have further elevated China's human rights record to a central area of disagreement with the West, leading to a largely symbolic but nonetheless demeaning diplomatic boycott of February's Winter Olympics in Beijing.
UN rights chief Michelle Bachelet says she's visiting Xinjiang in May, but it's unclear whether she'll be given the meaningful access she requires to conduct a comprehensive inspection of the region.
This week's report touches on the Chinese state's reaction to China-born director Chloé Zhao, basketball player Enes Kanter Freedom and the unresolved sexual assault allegations by Chinese tennis player Peng Shuai. In addition, the U.S. finds "serious restrictions on free expression and media," including the widespread prosecution of journalists, lawyers, writers, bloggers, dissidents, and petitioners.
Its summary concluded: "Government officials and the security services often committed human rights abuses with impunity. Authorities often announced investigations following cases of reported killings by police but did not announce results or findings of police malfeasance or disciplinary action. Enforcement of laws on corruption was inconsistent and not transparent, and corruption was rampant."
Responding on Wednesday, China's Foreign Ministry spokesperson Zhao Lijian said the annual report "ignored the facts, distorted the truth, and was full of political lies and ideological prejudices."
"The Chinese people judge China's human rights situation; the international community has seen the Chinese government's capacity to govern. This is not something certain people in the U.S. can slander with a few words or a report," he said.