Enes Kanter Freedom, the former Boston Celtics center who says he has been shunned by the NBA for criticizing China's repression of Uyghurs, has been given the same human rights award handed to jailed Kremlin-critic Alexei Navalny last year.
Born Enes Kanter in Switzerland, he was raised in Turkey, becoming a U.S. citizen in November 2021, changing his last name to Freedom on the same day. On Tuesday, the Geneva Summit for Human Rights and Democracy announced he had been chosen for its 2022 Courage Award, and invited him to address the coalition of 25 international NGOs in Switzerland on April 6. A week earlier, the 29-year-old athlete was nominated for the Nobel Peace Prize.
The Geneva Summit described Freedom as an "NBA athlete and activist currently risking his career for speaking out against China's persecution of ethnic Uyghurs." Rights groups and researchers say Beijing has interned more than a million Uyghurs in Xinjiang, in northwest China, where men are subjected to arbitrary detention and women forced sterilization. The United States and other major governments say China is committing ongoing genocide and crimes against humanity in the region.
Freedom describes himself as a decade-long critic of Turkish President Recep Tayyip Erdogan—he's wanted in Turkey for allegedly supporting an attempted overthrow of Erdogan's government in 2016—but his activism never attracted the same type of attention as it did last year, when he began what many observers thought could be a career-ending campaign for human rights by challenging the NBA on its extensive commercial ties to China.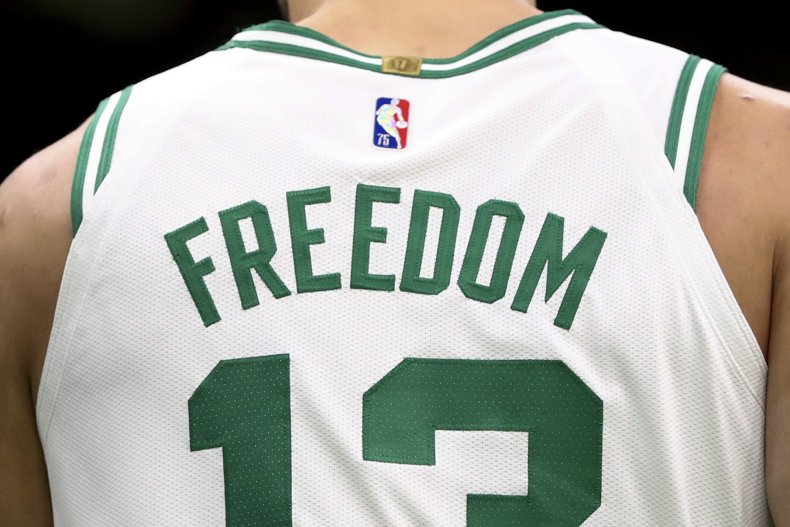 It began in October, when Freedom, a practicing Muslim, took to the courts with shoes carrying slogans including "Free Tibet" and "Save Uyghur." On Twitter and in front of Capitol Hill, he rallied human rights activists against the Chinese government and especially its leader, Xi Jinping, whom he called a "brutal dictator." He also advocated for a full boycott of the 2022 Beijing Winter Olympics.
While progressives were cautious, Freedom won praise among conservatives, including senior members of the Republican Party, for his support of democratic freedoms in Hong Kong and self-determination in Taiwan—each one a highly sensitive political pain point for Beijing. This resulted in an invitation to the Conservative Political Action Committee (CPAC), the largest gathering of conservative activists and officials in America, set to kick off on Thursday.
In China, however, the response was immediate. The government pulled live streams of all Celtics games and censored his name on social media. This month, the Celtics traded him to the Houston Rockets, which waived him, leaving Freedom without a team—a fate commentators have linked to his criticism of American businesses and their relationships with China. He later withdrew from his CPAC appearance, hinting at turmoil in his basketball career.
"I want to say thank you to the Geneva Summit for Human Rights and Democracy for its support and for shining a global spotlight on human rights abuses in China. I hope this encourages other athletes to stand up for what is right," Freedom told the summit's website. "Despite China's propaganda, the regime does not represent the Olympic values of respect and friendship, it's a brutal dictatorship that oppresses its people," he said.
The NBA backs Freedom's right to activism, it told Newsweek in a statement. "We continue to support Enes Kanter Freedom expressing his views on matters that are important to him as we do for all members of the NBA family," said association spokesperson Mike Bass. "The NBA league office had no involvement in these team roster decisions involving Mr. Freedom."
This week, Freedom turned his sights on Russian President Vladimir Putin, who he described as a "poisonous dictator" in the wake of Russia's invasion of Ukraine.
Update 02/23/22 3:02 a.m. ET: This article has been updated to include comment from the NBA.