Enes Kanter Becomes Hero for Conservative Americans
The NBA's Enes Kanter appears to be on his way to winning conservative American hearts and minds after telling Fox News that people who criticize the United States should "keep their mouth shut."
The Boston Celtics center, who is now officially known as Enes Kanter Freedom following a change to his legal last name, became an American citizen on Monday after swearing his oath of allegiance. He also changed his Twitter handle to @EnesFreedom.
Born in Switzerland but raised in Turkey, the 29-year-old told Fox host Tucker Carlson that his teammates jokingly called him "Mr. Freedom" after he started a vocal social media campaign in October against the Chinese government and especially General Secretary of the Chinese Communist Party, Xi Jinping.
His on-court activism, coming in the form of specially designed sneakers, and off-court censuring of NBA sponsor Nike, as well as current and former professionals, has drawn a divided response. Nike, Kanter says, has remained silent despite publicly backing other civil rights campaigns such as Black Lives Matter and Stop Asian Hate.
Among his peers, he has made enemies of Los Angeles Lakers star LeBron James and Chicago Bulls legend Michael Jordan. James—a fan favorite in China—has not joined the Kanter-led chorus denouncing Beijing's policies against minorities in Xinjiang and Tibet, or its crushing of freedoms in Hong Kong and its intimidation of Taiwan.
More recently, the Celtics player blasted the International Olympic Committee for its part in helping to silence the high-profile #MeToo case brought by Chinese tennis star Peng Shuai. He called for the upcoming Winter Olympics to be moved out of China by posting both the #WhereIsPengShuai and #NoBeijing2022 hashtags on Twitter.
"It seems like people who move here from countries that are not free appreciate the freedoms here much more than a lot of us who grew up with those freedoms. Have you noticed that?" Fox's Carlson asked on his evening program.
Kanter replied: "People should feel really blessed and lucky to be in America, because they love to criticize it, but when you live in a country like Turkey or, you know, China or somewhere else, you appreciate the freedoms you have here.
"I feel like they should just, please, they should just keep their mouth shut and stop criticizing the greatest nation in the world, and they should focus on, you know, their freedoms and their human rights and their democracy."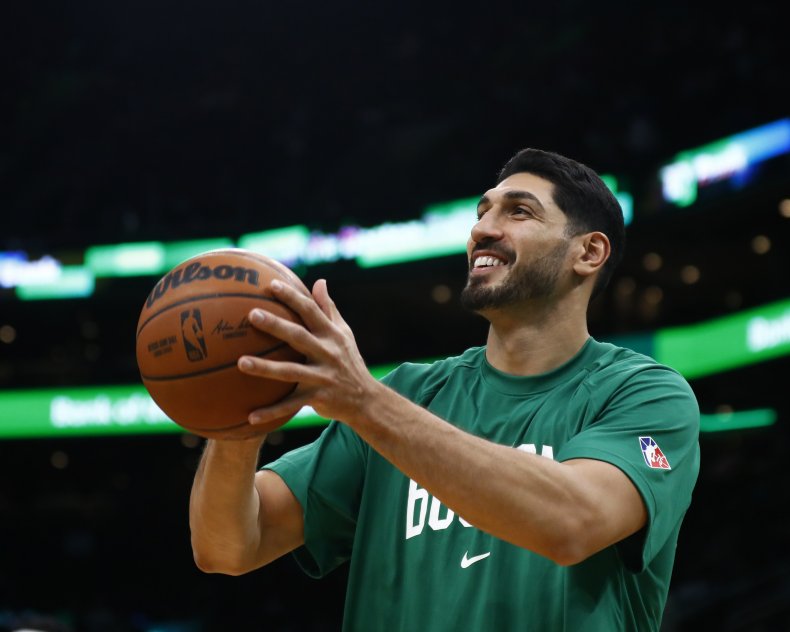 Kanter said athletes, actors and celebrities are scared to criticize China because "their money will be affected. But to me, human rights, democracy and freedom is way more important than everything they can offer me. You know, morals, values and principles are the most important thing in life."
His activism has won him praise and congratulations from leading Republican figures including former Secretary of State Mike Pompeo and Florida's Senator Marco Rubio.
Kanter "embodies many of the values that make our nation great," Pompeo wrote on Twitter. "He knows the importance of freedom and is courageous about speaking up for it. Today, he becomes an American citizen. Congratulations!"
Responding to the Fox interview, Chinese-Australian activist artist Badiucao, who has been collaborating with Kanter on his sneakers, said on Tuesday that he didn't agree with the sentiments.
"People [are] only free when they have right to criticize (especially to their own country)," he wrote on Twitter.