China's Peng Shuai Faces Uncertain Future Unless She Reverses Allegations
It's been exactly three weeks since Chinese tennis star Peng Shuai made explosive rape allegations against a former high-ranking government official, but China's continuing information blackout means concerned observers have been denied answers about whether she or the accused former Vice Premier Zhang Gaoli will receive a fair hearing.
While failing to address the issue with its own citizens, Beijing appears to be creating an acceptable external narrative, which it expects Peng to follow in order to salvage her career—and her legacy.
Peng, a former world doubles No. 1, was not heard or seen from for more than two weeks after accusing Zhang of sexual assault in a post on Chinese social media service Weibo. The post was deleted half an hour later before her account was scrubbed and all related search results were censored.
She has made one public appearance since current and former tennis professionals—led by the Women's Tennis Association (WTA)—raised concerns about her well-being and the lack of transparency surrounding the Chinese government's handling of her allegations, the country's most high-profile #MeToo case to date.
But Peng's appearance at a youth tennis event photo op did little to assuage concerns about her physical and psychological safety, concerns which appear to be shared by her Chinese fans, who are finding their related comments deleted and their accounts temporarily banned for violating unspecified rules.
On Twitter, journalists working for Chinese state media outlets also carried purportedly recent pictures and videos of Peng, but none made their way onto Weibo or other Chinese online services, where the topic remains muted.
WTA Chair Steve Simon, who has expressed a willingness to cut loose commercial interests in China if Peng's case isn't satisfactorily resolved with a full investigation, said he was glad to see videos of Peng, but suggested she be allowed to speak for herself in order to allay fears of political coercion.
"While it is positive to see her, it remains unclear if she is free and able to make decisions and take actions on her own, without coercion or external interference," Simon wrote. "This video alone is insufficient. As I have stated from the beginning, I remain concerned about Peng Shuai's health and safety and that the allegation of sexual assault is being censored and swept under the rug."
"I have been clear about what needs to happen and our relationship with China is at a crossroads," he concluded.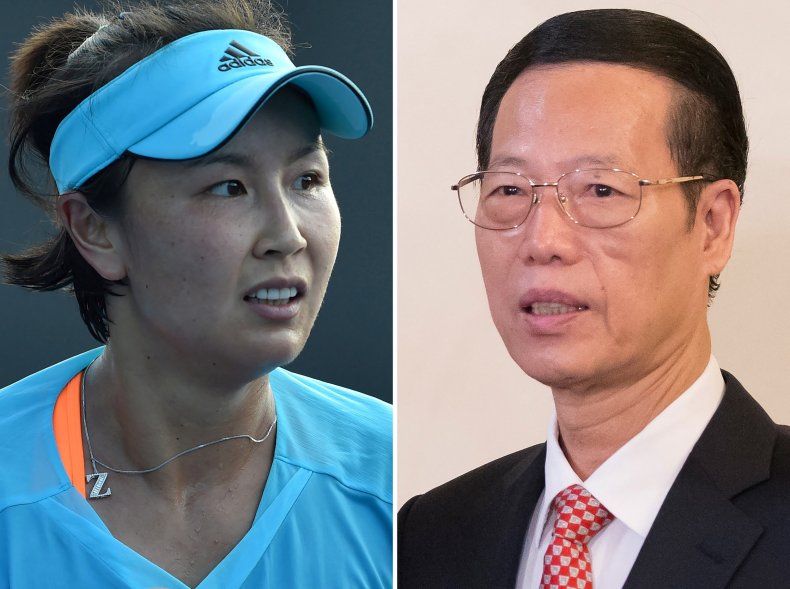 Amid a chorus of calls—from the United Nations to the American and British governments—for substantive answers about the 35-year-old's disappearance from the public eye, the International Olympic Committee (IOC) and its president, Thomas Bach, managed to secure a 30-minute video call with Peng from Beijing on Sunday.
In a widely criticized IOC statement that failed to mention support for Peng's sexual assault allegations, the committee said the tennis player was "safe and well," and wanted her privacy respected.
Peng's revelations came at a highly sensitive time for China's ruling Communist Party, which is expecting to host a successful Winter Olympics in February and confirm Xi Jinping as leader for an unprecedented third term next autumn.
Recent attempts to dictate the flow of relevant information and the wider narrative surrounding Peng's disappearance seem to show Beijing is turning the focus from her politically sensitive accusations onto her physical appearances.
This was made clear by China's first attempt to sow a favorable narrative last week when a Twitter account run by Chinese state broadcaster CGTN posted a dubious letter in which Peng allegedly walked back her Weibo allegations as "not true."
It was never independently verified whether the letter—also censored in China—was written by or approved by Peng. But if that's the official narrative Beijing wants, Peng will be clear about the line she has to toe in order to safeguard her sporting legacy and perhaps her personal well-being and that of her family, too.
With just 73 days until the start of Beijing 2022, it appears unlikely that the Chinese government will allow Peng's high-profile case to overshadow preparations for what will ultimately be a significant soft power win for the country.
At the same time, her fate has become a test for world governments, their Olympic committees and sport more broadly ahead of the Winter Games, which are being held despite continuing reports of human rights abuses against Uyghurs and other minority ethnic groups in Xinjiang.