Controversial Out-of-Work NBA Player Quits CPAC to 'Figure out NBA Stuff'
Enes Kanter Freedom, an out-of-work pro basketball player who has criticized the NBA on social media for its business relationship with China, has dropped out as a speaker at the upcoming Conservative Political Action Conference (CPAC) in order to "figure out NBA stuff."
Freedom, a Swiss-born Turkish American who legally changed his last name after becoming a U.S. citizen last November, was scheduled to speak at CPAC 2022. But he has decided to skip the conference, according to reporter David Weigel.
"I need to figure out this NBA stuff first," Weigel quoted Freedom as saying in a Tuesday tweet. "So I won't be going to CPAC now."
Freedom has become renowned among conservative figures for criticizing the NBA's Chinese business dealings. In particular, he has criticized NBA player LeBron "King" James of the Los Angeles Lakers for not speaking out against Nike's Chinese sweatshops and human rights abuses. James has a lifetime contract with Nike.
"Money over Morals for the 'King'," Enes wrote in a tweet last November. "Sad & disgusting how these athletes pretend they care about social justice. They really do 'shut up & dribble' when Big Boss [Chinese flag emoji] says so. Did you educate yourself about the slave labor that made your shoes or is that not part of your research?"
Freedom's tweet was retweeted by conservative media personalities Dana Loesch and Donald Trump Jr. It was also praised by former Secretary of State Mike Pompeo. That same month, Freedom appeared on the Fox News show America's Newsroom where he again criticized James.
Before the Celtics' November 19 game against the Lakers, Freedom wore custom shoes—shown in the above tweet—which were painted to show James standing next to bags of money and being crowned by Chinese leader Xi Jinping. The shoes also contained images of China's Uyghurs, a regional Muslim minority that has been largely oppressed and put into labor camps by the Chinese government.
In response, James said Freedom was "definitely not someone I would give my energy to," Sportsnet reported.
Later in November, Freedom appeared on the show of Fox News host Tucker Carlson.
"People should feel really blessed and lucky to be in America," he told Carlson. "They love to criticize it, but when you live in a country like Turkey or China or somewhere else, you will appreciate the freedoms you have here."
"[Other players] should just keep their mouth shut and stop criticizing the greatest nation in the world, and they should focus on their freedoms and their human rights and democracy," Freedom said, to Tucker's agreement.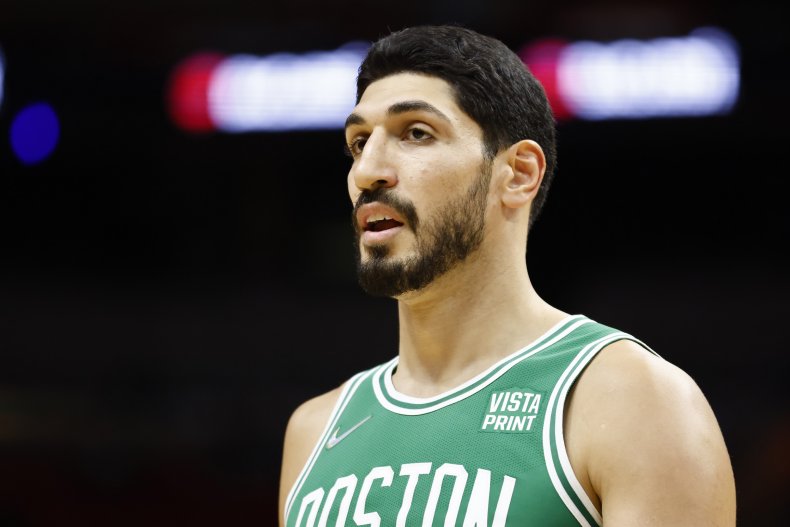 In an interview with CNN Newsroom with Pamela Brown, Freedom said that the Chicago Bulls legend Michael Jordan hadn't "done anything, nothing, for the Black community in America besides just, you know, giving them money."
"Michael Jordan has not done anything for the Black community because he cares too much about his shoe sales all over the world and America, and I feel like we need to call out these athletes and not be scared about who they are," Freedom said.
Jordan has donated $5 million to the Smithsonian's National Museum of African American History and Culture in Washington, D.C., and has donated $1 million each to the NAACP Legal Defense Fund and the International Association of Chiefs of Police, to address the issue of police shootings and community policing, according to the NBA. He has also donated hundreds of thousands to health clinics and community food programs.
Freedom has previously played for the Utah Jazz, the Oklahoma City Thunder, the New York Knicks, the Portland Trail Blazers and the Boston Celtics. On February 10, the Celtics traded Freedom to the Houston Rockets. Barely 10 minutes after being traded, the Rockets cut him from their roster.
In the February 10 installment of the podcast What the Hell Is Going On?, Freedom said that his athletic peers regularly informed him, "This is your farewell tour."
"Enjoy it," Freedom paraphrased them as saying. "Smile. Have fun with it. I hope you win a championship, because I don't think you are going to get another contract after this year, because the things that you talk about cost [the NBA] millions of dollars."
Conservatives have taken up Freedom because he shares their criticisms of China. But Freedom now faces the challenge of navigating the NBA after becoming famous for criticizing it.
Newsweek contacted Freedom for comment.