Enes Kanter Won't Back Down Against China—The NBA Should Be Nervous
Boston Celtics center Enes Kanter continues to make waves on Twitter with his one-man campaign against China's Communist Party and what the NBA star says is "one of the worst human rights abuses in the world today" in Xinjiang.
Seemingly in tune with each and every one of Beijing's pain points, the 29-year-old used his social media platform to voice support for Taiwan on Wednesday, sharing images of specially designed basketball shoes that carried the green flag of the Taiwan independence movement alongside the words "democracy" and "independence."
For the past three weeks, Kanter has been criticizing the Chinese government and even directly named its leader, Xi Jinping, whom he called a "heartless dictator." The Celtics star called on Beijing to stop its "genocide" against the Uyghur people and close down its "slave labor camps" in Xinjiang. At the end of October, Kanter led a rally in front of Capitol Hill, urging Congress to pass the bipartisan Uyghur Forced Labor Prevention Act.
Born in Switzerland and raised in Turkey, Kanter says he has been a vocal critic of Recep Tayyip Erdoğan for a decade. The basketball star has described himself as a close ally of U.S.-based cleric Fethullah Gulen, whom Erdoğan's government accused of orchestrating a failed coup in 2016. Turkey has sought the international arrest and extradition of Kanter over his links to Gulen.
Still, his opposition to the Turkish leader has never generated the type of attention his China tweets are garnering in the United States and abroad.
He has thrown his weight behind Tibetans and Hongkongers, too—all existing areas of concern identified by the Biden administration and the Trump administration before it. But no American government to date has taken Kanter's overt stance.
Kanter's campaign also extends to calling for a boycott of the Beijing 2022 Winter Games—a major soft power win for China.
For the NBA and the Celtics, Kanter's activism has had measurable consequences. Shortly after his first tweet in October, Chinese multimedia giant Tencent suspended all streams and broadcasts of his team's games. On China's main social media service, Weibo, a search for "Kanter" yielded no results from 2021, while the official Boston Celtics account has been peppered with abusive comments.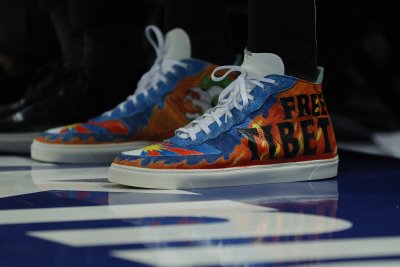 It means that if Kanter's relentless campaign gains momentum and receives support or participation from just one other player on another team, the impact could be immediate.
China, meanwhile, denies all accusations of abuse against Uyghurs and other minority ethnics groups in the northwest.
While Celtics president of basketball operations Brad Stevens was quick to publicly back the star's freedom of expression, Kanter said in an interview with CNN's Christiane Amanpour on Wednesday that NBA Commissioner Adam Silver's support has come only in private, despite the association's previous support for the Black Lives Matter movement.
Kanter said he asked Silver to clarify his support. "He told me: 'Yes, we are supporting you against China.'"
"I don't know how much that is true," Kanter told Amanpour, "because, you know, if they were really supporting me, they would've put something out there." The NBA is not alone in its silence on China. Kanter has also called out Nike and some of his peers, who he feels should be voicing similar concerns.
"NBA made me do this," Kanter said, explaining that he was encouraged by the association's position on players' freedom of speech and their right to "talk about whatever they want to talk about."
"They give me this right. They told me to do this, basically," he added.
Kanter told Amanpour the NBA has assured him he is not in breach of any association rules or guidelines. He plans to continue his campaign against injustices so long as that's the case.
"People think I do politics. I don't do politics," he said. "I do human rights."