Which Countries Are Boycotting China's Winter Olympics? Full List
The Biden administration's decision this week to announce a diplomatic boycott of the upcoming Winter Olympics in Beijing has angered China and could trigger a snowball of similar actions by other major governments.
The United States and others have accused Beijing of carrying out policies amounting to genocide and crimes against humanity against millions of Uyghurs and other mainly Muslim minority groups living in northwest China. Discussions about the most appropriate response have been ongoing for months.
China is seeking to both discourage and preempt boycotts by warning against the "politicization of sport." It has also threatened unspecified "countermeasures" should anyone take the symbolic step to protest Beijing's actions during a sensitive period for the reputation and legitimacy of the Chinese leadership, including Chinese Communist Party General Secretary Xi Jinping, who will expect a successful Winter Games to propel him toward an unprecedented third term in office next fall.
Many capitals may opt-out of a coordinated diplomatic boycott for fear of embarrassing and therefore antagonizing the Chinese government; others may quietly downgrade their Olympic delegation and not send any senior representatives at all while choosing not to publicize the decision for similar reasons.
Here is the growing list of countries that are using Beijing 2022 to take a very public stand against the People's Republic of China's (PRC) controversial policies.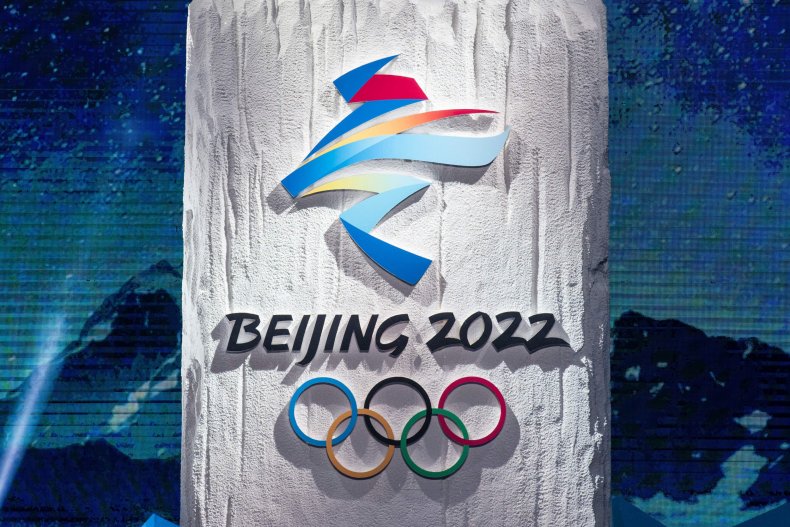 United States
The U.S.'s diplomatic boycott of the Beijing Games was officially confirmed by White House press secretary Jen Psaki on December 6.
"The Biden administration will not send any diplomatic or official representation to the Beijing 2022 Winter Olympics and Paralympic Games given the PRC's ongoing genocide and crimes against humanity in Xinjiang and other human rights abuses," Psaki said.
"U.S. diplomatic or official representation would treat these games as business as usual in the face of the PRC's egregious human rights abuses and atrocities in Xinjiang. And we simply can't do that."
The government-level boycott means it doesn't extend to athletes. Team USA has been clear about its desire for American sportspersons to compete in Beijing when the competition opens on February 4. Psaki said they would have the White House's "full support."
The idea of a diplomatic boycott is not new. It was floated as far back as May by House Speaker Nancy Pelosi, who riled Chinese officials with her suggestion at the time.
Following Psaki's confirmation, the State Department said it expected more countries to announce their decision "in the coming days and weeks." Meanwhile, the Chinese Foreign Ministry said the U.S. would "pay a price" for its decision.
Lithuania
The Baltic nation was technically the first to publicly confirm its intention to boycott Beijing 2022 at an official level. On December 3, Lithuanian President Gitanas Nauseda said neither he nor any of his ministers would be attending the Games.
The decision was expected. Vilnius and Beijing have been embroiled in a diplomatic spat since August, when Lithuania confirmed plans to allow Taiwan a de facto embassy in its capital, with a Lithuanian counterpart scheduled to open in Taipei in 2022.
When the officially unofficial Taiwanese Representative Office began its operations in Vilnius in November, China downgraded its diplomatic presence in Lithuania and ordered the European Union member state to do the same for its office in Beijing.
Lithuania is the first and only EU member to announce a diplomatic boycott so far.
New Zealand
New Zealand's quasi-diplomatic boycott was announced by Sport Minister Grant Robertson on December 7, when he told reporters none of Prime Minister Jacinda Ardern's cabinet members would be attending the Winter Olympics in China.
Robertson, who is also the country's deputy prime minister, was cautious with his reasoning. He said the decision was made after considering a "range of factors," chief among them logistical constraints associated with the ongoing COVID-19 pandemic.
He said the decision was relayed to the Chinese government in October, with New Zealand athletes expected to receive support from diplomatic staff.
Scotland
Scotland's Sport Minister Maree Todd confirmed the country's planned diplomatic boycott in a written response to Scottish parliamentarian Ross Greer on December 7.
Todd said: "The Scottish Government continues to be deeply concerned by reports of serious, widespread and systemic human rights abuses committed against members of the Uyghur and other minority ethnic communities in Xinjiang, as well as by China's overall record of human rights violations, including in Tibet and in Hong Kong."
No Scottish ministers or government officials will be present at the Olympics in Beijing next February, she said.
Australia
Australian Prime Minister Scott Morrison announced a diplomatic boycott of Beijing 2022 on December 8, saying the decision should come as "no surprise" given deteriorating relations with China beginning in spring 2020, when he called for an independent investigation into the origins of the coronavirus.
"I'm doing it because it's in Australia's national interest," said Morrison, who noted the boycott was a response to China's "human rights abuses" in Xinjiang as well as "many other issues" that have concerned Canberra.
In the hours following the prime minister's statement, China's Foreign Ministry said "no one cares" whether Australian officials attend the Winter Olympics next year.
United Kingdom
British Prime Minister Boris Johnson took two attempts to confirm the U.K.'s diplomatic boycott on December 8, but he did so while stressing his opposition to the action on both occasions.
In response to a question by former Conservative Party leader Iain Duncan Smith, Johnson told the House of Commons there would be "effectively a diplomatic boycott" of the Winter Olympics in Beijing. No ministers or officials are expected to attend, he said.
"The government has no hesitation in raising these issues with China, as I did with President Xi the last time I talked to him," the British prime minister said of China's human rights abuses. "I do not think that sporting boycotts are sensible, and that remains the policy of the government."
Earlier, Johnson was asked a similar question by the Scottish National Party's Westminster Deputy Leader Kirsten Oswald.
"We do not support sporting boycotts," he said, but added there were "no plans for ministers to attend."
Canada
Canadian Prime Minister Justin Trudeau announced Canada's diplomatic boycott of the upcoming Olympics on December 8, confirming that no federal government officials will attend the games.
Speaking to reporters in Ottawa, Trudeau said his administration is "extremely concerned" by the "repeated human rights violations carried out by the Chinese government."
"I don't think the decision by Canada or by many other countries to choose to not send diplomatic representation to the Beijing Olympics and Paralympics is going to come as a surprise to China," Trudeau said. "We have been very clear over the past many years of our deep concerns around human rights violations."
Trudeau added that Canadian athletes will still compete at the games.
"Our athletes have been training for years and are looking forward to competing at the highest level against athletes from around the world, and they will continue to have all of our fullest support as they show the extraordinary success that Canada has at Winter Olympic Games," the prime minister said. "They need to have one thing in mind and that's representing the country to the best of their ability and winning a gold medal for Canada."
The last time Canada pursued a full boycott of an Olympic Games was in 1980, when Trudeau's father, former Prime Minister Pierre Elliot Trudeau, blocked athletes from participating in Moscow's summer games to protest of the Soviet Union's invasion of Afghanistan.
Latvia
Latvia's President Egils Levits and his cabinet members will be skipping Beijing 2022, according to the country's public broadcaster LSM. A December 10 report cited the Latvian State Chancellery and Foreign Ministry.
Levits' spokesperson, Aiva Rozenberga, told LSM that the president's decision was due to "various circumstances," including the strict COVID-19 restrictions that are likely to remain in place throughout the Winter Olympics.
However, Riga will seek to maintain some distance between itself and the outright diplomatic boycott led by the U.S. Latvian Ambassador to China Maija Manika will attend the games, said LSM.
Estonia
Estonia's announcement of an effective diplomatic boycott on December 12 means all three Baltic states will not be sending senior government representatives to Beijing next February.
Newly elected Estonian President Alar Karis said in a recent television appearance that he would skip the Winter Games due to "political factors," according to national broadcaster ERR and daily newspaper Postimees.
ERR said Estonian Culture Minister Tiit Terik and his principal deputy, Culture Undersecretary Tarvi Pürn, have both received invitations to Beijing 2022, but there was no indication yet that either planned to attend.
Belgium
Belgium's diplomatic boycott of the Winter Games was confirmed by Prime Minister Alexander De Croo on December 14.
In response to a question from Belgian parliamentarian Samuel Cogolati, De Croo said: "The federal government does not intend to send any representation to the Beijing Winter Olympics."
Cogolati, a member of the environmentalist party Ecolo, tweeted the announcement alongside the hashtags #NoRightsNoShow and #Beijing2022, references to concerns over China's human rights record, which remain at the center of the growing boycott movement.
He was among 10 Europeans sanctioned by the Chinese government in March for his vocal criticism of Beijing's policies in Xinjiang.
Austria
Austria will join other governments in withholding high-level representation to Beijing 2022 next year but, like New Zealand, stresses that its decision is motivated by public health.
Austrian Chancellor Karl Nehammer told German newspaper Die Welt on December 14 that officials are skipping the games because of China's coronavirus measures.
"This is not a diplomatic protest or boycott, but only due to the fact that the COVID-19 requirements are high in China," said Nehammer, according to a report by the European news network Euractiv.
Vienna's opposition to a diplomatic boycott was expressed just two days earlier when Austrian Foreign Minister Alexander Schallenberg said: "We have a very clear stance when it comes to the human rights situation in China. However, I don't think it is reasonable to artificially let the Olympic Games become a political event."
He made the remarks ahead of an EU foreign ministers gathering, where he suggested a diplomatic boycott would be ineffective. Similar sentiments have been expressed by France and more recently Germany.
Japan
Japan announced its diplomatic boycott in all but name on December 24. Prime Minister Fumio Kishida, who previously said any decision would be based on Japan's own national interest, will not be dispatching any cabinet ministers or senior government officials, the Japan Times reported.
Although Kishida did not call the move a diplomatic boycott—he said the government "does not intend to use a specific phrase"—the decision did include a consideration of China's human rights condition and whether it was appropriate for Tokyo to call attention to it.
"Japan believes that it is important that the universal values of freedom, respect for basic human rights and the rule of law be guaranteed in China, and we have been working directly with the Chinese side at various levels to promote this position held by Japan," Kishida was quoted as saying.
"As the Tokyo Games have shown, the Olympic and Paralympic Games are a festival of peaceful sports that gives courage to the world," he said. "The Japanese government's response to the Beijing Games was based on its own judgment in a timely manner, taking these points into consideration."
Attending the games in Beijing are Japanese Olympic Committee President Yasuhiro Yamashita, Paralympic Committee President Kazuyuki Mori and senior lawmaker Seiko Hashimoto, who will be present in her capacity as the former president of the Tokyo 2020 Organizing Committee.
China's Foreign Ministry spokesperson Zhao Lijian said China welcomes the Japanese representatives.
"Japan and China agreed to support each other in hosting the Olympics," he said. "The Japanese side is hoped and urged to take concrete actions to honor its word in this regard and not politicize sport."
Tokyo's decision, especially its choice not to explicitly frame it as a boycott, will go halfway to please its allies in Washington as well as conservative lawmakers who were pressing the government for a firmer response.
Sweden
No Swedish government representatives will attend the Beijing 2022 Winter Olympics, but the country has joined a number of others to explicitly distance itself from the boycott.
Sweden's Sports Minister Anders Ygeman said the decision was related to the ongoing COVID-19 pandemic, and presumably the harsh quarantine restrictions in China.
"This is not a diplomatic boycott," Ygeman told Swedish press service TT on January 11.
Netherlands
The Dutch government announced its decision to join the U.S.-led diplomatic boycott on January 14, when a Foreign Ministry spokesperson told Reuters that no official delegation would travel for Beijing 2022.
In a statement sent to the news agency, Frits Kemperman cited both public health and human rights considerations.
"Because of the COVID-19 measures in place in China there would only be limited opportunities for [...] bilateral contacts with the host country where the Netherlands' great concern about the human rights situation could be discussed in a meaningful way," said Kemperman.
In February 2021, the Netherlands became the first European country to call China's policies in Xinjiang genocide, after its parliament passed a motion in support of Uyghurs and other minorities.
Denmark
Danish Foreign Minister Jeppe Kofod announced his country's diplomatic boycott of the Winter Olympics on January 15, shortly after other members of the EU failed to agree on a common line.
"It is no secret that we on the Danish side are very concerned about the human rights situation in China," Kofod told Denmark's news service Ritzau. Danish athletes can count on the government's full support—from home rather than from the stands in Beijing, he said.
Kofod said he had been clear about Denmark's concerns and had raised them with Chinese Foreign Minister Wang Yi when the pair met in the coastal province of Zhejiang in November 2021.
A number of EU's 27 member states will be sending representatives to the Winter Games in the Chinese capital. They include France—host of the 2024 Summer Olympics in Paris.
Kofod said Denmark had withheld its announcement while the bloc tried to find a common approach to the Beijing Games, but each member state is now making its own decision on a unilateral basis. An EU-wide diplomatic boycott would have been more effective, the official said.
Czech Republic
The Czech Republic's boycott of Beijing 2022 was confirmed by Foreign Minister Jan Lipavsky during a January 25 interview with broadcaster CT24, in which he said no members of the government wanted to attend.
"The Czech Republic does not support games," Lipavsky said. "I see major human rights violations in China in a number of areas, be it the situation in Xinjiang, the suppression of fundamental freedoms in Hong Kong, the coercive action against Taiwan or the state of human rights and the right to self-determination in Tibet."
The government's position may not be universally endorsed—Czech President Milos Zeman and Ambassador to China Vladimir Tomsik are both supportive of the games—but representation among officials already present in China would be up to the embassy, said Lipavsky.
The Czech Republic also is not unique in its internal disagreements regarding the Winter Olympics. The EU is split down the middle when it comes to nations that plan to send diplomats to the games. Finland and Poland will both ignore the boycott.
UPDATE 1/27/22 10:50 a.m. ET: This article was updated to include the Czech Republic.