Joe Biden's Olympics Boycott Ties China in Knots
China warned the United States on Tuesday it would "pay a price" for its decision to boycott Beijing 2022 at a diplomatic level due to ongoing human rights violations in the country.
The Joe Biden administration's decision—first reported in November by Washington Post columnist Josh Rogin and backed up this week by CNN's Kaitlan Collins—was confirmed by White House press secretary Jen Psaki on Monday.
"U.S. diplomatic or official representation would treat these Games as business as usual in the face of the PRC's egregious human rights abuses and atrocities in Xinjiang. And we simply can't do that," Psaki said, referencing the nation's official title, the People's Republic of China.
China's Foreign Ministry spokesperson Zhao Lijian told a regular press conference that China was "strongly dissatisfied and firmly opposes" the boycott, and would take "resolute countermeasures." Asked to elaborate, Zhao added: "The U.S. will pay a price for its wrongdoing. Wait and see."
His remarks continued several days of undecided and, at times, contradictory reactions to the anticipated U.S. diplomatic boycott of the Winter Olympics, which begin in less than two months next February 4.
On Monday, Zhao said American officials had not even been invited to attend Beijing 2022, but in a separate answer he added that foreign dignitaries are invited by each nation's respective National Olympic Committee—in this case, Team USA.
At the same press conference, Zhao said "no one would care whether these people come or not," following a question about Australia's consideration of similar action. A few minutes later, he said China had serious concerns about the "politicization of sport" and warned Beijing would respond if the U.S. "is bent on going down this path."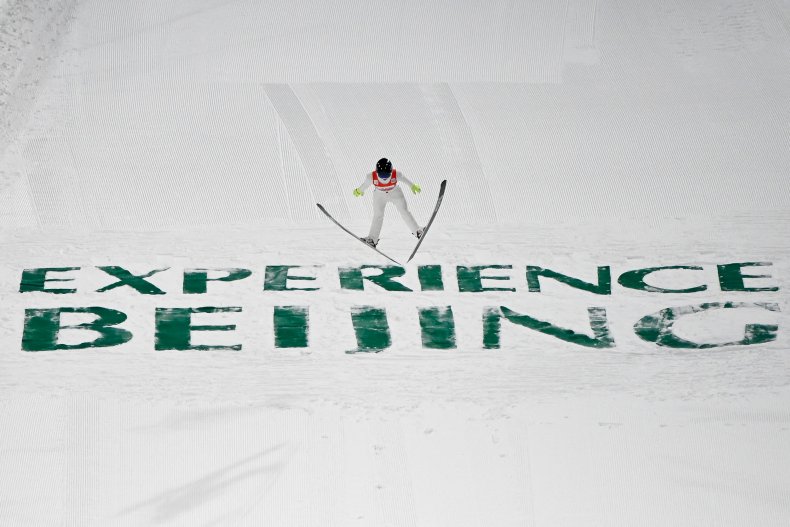 Discussions about a potential U.S. diplomatic boycott of Beijing 2022 have continued throughout the year, ever since Biden officials reaffirmed the Donald Trump administration's assessment that genocide and crimes against humanity were continuing against Uyghurs in Xinjiang.
With rights issues left unresolved, China now comes under increased scrutiny over its treatment of homegrown tennis star and former doubles world No. 1 Peng Shuai, who is herself a three-time Olympian. Her high-profile #MeToo case involving former Chinese Vice Premier Zhang Gaoli remains censored in China, while Peng herself has not spoken openly or freely since her original allegations on November 2.
With the U.S. having confirmed its decision not to attend the 2022 Winter Games at an official level, observers are awaiting what could be a snowball effect of similar government announcements.
Lithuania and New Zealand have confirmed that none of their officials will be attending Beijing 2022. Japan and Australian are among those considering a similar action. The U.K. said on Monday that "no decisions have yet been made" about government attendance, reported The Guardian.
Queried about the anticipated American response throughout the year, Secretary of State Antony Blinken said the U.S. would take coordinated action in concert with allies and partners.
On Monday, State Department spokesperson Ned Price said Olympic representation "is a sovereign decision that each country needs to make."
"We fully expect that other countries will announce their decision in the coming days and weeks," he added.