Leaked China Papers Show Xi Jinping's Role in Xinjiang Rights Atrocities
Hundreds of pages of confidential Chinese government documents have provided evidence of Xi Jinping's personal role in the ongoing human rights violations in Xinjiang, a leading scholar said on Tuesday.
Marked "top secret," the leak is a subset of the "Xinjiang papers" partially published by the New York Times in 2019, said German researcher Adrian Zenz. The latest 317 pages include statements by Xi himself, he added. It is likely the first time a top-classification disclosure has included addresses by a Chinese head of state.
In remarks dated April 30, 2014, Xi speaks during a tour of Xinjiang in northwestern China and tells cadres to prepare to "solve problems" in the region. According to Zenz's review of the papers, Xi and Chinese Premier Li Keqiang personally demanded controversial policies that were implemented in the mid-2010s.
These included the creation of a vast bureaucratic system, responsible first for a regionwide counterterrorism campaign in 2014 and then a re-education campaign in 2017, research has found. The documents show that the senior Chinese leadership was "behind nearly every aspect of the atrocities in Xinjiang," Zenz wrote on Twitter.
In another statement on May 28, 2014, Xi reported ordered: "Those who should be seized should be seized, and those who should be sentenced should be sentenced."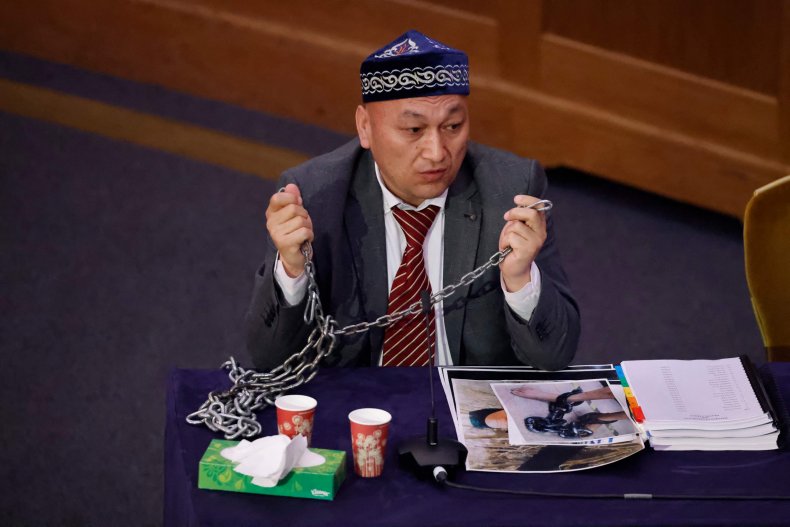 Millions of Uyghurs and other mainly Muslim minority ethnic groups have allegedly been subjected to mass internment, forced labor, birth control and extreme "sinicization" in the name of de-radicalization. Analysis by Zenz of official Xinjiang statistics and reports has shown China intends to "optimize" its Uyghur community through population control.
Beijing has continued to dismiss charges of wrongdoing in Xinjiang, describing accusations of rights abuses as the "lie of the century." Its denials have only grown firmer with the approach of the Beijing 2022 Winter Olympics, which the United States and other Western governments are expected to boycott at a diplomatic level.
Providing a personal link between Xi—general secretary of the Chinese Communist Party (CCP)—and the list of alleged violations in Xinjiang, the leaked papers "are set to revolutionize our understanding of how the atrocities evolved, and the relationship between Beijing and the regional authorities, including Chen Quanguo," Zenz said.
Chen was appointed Xinjiang's CCP secretary in 2016 and is thought to have personally overseen government-sanctioned re-education camps. He and three others were sanctioned by the U.S. under the Global Magnitsky Act in July 2020. In March, the European Union also sanctioned Chen, resulting in retaliatory measures against EU lawmakers and scholars including Zenz.
Zenz, who is a senior fellow in China studies at the non-profit Victims of Communism Memorial Foundation, said the top-secret documents were leaked to the U.K.-based Uyghur Tribunal in September. The tribunal, investigating and evaluating reports of genocide under the United Nations' Genocide Convention, approached Zenz to analyze and authenticate the papers, he said.
Three of 11 classified documents have already been translated and placed online. Zenz said the file was provided by "a person who wishes to remain anonymous," and that nothing further is known about their origin.
The Xinjiang papers could add weight to existing research that seeks to prove intent to commit genocide.