China Announces Counter-Sanctions Against U.S. Officials
China says it has imposed sanctions on U.S. government officials in retaliation for similar action taken against Chinese officials earlier this month.
Wang Wenbin, a spokesperson for the Chinese Foreign Ministry, did not name the American officials who had been blacklisted by Beijing, but said visa restrictions would be placed on those who had "concocted lies" about China's human rights record.
The sanctions were to "protect the legitimate rights and interests of Chinese officials," Wang said at a regular media briefing in China's capital on Thursday. The tit-for-tat move comes 10 days after Secretary of State Antony Blinken announced via the State Department punitive measures against individuals who the U.S. believed were responsible for human rights abuses and the suppression of religious freedom.
At a Foreign Ministry press conference on March 22, Wang demanded President Joe Biden's administration immediately lift the political sanctions, and threatened to "respond with countermeasures."
"The United States uses the pretext of so-called human rights issues to concoct malicious lies, and uses them as excuses to interfere in China's internal affairs, smear China's image and suppress Chinese officials," said Wang. "These actions have no moral bottom line and seriously violate international law and the basic norms of international relations. China firmly opposes this."
"In order to safeguard China's sovereignty, security and development interests, and to protect the legitimate rights and interests of Chinese officials [...] China has decided to impose reciprocal visa restrictions on U.S. officials who concocted lies on human rights issues involving China, advocated sanctions on China, and harmed China's interests," he said.
Beijing has pushed back hard against allegations of human rights violations leveled at China by the Trump and Biden administrations. This was also not the first time sanctions and counter-sanctions have been placed on Chinese and Americans over rights concerns.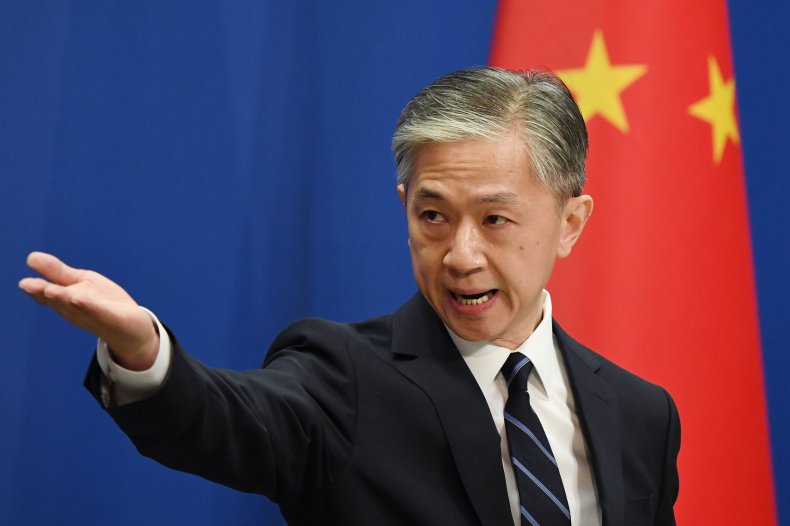 The U.S.'s foremost concerns relate to the Chinese government's policies in northwestern Xinjiang, a nominally autonomous region where researchers, rights groups and survivors say more than a million Uyghurs and members of other mainly Muslim-minority ethnic groups have been interned en masse as part of a years-long reeducation campaign overseen by the very top of China's leadership.
Amid reports of coerced labor and forced sterilization of Uyghur women, then Secretary of State Mike Pompeo declared China's policies to be genocide and crimes against humanity on his final day as head of the State Department, a determination later upheld by his successor, Blinken.
Beijing sanctioned Pompeo and other Trump administration officials as the presidential transition happened in January 2021.
Last week, Secretary Blinken accused China of efforts to "harass, intimidate, surveil and abduct members of ethnic and religious minority groups, including those who seek safety abroad, and U.S. citizens, who speak out on behalf of these vulnerable populations."
Visa restrictions were placed on Chinese officials "responsible for, or complicit in, policies or actions aimed at repressing religious and spiritual practitioners, members of ethnic minority groups, dissidents, human rights defenders, journalists, labor organizers, civil society organizers and peaceful protestors in China and beyond," he said.
"We again call on the [Chinese] government to cease its acts of transnational repression, including attempting to silence Uyghur American activists and other Uyghur individuals serving the American people by denying exit permission to their family members in China."
The State Department did not release the names the sanctioned individuals.