In a recent interview, an exiled doctor from the Uyghur ethnic minority provided a vivid account of forced sterilizations carried out in Xinjiang, China.
"On some days there were about 80 surgeries to carry out forced sterilizations," Gülgine, 47, said in an interview with The Sankei Shimbun, according to Japan Forward.
Gülgine was a gynecologist in China's autonomous Xinjiang region, which is largely popular by the Uyghur Muslim minority. The doctor, who left China for Istanbul in 2011, admitted her own role in the sterilization procedures at a hospital in Urumqi, the capital of Xinjiang.
"A lot of women were put on the back of a truck and sent to the hospital," Gülgine said. "The [sterilization] procedure took about five minutes each, but the women were crying because they did not know what was happening to them."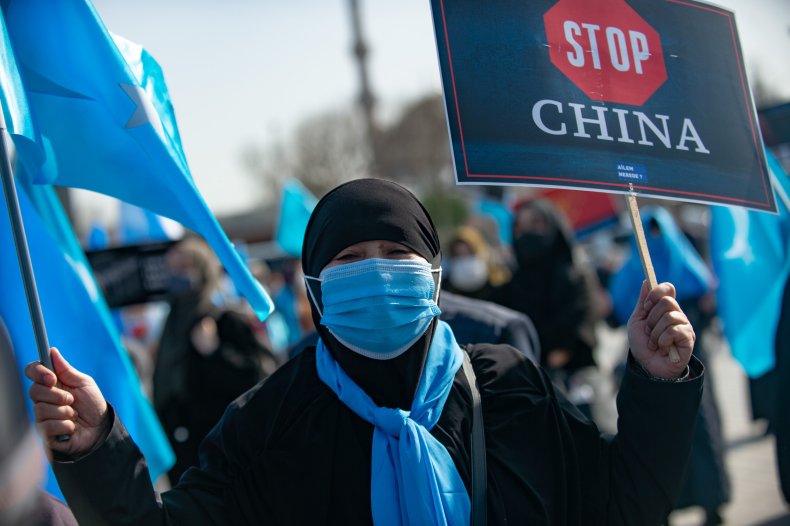 In the interview, which took place in Turkey, Gülgine showed intrauterine devices (IUDs) and said "these devices were inserted into women's wombs" as a method of forced infertility. The doctor-in-exile said she believes that China started the sterilization campaign in order to maintain the Uyghur population an official minority.
Gülgine added to reporters that forced sterilization has persisted in Xinjiang since around 1980, one year after China instated its "one child policy." But the number of women sterilized in the region has increased since 2014, according to Chinese government data cited by Japan Forward.
According to data from the China Statistical Yearbook cited in a report by Vox, the birthrate in Xianjing was cut in half from 2017 to 2019. As of 2017, about 3.12 million women were administered IUDs, which is about 60 percent of married women of childbearing age.
Further evidence is shown in a July 2020 report by Adrian Zenz, a leading scholar on China and a senior fellow at the Victims of Communism Memorial Foundation, who found that population growth rates fell by 84 percent in two of the largest Uyghur prefectures from 2015 to 2018. In that same time period, Xinjiang placed 7.8 times more net added IUDs per capita than the national average, Zenz found.
"By 2019, Xinjiang planned to subject at least 80 percent of women of childbearing age in the rural southern four minority prefectures to intrusive birth prevention surgeries (IUDs or sterilizations), with actual shares likely being much higher," Zenz wrote in the report.
One Uyghur region had a near-zero birth rate in 2020, which Zenz added "is intended to be achieved through 'family planning work.'"
Zenz also cited that the government has shown any violators of birth control methods are subject to punishment in "training camps." The scholar's report found that some regions in Xinjiang said birth control violations "came about due to the influence of extreme religious thinking" and should be "dealt with severely," while other regions issued fines for violations that were 3 to 8 times greater than the average annual disposable income.
China has denied accusations of the forced sterilizations, but U.S., the European Union and the international community have considered Beijing's methods in the region to be acts of genocide. In March, the U.S. announced sanctions against Chinese officials responsible for the oppression and violence toward the Uyghurs, "in response to serious human rights abuse against members of ethnic and religious minority groups in Xinjiang," Secretary of State Antony Blinken said.
Gülgine highlighted that it can be a dire situation for women who don't realize what's happening to them. These IUDs are designed in a way they can only be removed through surgery, Zenz found, and if left in the womb for a long time, the devices can cause infection or cancer, according to Japan Forward.
The doctor added that she has examined over 150 Uyghur women have since fled from Xinjiang to Turkey and consulted her because they cannot have children. She added that many of the women do not know they have been made infertile and some have responded angrily when they realize what has been committed against their bodies.
"I understood the meaning of the surgery, but I later learned that it was a policy for the Uyghur," she said, "and I too was sterilized."