China Censors Oscars Winners Chloé Zhao and 'Nomadland'
China's largest social media website worked overtime to quash discussions about Oscar-winning director Chloé Zhao and her Best Picture winner Nomadland on Sunday, following controversy over the filmmakers previous remarks about her homeland.
Chinese filmmaker Zhao, 39, became the first woman of color and only the second woman ever to win an Academy Award for Best Director, but celebrations on Weibo—China's Twitter-like microblogging service—were being muted almost as quickly as they were being posted.
Censorship on the website, which had more than 500 active monthly users as of last December, began less than an hour into Oscars night when Zhao made history by bagging the first of the event's big awards.
In her acceptance speech, Zhao mentioned her upbringing in China and quoted part of a classical Chinese text: "People at birth are inherently good."
"This is for anyone who has the faith and the courage to hold out to the goodness in themselves, and to hold out to the goodness in each other, no matter how difficult it is to do that," she said. "You inspire me to keep going."
Popular posts about her win for directing were deleted off Weibo with thousands of likes and comments. They included one by Chinese film magazine Kandianying—also known as Movie View—which was flooded with positive messages about the multiple-award-winning road movie and its director—only the second woman to be recognized in the category after Kathryn Bigelow won in 2010 for The Hurt Locker.
Despite being the first Asian and first Chinese-born Oscar-winning director, mentions of Zhao's award and Nomadland failed to trend even as Weibo was temporarily filled with countless related posts, which appeared to be systematically removed within minutes. Related phrases were forbidden from appearing on the platform's trending list, which, like on Twitter, shows users the most discussed topics.
Censorship of the film and its director continued throughout the ceremony, even resulting in the U.S. Consulate in Hong Kong and Macau quoting a post which was later removed.
The consulate's verified Weibo account wrote "Congratulations!" in Chinese—presumably in response to Nomadland's Best Picture win—but the embedded post was shown as having been "deleted by its author."
The U.S. Consulate in Hong Kong and Macau informed Newsweek that the retweet was originally from a clip video of Zhao's acceptance speech.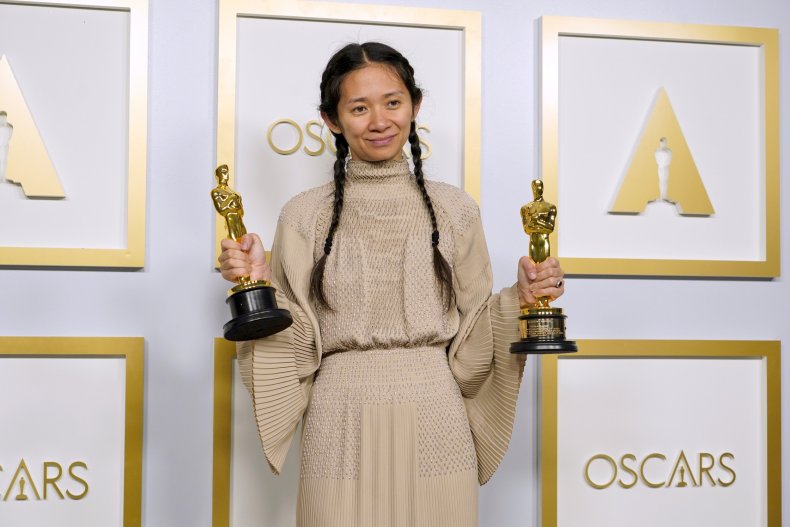 "Wuyizhidi," the Chinese title for Nomadland, remains among the censored hashtags on China's most popular social media site. Searches for phrases such as "Chloé Zhao wins Best Director" returned no results.
Weibo's hashtag #Oscars contained posts about other wins from the ceremony, but Beijing-born Zhao and Nomadland were notably absent.
Neither CCTV nor Xinhua, major Chinese state media outlets which reported Parasite's win at the 92nd annual awards last year, had failed to mention Zhao and Nomadland at the time of publication.
Zhao, who now resides in the United States, briefly trended on Weibo in late February and early March when she won Best Director and Nomadland landed Best Motion Picture, Drama, at the 78th Golden Globe Awards.
Less than a week later, however, she fell foul of internet censorship when Weibo users reposted comments she had made during a 2013 interview with New York's Filmmaker magazine.
Zhao, who moved to the U.K. and later the U.S., described China as "a place where there are lies everywhere."
The April 23 premier of Nomadland in Chinese cinemas was quietly canceled thereafter, leaving those in China having to use VPNs and other services to watch the movie online.
Frances McDormand, who plays the lead in Nomadland, won for Best Actress and claimed a second Oscar on the night as a producer on the Best Picture winner.