'Nomadland': The True Story Behind the Hulu Movie
Nomadland has spent the last few months racking up awards, with the central performance of Frances McDormand as a woman who goes out on the road after her husband died. Apart from McDormand, however, nearly everyone in the film (which is streaming now on Hulu) is a real person, playing a fictionalized version of themselves.
This is one of the many layers of true stories that combine to make the fictional Nomadland. As well as featuring people playing themselves, the film is also based on a non-fiction book by author Jessica Bruder, which depicts a group of mostly older people who have taken to the road to take up seasonal jobs following the Great Recession of the late 2000s.
Having real people play themselves has been central to Nomadland director Chloe Zhao's previous movies too (though this will probably not be the case with her upcoming Marvel film Eternals). In her previous movie The Rider, which was the film that persuaded McDormand to hire Zhao, for example, real-life rodeo star Brady Jandreau recreated his own story, which saw his career come to an end after a bronco stomped on his skull after Brady was thrown.
In Nomadland, however, her cast of real-life characters is deeper than ever before, with nearly all of the characters Fern (McDormand) meets along the way being played by real people.
In one scene, for example, Fern stumbles upon videos by Bob Wells, the founder of the CheapRVliving YouTube account that details how people can embrace a van-dwelling nomadic lifestyle. Wells is very much a real figure—you can visit his YouTube page now and see the videos that Fern watches in the movie.
Wells' Rubber Tramp Rendezvous that Fern visits to better understand nomadic life is a real event in Quartzsite, Arizona. The real RTR has grown from 45 attendees to over 10,000 in recent years, however, so the version that we see in Nomadland is on a smaller scale than the real thing.
Of the main cast of Nomadland's characters, there is only one other professional actor, with Good Night and Good Luck actor David Strathairn playing Fern's love interest Dave.
However, not all the events depicted in the film are real things that happened to the people in the film. The movie, for example, has some of its most moving scenes related to Swankie, who discusses her cancer diagnosis and how she has decided to stay out on the road rather than seek hospital treatment so as to die free. Towards the end of the film (spoiler alert), she does die, and her road family holds a memorial for her.
In reality, Swankie is still very much with us, and has been sharing her joy at the praise for her performance on her Facebook page as the movie (and her) have been nominated for multiple awards.
Even Fern's fictional backstory is based on real-life events. In the film, Fern has lived in Empire, Nevada, a town close to the Burning Man festival, for most of her life, a company town for the United States Gypsum Corporation. In 2011, the mine was closed, and Empire with it, turning it into a ghost town. The town's history in the film is all true.
What the film does not get too into, however, is that the town has partially reopened. In 2016, the Empire Mining Company had bought the town for around $11.4 million and had partially reopened it, with around two dozen people living there in 2016. We also sadly do not get to meet Tony Llama and Llama Bahama in the film, the two llamas that for a time were the only residents of the town, kept that to keep coyotes away from local livestock (per the Reno GazetteJournal.)
Per that Reno Gazette Journal article, the version of the town we see in Nomadland is very similar to how the movie depicts it. Empire Mining Co. president David Hornsby told the publication: "Some of the old mill offices, if you go over there, the calendar is still on that date, the day that it shut down in 2011. Still half-full coffee cups, all their files still on their desk. It's kind of like a bomb just went off and they all evacuated. It's pretty weird."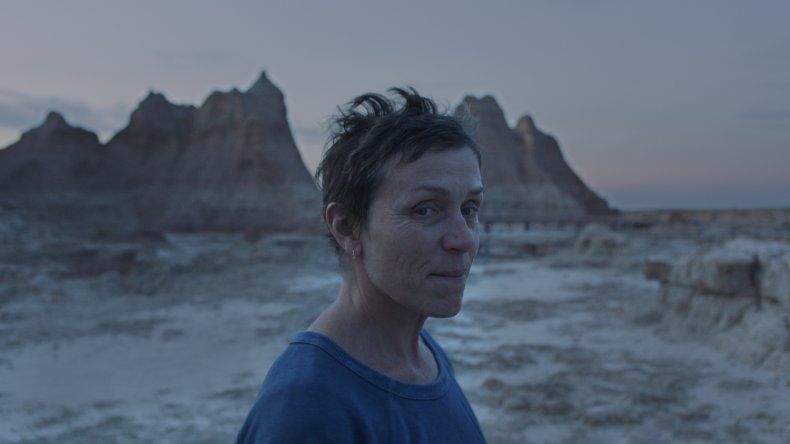 Asked by Sight & Sound about why she is drawn to using real people in her film, Zhao said: "I felt it was incredibly important for the van-dwellers to have a voice in the film. Jessica has done an incredible job in her book of documenting these really colorful characters with interesting life experiences and also the worlds they exist in. It's hard to recreate that kind of thing."
One of the most controversial elements of the movie, meanwhile, happens towards its start, when Fern takes a job in an Amazon warehouse, an experience that is portrayed almost wholly positively, in a way that is very different from the standard narrative of the company with its long hours and reported union-busting activities. Notably, Bruder's depiction of the company is harsher than that of the film too.
Asked about this at a Los Angeles drive-in screening of the film in September 2020, Zhao said: "I don't make films about politics. I like to present you the reality of the lives people live, and I like for you to take away your own interpretations."
This Q&A also revealed that even Fern as a character may have her root in real life, with McDormand noting she was based on a fantasy that the two-time Oscar winner had discussed with her husband, director Joel Coen.
McDormand said: "I told my husband when I was around 45 that when I turn 65, I was going to change my name to Fern, start smoking Lucky Strikes, drinking Wild Turkey, and hit the road in my RV. So I got to do that four years earlier, in a kind of a way."
Nomadland is streaming on Hulu now.