Bucha Mayor Says 403 Bodies Have Been Found as Putin Calls Killings 'Fake'
The mayor of Bucha, a Ukrainian town near the capital of Kyiv, said Tuesday that 403 bodies believed to have been killed by Russian forces have been found so far.
The claim, which was not immediately independently verified, came the same day that Russian President Vladimir Putin called the reported Bucha killings fake, according to a tweet from the AFP News Agency.
Bucha Mayor Anatoliy Fedoruk also said during a briefing that residents could not yet return to the town after the retreat of Russian troops in late March, Reuters reported.
Russia's actions in Bucha have drawn international condemnation and outrage amid reports of alleged mass killings, torture and other acts of violence by Russian forces in the city. Meanwhile, Russia has repeatedly denied killing or targeting civilians during the invasion, which Putin refers to as a "special military operation."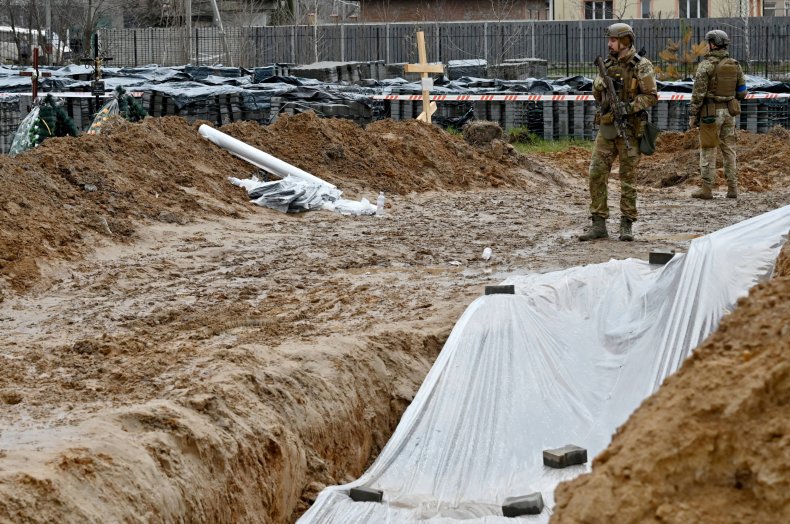 The Russian president has gone so far as to say that his country had "no other choice" but to invade Ukraine in what Russia has described as an effort to save people in the Donbas region, but other nations, organizations and leaders have refuted Russia's descriptions of its actions and intentions in Ukraine.
The United Nations Office of the High Commissioner for Human Rights reported that 1,892 civilians in Ukraine had been killed and another 2,558 had been injured as of April 11.
Russia's alleged actions in Bucha, which have reportedly included executions and using sexual violence as a war tactic, and elsewhere in Ukraine have sparked calls for Russia to be investigated and prosecuted for alleged war crimes.
Ukrainian President Volodymyr Zelensky decried the "concentrated evil" of Russian forces in an address earlier this month after the Bucha killings. President Joe Biden also called the events in Bucha "outrageous," adding that they could be considered "a war crime," Newsweek previously reported.
Putin, however, has pledged to continue his mission in Ukraine until Russia sees victory. While speaking at a news conference after a meeting with Belarusian President Alexander Lukashenko on Tuesday, Putin said that "there is no doubt that we will achieve our goals," Newsweek reported.
The goals of the military operation in Ukraine are "absolutely clear and noble," he said.
"On the one hand, we are helping and saving people, and on the other, we are simply taking measures to ensure the security of Russia itself," Putin added.
Newsweek reached out to Russia's Foreign Ministry and Ukraine's Foreign Ministry for comment.
Update 4/12/22, 4:00 p.m. ET: This story was updated with additional information and background.