This article contains details some might find upsetting.
Officials in Bucha have been able to identify 163 residents allegedly killed by Russian forces, about half of the total number of people found dead after the Russian occupation of the Ukrainian town, the city's mayor said.
"To date, we have been able to identify 163 of those killed," Bucha Mayor Anatoliy Fedoruk told the Voice of America in an interview.
"These are residents of our town who were cynically killed, brutally tortured by the Russians. We know their last names, first names, patronymics [father's names], where they lived, and who they were—fathers, sons, wives, in one family or another," said Fedoruk in the interview published on Friday.
The mayor noted that the figure represented half of the people allegedly killed by Russian forces in the town, located close to the Ukrainian capital of Kyiv.
Asked how many people were killed in Bucha, the mayor responded: "320 people."
Russia's withdrawal from northern Ukrainian towns it occupied after the February 24 invasion has exposed a series of alleged atrocities that Ukrainian officials have described as war crimes and genocide. The Kremlin on Monday denied any accusations connected to the killing of civilians in Bucha.
Fedoruk warned that it is "too early" for residents to return to Bucha.
"A significant percentage of the territory is still dangerous," he said.
Newsweek has contacted Russia's Ministry of Foreign Affairs for comment.
"Every day we find more and more bodies of the dead, in different parts of our city—in vegetable gardens, in park areas, in playgrounds," the mayor said.
The mayor didn't specify whether the remaining 157 people who were found dead were all residents of Bucha.
"We started going around the city [Bucha] on April 1. First, we walked to the railway crossing, looked at damaged houses, saw burned equipment," Fedoruk said, adding that when he and other officials approached an intersection, they saw 21 bodies of those who had been killed and tortured.
"And you could see that they had been lying for more than one day. Because dogs had already started eating some bodies," the mayor said.
Fedoruk alleged that Bucha officials found five "young people" in the town's Melniki district with their hands tied.
"There were a large number of people shot on the streets...people were shot with machine guns," the mayor added.
Newsweek has been unable to independently verify the mayor's claims.
Russian officials have pushed unsubstantiated claims that the alleged killings of civilians in Bucha had been staged by the Ukrainian government to justify more sanctions against Moscow.
The Kremlin has asserted that all Russian forces had left Bucha on March 30. Ukrainian troops said they recaptured the town on April 2.
Russia's ambassador to the U.S., Anatoly Antonov, has said that claims made about alleged Russian actions in Bucha could derail peace talks between Ukraine and Russia.
The United Nations' General Assembly voted Thursday to suspend Russia from the Human Rights Council. The move follows the accusations about war crimes and widespread killings of civilians committed by Russia in Ukraine, as well as a push by U.S. officials to remove Russia from the council.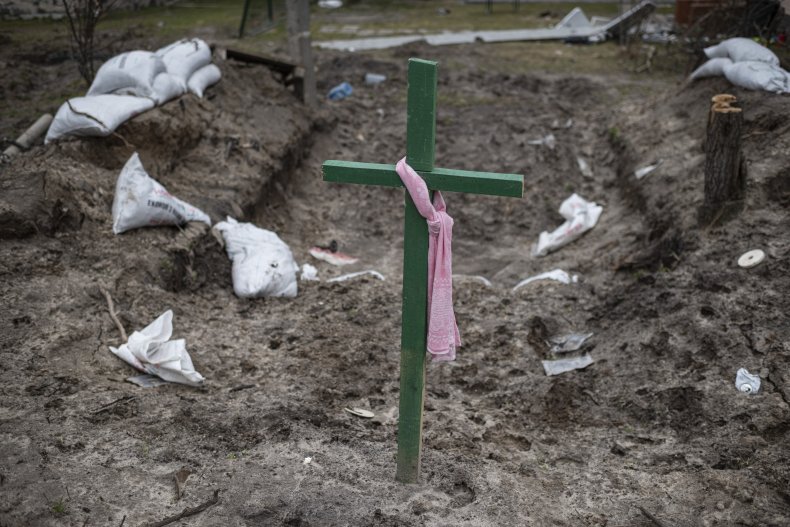 Update: 04/08/22, 6:20 a.m. ET: This article was updated with additional quotes and background information.