China Says Bucha Killings 'Deeply Disturbing,' Calls for Verification
China's envoy to the United Nations called reports from the Ukrainian city of Bucha "deeply disturbing," hinting at possible support for an independent investigation led by the world governing body.
"Under international humanitarian law, civilians should be spared of any forms of violence in armed conflicts. Attacks against civilians are unacceptable and should not occur," Chinese Ambassador Zhang Jun told the UN Security Council as it met for the 14th time since January 31 to discuss Ukraine.
Over the weekend, Ukrainian authorities reported the discovery of hundreds of dead civilians in Bucha, 15 miles northwest of Kyiv, once held by Russian troops. Reports of mass graves and summary executions have led to claims of war crimes, allegations denied by Moscow.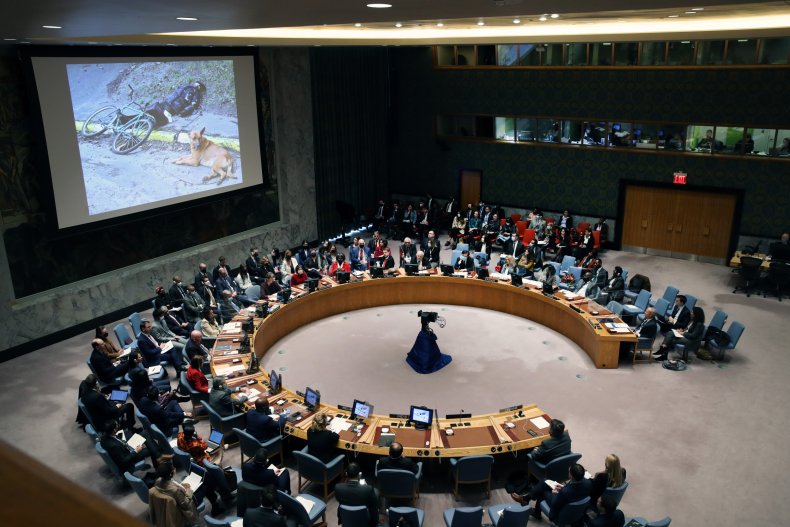 "The reports and images of civilian deaths in Bucha are deeply disturbing," Zhang told the Security Council, without assigning blame to Ukraine or Russia. "The relevant circumstances and specific causes of the incident should be verified and established. Any accusations should be based on facts. Before conclusions are drawn, all sides should exercise restraint and avoid unfounded accusations."
Beijing has so far resisted Western pressure to condemn Russia's invasion of Ukraine and continued to describe Moscow as a strategic partner.
At the top of the session in New York, UN chief António Guterres called for a probe into the Bucha killings, describing the scenes as "horrifying." "I'm also deeply shocked by the personal testimonies of rapes and sexual violence that now are emerging," he said.
Liz Throssell, a spokesperson for the UN's human rights office, said investigators were gathering evidence from Bucha, but that an assessment of war crimes had yet to be established.
The council's gathering featured a rare appearance by Volodymyr Zelensky, who aired images of dead civilians including children, and accused Russian soldiers of slaying whole families in the towns they had occupied. Ukraine's president called on the Security Council to remove Russia as a permanent member or "dissolve yourselves altogether."
U.S. Ambassador Linda Thomas-Greenfield announced she was seeking a UN General Assembly vote this week to suspend Russia from the Human Rights Council, a body on which China also sits. On March 2 and 24, the General Assembly voted overwhelmingly to condemn Russia's invasion of Ukraine and its part in creating a humanitarian crisis in the country.
Vassily Nebenzia, Russia's permanent representative, has had few backers on the council, and the scenes from Bucha appeared to lead to the hardening of several other delegations, including India's. Nebenzia repeated the Kremlin's version of events nonetheless, blaming the killings on Ukrainian radicals.
The UN Refugee Agency estimates more than 10 million Ukrainians have been uprooted by the six weeks of war. Around 4 million have fled the country, while the rest are internally displaced.
A Constant Theme
Apart from deploring the civilian deaths in Bucha, China's remarks at the UN followed two familiar themes—reprimanding the West for destabilizing the post-Cold War security environment in Europe, and opposing its sweeping sanctions against Russia.
Ambassador Zhang called the war in Ukraine "a geopolitical tragedy" that merited some reflection. "The sovereignty and territorial integrity of all countries should be respected. Small- and medium-sized countries should not be pushed to the forefront of confrontation between great powers."
"All countries have the right to decide their foreign policy independently, and should not be forced to take sides," said Zhang, before calling on the U.S., NATO and the European Union to negotiate with Russia—apparently without Ukraine—in order to resolve "differences accumulated over the years" and build a "sustainable regional security framework" to guarantee peace.
Without naming specific Western governments, Zhang likened the imposition of "indiscriminate sanctions" to "weaponizing the world economy." He warned of energy and food shortages as well as further supply chain disruptions.
"The vast number of developing countries are not parties to the conflict, and should not be involved in this confrontation, let alone be forced to bear the consequences of geopolitical conflicts and great power competition," he said, suggesting unfavorable spillover effects that would impact China, too.
On Wednesday, the morning after Zhang gave his remarks at the UN, the Chinese Communist Party's central newspaper, the People's Daily, published a column decrying America's "economic hegemony and financial terrorism" through sanctions.
It was the sixth installment in a series by "Zhong Sheng," the Chinese leadership's pen name when writing on international affairs. Since March 29, each page 3 column has framed the war in Ukraine as a result of U.S. hegemony.