China Omits Ukraine As It Backs Postwar Talks Between West and Russia
Beijing appeared to neglect Kyiv on Tuesday as President Xi Jinping backed a postwar settlement between the West and Russia but failed to mention Ukraine.
Xi spoke virtually with French President Emmanuel Macron and German Chancellor Olaf Scholz and described the developments in Ukraine as "worrisome," according to a Chinese Foreign Ministry readout of the call. China still isn't calling Russian President Vladimir Putin's military operation an "invasion," but the Chinese leader lamented "the outbreak of war again on the European continent."
In the most recent round of peace talks in Belarus, the Moscow delegation laid out terms including a formal commitment by Kyiv never to join NATO; Ukraine's recognition of Crimea as Russian territory and the separatist regions of Donetsk and Luhansk as independent states; and the cessation of all military resistance. Ukrainian President Volodymyr Zelensky said his country was "not prepared for ultimatums" but suggested solutions remained for territories in east Ukraine currently occupied by Russian forces.
During his three-way call, China's Xi told his Western counterparts that they needed to help promote "a balanced, effective and sustainable European security framework for the interests and lasting security of Europe." Expanding on the hypothetical postwar agreement, he said: "China would welcome equal dialogue between the European Union, Russia, the United States and NATO."
The statement out of Beijing seemed to strip Ukraine of all agency in the talks and was in sharp contrast with the West's pledge never to discuss Ukraine without Ukraine. China's language about a sustainable security framework in Europe was also a reference to Russia's demand that Ukraine never join NATO, an official nonaligned status was dropped by Kyiv following the Euromaidan demonstrations and Russia's annexation of Crimea in 2014, as well as its support for separatist movements in the Donbas.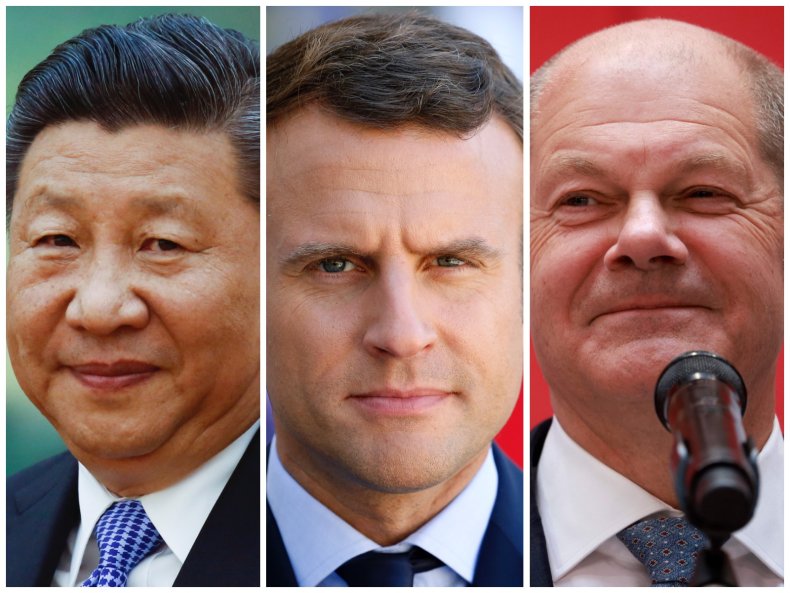 Nonalignment is among the concessions Zelensky is most likely to accept—but only if Putin doesn't ask for more. The EU is considering Ukraine's application as well as similar submissions by Moldova, southeast of Ukraine, and Georgia, which borders Russia and the Black Sea. There is every indication that Putin would be just as irked by Ukraine's bid to join the EU as he was Kyiv's lofty ambitions to become part of NATO.
Meanwhile, China continues to publicly back Moscow's "legitimate security concerns" with regard to NATO's presence in Eastern Europe, while expressing subtle hints of sympathy for Kyiv by referencing the Charter of the United Nations as well as respect for the sovereignty and territorial integrity of all nations. "All efforts that are conducive to the peaceful settlement of the crisis must be supported," Xi said.
He commended Macron and Scholz for their mediation efforts, and said Russia and Ukraine should "keep the talks going and bring about peaceful outcomes."
"We need to call for maximum restraint to prevent a massive humanitarian crisis," said Xi, before repeating Beijing's opposition to global sanctions, which threaten to crush Russia's economy but also could harm other countries caught up in the supply chains.
"Relevant sanctions will affect global finance, energy, transportation and stability of supply chains, and dampen the global economy that is already ravaged by the pandemic. This is in no one's interest," the Chinese leader said.
As the U.S. moved to ban Russian oil, natural gas and coal imports on Tuesday, President Joe Biden told the public that supporting Ukraine would entail sacrifices and costs. Polls show the majority of Americans are in favor of the additional sanctions, even if it meant paying more for gas.
Follow Newsweek's live blog for the latest on the Russia-Ukraine war.