Where Zelensky Is Open to 'Compromise' On Russia's 4 Demands to End War
Ukrainian President Volodymyr Zelensky won't accept Russia's demands for ending the war unconditionally, but he's open to trying to find a compromise that could include not pursuing NATO membership.
Joining NATO has been a foreign policy priority for Ukraine, but Zelensky seemed to imply to ABC News that Ukraine could be willing to negotiate on the issue. He acknowledged that NATO is not "ready to accept Ukraine" and that he has no plans to beg for admittance. However, Zelensky won't give in to every demand Russia has and so far, peace talks have yielded few results.
"I'm ready for a dialogue," Zelensky told ABC News. "We are not ready for that capitulation because it's not about me, this is about the people who elected me."
Russian officials put out four demands for Ukraine, many of which aren't surprising because they've been on Russia's wish list for years. To end the war, Ukraine must not pursue NATO or European Union membership, acknowledge Crimea as Russian territory and recognize the Lugansk and Donetsk regions as independent states.
Along with "cooling down" to the idea of joining NATO, Zelensky told ABC News that there's room for negotiating on the occupied territories and unrecognized republics. While Russia's pushed for international recognition of Crimea as part of Russia since its annexation in 2014, very few have gotten on board.
"They will recognize [Crimea] sooner or later. There is no way around it. But we are ready for the process to take a long time," Sergey Aksyonov, the head of Crimea, told TASS in December.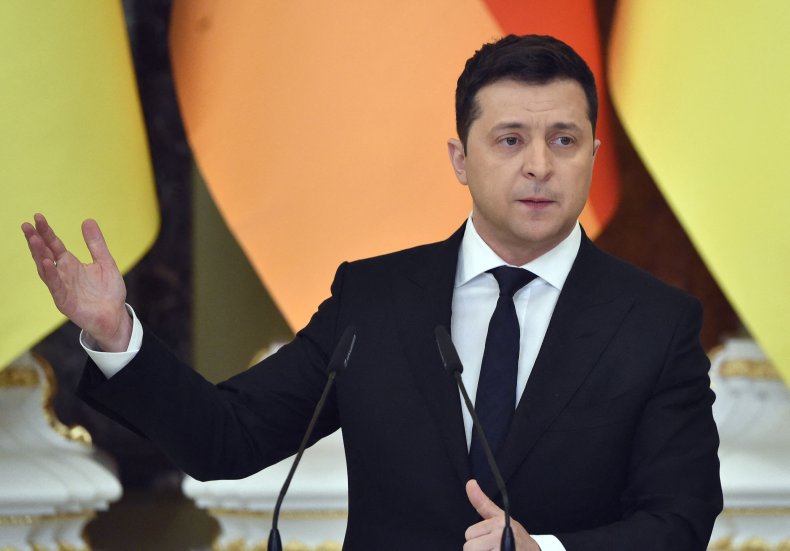 Crimea officially becoming part of Russia in the eyes of the world has been a Russian demand for years, but now, officials also want Ukraine to separate itself from two separatist areas of the Donbas. The area's been in a state of conflict for years as pro-Russian separatists fought with Ukrainian forces. Plus, ahead of Russia's recent invasion of Ukraine, Putin recognized Lugansk and Donetsk as independent states.
Zelensky told ABC News giving in to Russia's demands regarding the areas isn't as simple as it may seem. He said it's "important" for him as president to consider how the people in those territories will live, including those who want to be part of Ukraine.
Ahead of the invasion, Russia raised concerns about Ukraine's ability to join NATO. Officials saw it as a threat to Russian security and in issuing the demands, Dmitry Peskov, a Kremlin spokesperson, told Reuters Ukraine poses a greater threat to Russia than it did in 2014. He partially attributed the threat to Ukraine receiving military aid from other countries.
While Zelensky may accept giving up on NATO membership, giving up the military aid the country receives could put the country in a precarious position. Moreover, it's not just military support from other countries that Russia wants.
The fourth demand on the list is that Ukraine stops all military action. Peskov said Russia is committed to "finishing" the demilitarization of Ukraine and if Ukraine ceases its military, "then no one will shoot." However, it's unlikely Ukraine agrees to giving up its military because it's the main reason the country's been able to mount a resistance to Russian forces.
As the war between Ukraine and Russia rages on, Ukrainian officials have ramped up pleas to the rest of the world for more help. While the United States has provided weapons to Ukraine, they've stopped short of enacting the no-fly zone Zelensky has pushed for because it would constitute America entering the war.
When asked if he understood the position of the United States, Zelensky told ABC News that Ukraine is a "zone of freedom" and that if his country falls, other countries will be next.
"Everyone thinks we're far away from American and Canada," Zelensky said. "The more this beast eats, he wants more and more and more."
For live updates on the war in Ukraine, visit our live blog.