Ukrainians Left 'to Our Own Devices' in Russia War as No-Fly Zone Rejected
The world's thrown its support behind Ukraine in its war with Russia, but slow sanctions and a refusal to embed itself deeper into the war have left some Ukrainians feeling as if they're on their own.
"It's heartbreaking," Vitali Zubovich, a Ukrainian national who joined the territorial defense force, told Newsweek. "Our children are dying and we are left to our own devices. We need to close the sky to defend our women and children."
Ukrainian President Volodymyr Zelensky is pleading for countries to close the airspace over his country as Ukraine sustains a continued onslaught of airstrikes. The United States rejected the calls on the basis that it would mark America's entrance into the war, but the Biden administration and NATO allies are supplying tens of thousands of weapons to Ukraine in the hopes Ukrainian forces will be able to mount a strong enough defense.
Along with calling for more significant help from other countries, Zelensky urged Ukrainians to continue fighting back against Russian forces. The country has also reportedly received significant interest from foreigners looking to join Ukraine in the fight against Russia, leading to the creation of the International Legion of Territorial Defense.
One of those foreigners is Rob Grady, a 61-year-old man from Scotland, who served in the military in the 1970s and 1980s. He told Newsweek he felt Europe was "standing by doing nothing" and thought traveling to Ukraine to volunteer was the "right thing to do."
When he spoke to Newsweek he hadn't told his family of his plans to fight for Ukraine. They're going to go "ballistic" when they find out but he reasoned that he's a 61-year-old man and can make his own choices.
"I could walk across the road and get hit by a bus or die in my bed but I'm going to die here for Ukraine," Grady said.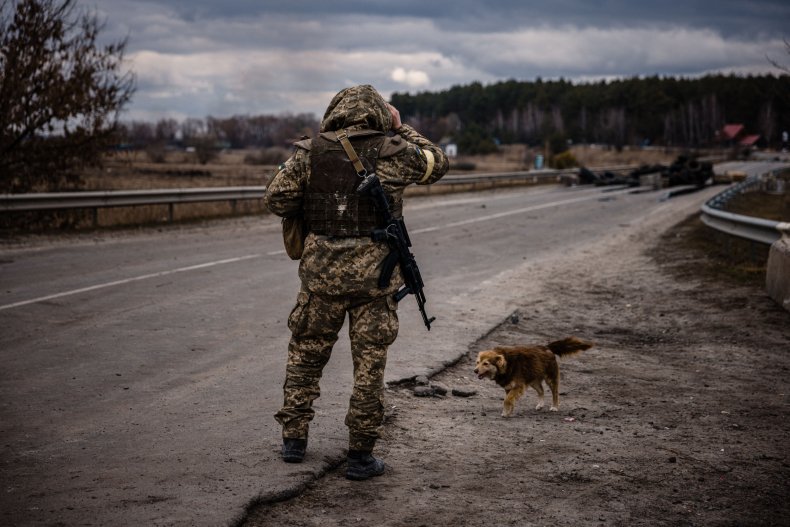 Russia's invasion of Ukraine on February 24 earned global condemnation, but pushback from western countries hasn't deterred Russian President Vladimir Putin from moving forward. Although Russian forces haven't had the success some believed they would, Putin's military has taken Kherson, a Ukrainian port city, and a nuclear power plant. For days, Ukrainians have been subjected to airstrikes that have killed thousands, according to the Ukrainian government, leveled buildings and made it dangerous for civilians to venture out for critical supplies.
Zubovich considers Russia's aerial capabilities one of their strongest advantages over Ukraine and the reason the country has suffered high losses. He vowed that if the West took away Russia's ability to attack from the air, they would come out "victorious," because Ukrainians plan to fight to the "very end."
Giving Zelensky the "no-fly zone" that he wants requires countries to implement it and the White House doesn't plan to be in that position under the current circumstances. During President Joe Biden's State of the Union address he gave a powerful speech praising the Ukrainian resistance but implied the U.S. wouldn't physically enter the war unless a NATO member state was attacked.
Thomas Knapp, an American who recently left Ukraine, told Newsweek the feeling he got from Ukrainians is that "nobody cares" about the country. "It's all alone," Knapp said.
While the United States won't put boots on the ground or shut down Ukraine's airspace, the Biden administration, along with NATO allies, sent more than 17,000 anti-tank weapons into Ukraine, according to The New York Times. Nearly 70 percent of a $350 million military aid package that Biden approved at the end of February was delivered in five days and Pentagon officials told The New York Times that American anti-tank missiles helped Ukrainians attack a miles-long convoy of Russian armor and supply trucks.
Along with providing weapons, the Biden administration and western countries have been putting sanctions after sanctions on Russia and those who appear to be close to Putin. However, they don't appear to be deterring Putin from continuing with the attack and some have warned sanctions move too slowly to be effective.
Ricky Cain, an American living in Ukraine, said he's found Ukrainians are "disappointed" with America's response to the Ukraine conflict and believe an ally "goes to war with you." From talking with Ukrainians, Cain said they feel it's been a bit of a "betrayal" from western countries.
Inan Sovsun, deputy leader of the Holos Party and a member of Ukraine's parliament, echoed the sentiment in an interview with the Independent. She said the country feels "abandoned by the West," and that there's a "feeling of betrayal."
"We are extremely disappointed with both the U.K. government and the American government...we were hoping for the sanctions to be more rapid and more overwhelming," Sovsun said.
Zelensky's warned that Ukraine falling to Russia puts all of Europe's fate in jeopardy and Zubovich said Ukraine's fight isn't just about Ukraine, it's about the "entire free world." He added that people often take freedom "for granted," but urged people around the world to appreciate the freedom they currently have because, as Russia's attack on Ukraine shows, it isn't guaranteed.
Secretary of State Antony Blinken told the BBC that Ukraine can "absolutely win against Russia," but some officials have warned that the window to help their forces may be closing. Zubovich is also putting his money on the Ukrainians, saying they won't roll over and give up their freedom without a strong fight, even if it leaves them with nothing to defend themselves but their kitchen knives.
"We can be on the losing end of this only if America just gives up," Zubovich said. "If the world just ignores our cries for help, then we can be decimated and destroyed."