Ukrainian President Volodymyr Zelensky's strategy for dealing with Russian President Vladimir Putin as Russia continues its invasion is winning over Ukrainians as more than 90 percent of residents support their president, according to a new poll.
Russia launched its assault on Ukraine last week, moving in troops and firing missiles at Ukraine's largest cities. Zelensky urged Ukrainians to fight back, offering weapons to anyone who's interested, and declined American offers to evacuate the country, telling American officials the country needs ammunition, "not a ride."
Ukrainians back the president's firm stance against Russia's aggression and commitment to defending the country. A new poll from Ratings Sociological Group found 91 percent of the 2,000 Ukrainians surveyed supported Zelensky's actions. Of that 91 percent, 59 percent fully supported Zelensky.
Only 6 percent disagreed with Zelensky's handling of the situation and 3 percent were unsure how they felt.
Zelensky's current level of support is higher than it's ever been since Ratings Sociological Group started polling Ukrainians about the president in May of 2019. It's also about three times higher than his approval rating was in December and about a 40-point jump from earlier in February.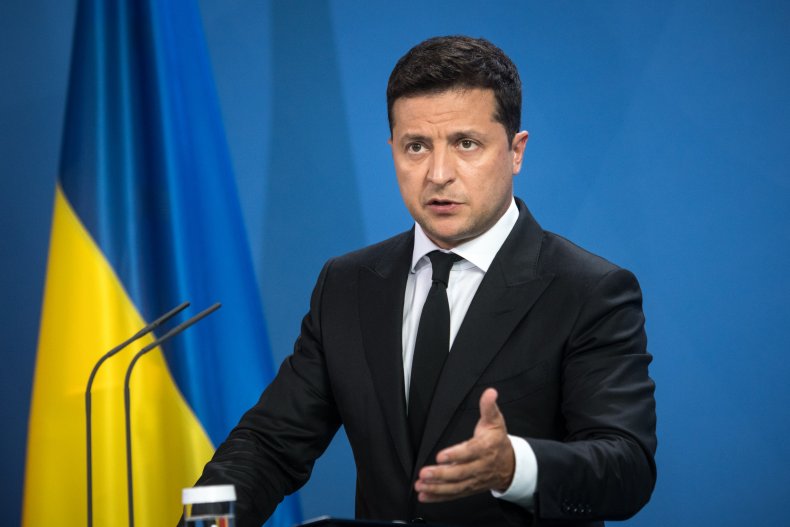 Russia largely stands alone in its attack on Ukraine with most of its allies and friendly countries either staying quiet on the topic or attempting to remain neutral by not outright praising the move. Only Belarus, so far, has fully backed Putin's assault on Ukraine, pledging troops to the mission if they're needed.
Despite Russia's military might making Ukraine the underdogs, the country has put up fierce resistance, hindering Russia's ability to take over. Putin's military has failed to make significant progress in the last two days, according to ABC News, and Russia's main force is struggling in its advance towards Kyiv, Ukraine's capital.
"When I planned to become president, I said that each of us is the president. Because we are all responsible for our state. For our beautiful Ukraine. And now it has happened that each of us is a warrior," Zelensky said in an address.
Oleg Sinegubov, mayor of Kharkiv, Ukraine's second-largest city, said on Sunday night that control over the city is "completely ours" and Ukrainian forces cleared the city of the "enemy." However, the assault might be far from over, and on Monday, rocket attacks killed dozens of people in the city, according to Anton Herashcenko, a Ukrainian interior ministry adviser. He added that "hundreds" were wounded.
Putin claims it has no intention of occupying the city, but last week, he asserted that Ukraine has no individual identity and that it was created "entirely" by Russia. He mentioned the era of Soviet Russia multiple times in his speech, indicating that he wants to return to the days when Russia's territory extended beyond its current borders.
On Monday, Russian and Ukrainian officials were slated to meet for peace talks. The Ukrainian president's office called for an "immediate ceasefire and withdrawal of troops from Ukraine," but it's unclear what resolution could present itself during the talks.
Follow our live blog for updates on the Russia-Ukraine conflict.