Russia-Ukraine War: Fifth Day of Fighting Continues With No End in Sight
Ukraine's UN Ambassador Compares Invasion to Start of WWII
The United Nations General Assembly met for a rare emergency special session Monday morning as Russia's invasion into Ukraine stretches into its fifth day.
It is the 11th time the United Nations has convened for an emergency session since 1950.
What did Ukraine say?
Ukraine's Ambassador to the United Nations Sergiy Kyslytsya compared Russia's invasion into Ukraine to the beginning of WWII.
"We have been prompted to call for an emergency special session as the level of the threat to the global security has been equated to that of the second World War, or even higher following Putin's order to put an alert Russian nuclear forces," Kyslytsya said. "What a madness."
"If [Putin] wants to kill himself, he doesn't need to use nuclear arsenal. He has to do what the guy in Berlin did in a bunker in May 1945."
Kyslytsya said as of Monday morning, it's estimated 352 Ukrainians, including 16 children, have been killed. He added more than 2,000 Ukrainians have been wounded and the number grows "nonstop."
He warned of future implications if the invasion isn't stopped now.
"If Ukraine does not survive, international peace will not survive," Kyslytsya said. "If Ukraine does not survive, the United Nations will not survive, have no illusions."
During his remarks, he switched to Russian, reading an emotional text message exchange between a Russian soldier and his mother.
What did Russia say?
Russian Ambassador to the United Nations Vasily Nebenzya made remarks following Kyslytsya, outlining various Russian actions being "distorted" and "thwarted" by Western media and social media.
He blamed current Ukrainian leadership and Western colleagues for the current situation.
He said the goal of the "special operation" is protecting people who have been "subject to torment and genocide by the Kyiv regime" for eight years. He reiterated the "need" to "demilitarize and denazify Ukraine."
"We constantly hear lies, fakes about indiscriminate shelling of Ukrainian cities, hospitals, schools, kindergartens," Nebenzya claimed.
"The Russian army does not pose a threat to the civilians of Ukraine, is not shelling civilians' areas and cities where Russian armed forces have taken control."
He warned Ukraine's membership into NATO would be a "red line."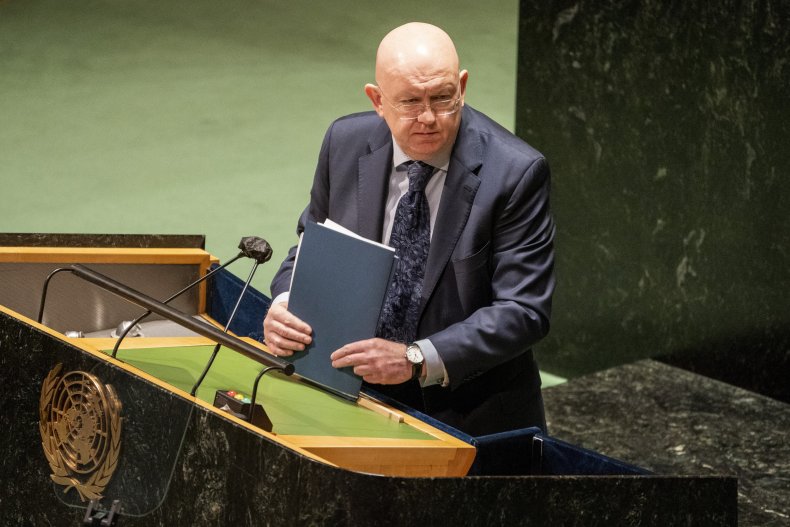 What did UN leaders say?
United Nations General Assembly President Abdulla Shahid called for an immediate ceasefire, saying the military offensive is inconsistent with the UN charter.
UN Secretary-General António Guterres echoed his statements, calling the escalating violence "totally unacceptable."
"We are facing a tragedy for Ukraine, but also a major regional crisis with potentially disastrous implications for us all, "UN Secretary-General António Guterres said.
"Yesterday, Russian nuclear forces were put on high alert. This is a chilling development. The mere idea of a nuclear conflict is simply inconceivable. Nothing can justify the use of nuclear weapons."
Guterres said he has appointed Amin Awad as the UN Crisis Coordinator for Ukraine.