A spokesperson for Russia's Ministry of Foreign Affairs said Friday that recently-announced sanctions to be imposed on Russian President Vladimir Putin and Russian Foreign Minister Sergei Lavrov show the West's "absolute impotence" with foreign policy.
Reuters first reported on the comments, citing Russian news agency RIA. The remarks from Ministry of Foreign Affairs spokesperson Maria Zakharova came before the U.S. announced Friday that it would sanction Putin and Lavrov directly following Russia's invasion of Ukraine.
However, the comments came after Britain announced it would impose sanctions on the two Russian leaders, Reuters reported.
"Neither Putin nor Lavrov have accounts in Britain or anywhere abroad," Zakharova said.
On Friday, the Biden administration joined the European Union and the United Kingdom in announcing plans to sanction Putin and Lavrov. White House Press Secretary Jen Psaki confirmed the decision during a press briefing Friday.
"Following a telephone conversation President Biden held with European Commission President Ursula von der Leyen, and in alignment with the decision by our European allies, the United States will join them in sanctioning President Putin and Foreign Minister Lavrov, and members of the Russian national security team," Psaki said.
On Thursday, Biden announced sweeping sanctions against Russia. But those measures did not include direct sanctions on Putin himself. The sanctions that were unveiled targeted four major Russian banks, as well as oligarchs and their families. They also cut off the nation from importing certain U.S. technologies.
"This is going to impose severe costs on the Russian economy, both immediately and over time," Biden said at the time. "We have purposely designed these sanctions to maximize the long term impact on Russia, and to minimize impact on the United States and our allies."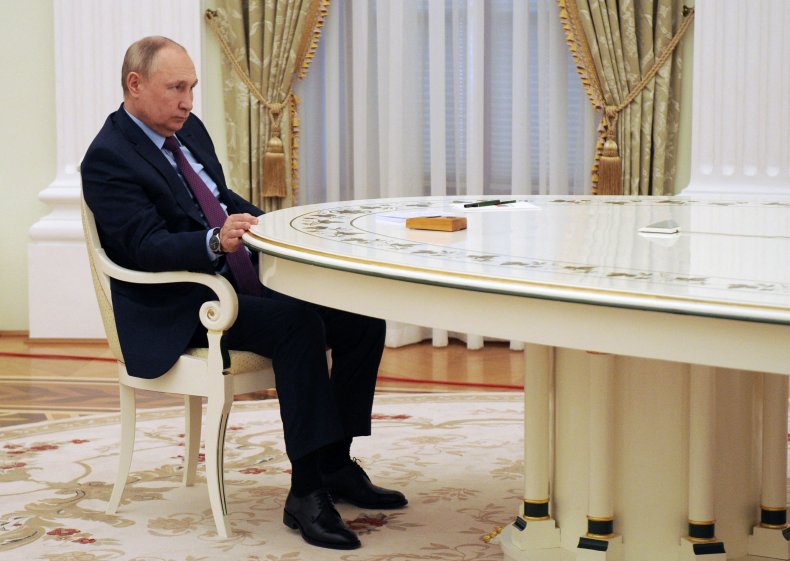 Biden faced some backlash Thursday, with some arguing that the sanctions could have been more severe.
"When it comes to sanctions against Putin—If we are NOT doing everything possible, we are NOT doing enough. Time is NOT on our side," Republican Senator Lindsey Graham tweeted at the time.
Democrat Adam Schiff, the chairman of the House Intelligence Committee, said he favored "going further."
In an address late Friday, as the Russian attack on Ukraine continues, Ukrainian President Volodymyr Zelenskyy warned Russian forces will attack Kyiv.
"The enemy will use all the forces at his disposal to break our resistance," he said. "Vile, harsh and not human. That night they will storm Kyiv. We all need to understand what awaits us. Tonight we must endure!" the president added.
Newsweek reached out to the White House for comment, but did not receive a response before publication on Friday evening.