U.S. Ban on Russian Oil Moves Ahead, Dealing Another Hit to Its Economy
President Joe Biden said Tuesday the U.S. will ban all Russian oil imports into the United States, effective immediately.
What the ban means, the president said, is that all ports throughout the U.S. will be ordered to turn away Russian oil imports, a move expected to further hurt Russia's economy. The ban will be exclusive to the U.S. but will heavily involve the input of European nations that are more dependent on Russian oil than the U.S.
Russian oil accounts for only around 8 percent of imports into the United States, or approximately 672,000 barrels per day. This same percentage makes up the amount of Russian oil that the United Kingdom imports. Despite this small percentage, the ban could induce other Western nations to ban Russian oil imports, which would inflict even greater economic harm on the country and lead to a possible economic collapse.
"We made this decision in close consultation with our allies and our partners around the world, particularly in Europe, because a united response to Putin's aggression has been my overriding focus to keep all NATO and all the EU and our allies totally united," Biden said.
"We're moving forward with this ban, understanding that many of our European allies and partners may not be in a position to join us," he added.
Meanwhile, the U.K. announced that it will be phasing out the import of Russian oil by the end of 2022.
The news of the expected announcement about a U.S. ban comes as gas prices throughout the United States are soaring, in part because of the Russian invasion of Ukraine. Meanwhile, a ban on Russian oil is favored by approximately 71 percent of Americans, according to a new poll by Quinnipiac University.
Ukrainian economist Oleg Ustenko said that a worldwide ban on oil and energy exports from Russia could be enough to stop further attacks on the country, according to Politico.
"The price [of sanctions] is going to be high at the very beginning," he said. "It's going to be a correction, and the price is going to be much lower in the medium term. In the long run, it's going to be only benefits for the whole world, and it's not just economic benefits."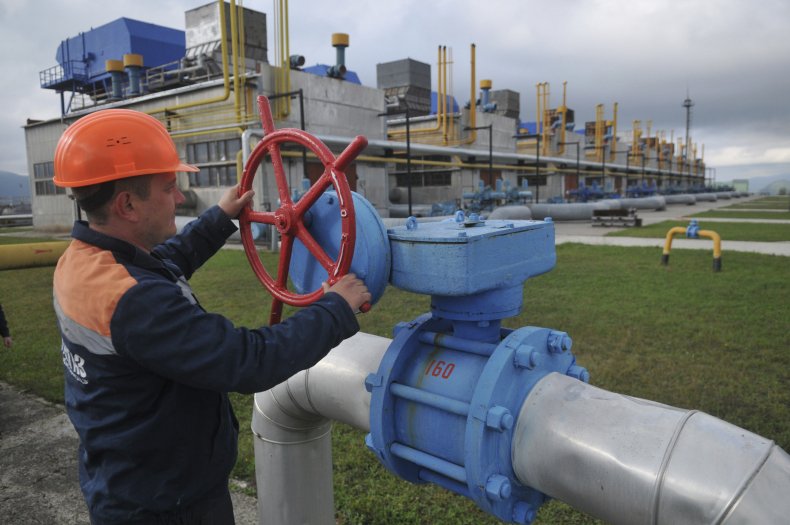 In his speech, Biden also touted the effectiveness of current bans and sanctions against Russia.
"[These sanctions have] caused the Russian economy to, quite frankly, crater," he said. "The Russian ruble is now down by 50 percent since Putin has announced his war. One ruble is now worth less than one American penny."
This economic damage could continue. Many economists doubt that the Russian economy can sustain itself for much longer, given the severe sanctions imposed by the West.
Oxford Economics' Gabriel Sterne recently told Newsweek that such sanctions and bans could result in such a limited oil market that only Russians would be buying the nation's oil. Given how important oil exports are to the country's economy, this could have a devastating effect.
"The only buyers would be Russian locals, who may accept interest payments in rubles," Sterne explained.
"This means financial humiliation for Russia, though given that the reason for default is that nobody is willing or able to hold its debt, probably the impact on the ability of its government or corporates to borrow overseas goes from nearly zero to slightly closer to zero," he added.
Update at 03/08/22, 11:59 a.m. ET: This story was updated with a confirmation of the ban.