Ukrainian President Volodymyr Zelensky said on Tuesday that Ukraine has "conclusive evidence" that Russia allegedly committed a massacre in Bucha, killing dozens of civilians.
While delivering a speech to the United Nations Security Council, Zelensky again accused Russian troops of committing war crimes in Bucha.
"It is 2022 now, we have conclusive evidence," he said.
Zelensky continued: "So, there are satellite images. We can conduct a full and transparent investigation."
The comments by Zelensky come as Ukrainian officials continue to accuse Russian military forces of committing war crimes and even "genocide" in Bucha, after Ukrainian troops retook control of Kyiv.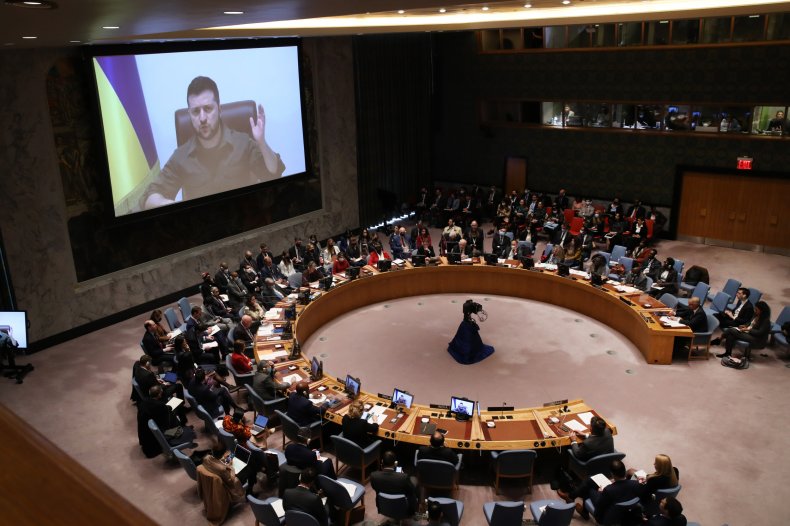 Over this past weekend, the Ukrainian Defense Ministry shared a graphic video on Twitter that appeared to show murdered civilians in Bucha. "*Local civillians were being executed arbitrarily*, some with hands tied behind their backs, their bodies scattered in the streets of the city," the tweet read.
During his speech to the U.N. Security Council on Tuesday, Zelesnky accused Russian military forces of committing similar crimes in several other cities, in addition to Bucha.
"Now the world can see what the Russian military did in Bucha while keeping the city under their occupation, but the world has yet to see what they have done in other occupied cities and regions of our country," Zelensky said.
He made similar comments in a speech to his nation in which he said: "At present, there is information about more than three hundred people killed and tortured in Bucha alone. It is likely that the list of victims will be much larger when the whole city is checked. And this is only one city."
"There is already information that the number of victims of the occupiers may be even higher in Borodyanka and some other liberated cities. In many villages of the liberated districts of the Kyiv, Chernihiv and Sumy regions, the occupiers did things that the locals had not seen even during the Nazi occupation 80 years ago. The occupiers will definitely bear responsibility for this," the Ukrainian president added.
Russian officials have continued to deny the accusations made by Ukraine, with Russian Foreign Minister Sergey Lavrov saying on Monday that the alleged incident in Bucha was "fake."
On Monday, U.S. President Joe Biden called Russian President Vladimir Putin "brutal" but the White House stopped short of calling the allegations regarding Bucha a genocide.
"We have seen war crimes. We have not yet seen the level of systematic deprivation of life of the Ukrainian people to rise to the level of genocide," White House national security advisor Jake Sullivan said.
Newsweek reached out to the ministries of foreign affairs in Ukraine and Russia for comment but did not receive a response in time for publication.