Russian Ambassador Blames Ukraine for Civilian Deaths in Bucha
Russia's ambassador to the United States, Anatoly Antonov, has denied allegations that Russian troops massacred civilians in Bucha, telling Newsweek that Ukraine is to blame for the casualties.
Residents of Bucha, a city northwest of the capital Kyiv, were "executed arbitrarily" while it was under Russian occupation, according to Ukrainian authorities.
Bucha was recaptured by Ukrainian troops late last week. Photos and videos have since emerged showing dead civilians strewn in the city's streets, with reports alleging that some civilians were shot with their hands tied behind their backs.
Ukraine's President Volodymyr Zelensky said the killings were evidence of genocide, an accusation that Russia has rejected. Meanwhile, world leaders have called for tougher sanctions on Moscow and for those responsible for war crimes in Ukraine to be punished.
As outrage grew, Antonov told Newsweek via email that the accusation that Russian troops were responsible for the mass killing of civilians in Bucha is "false."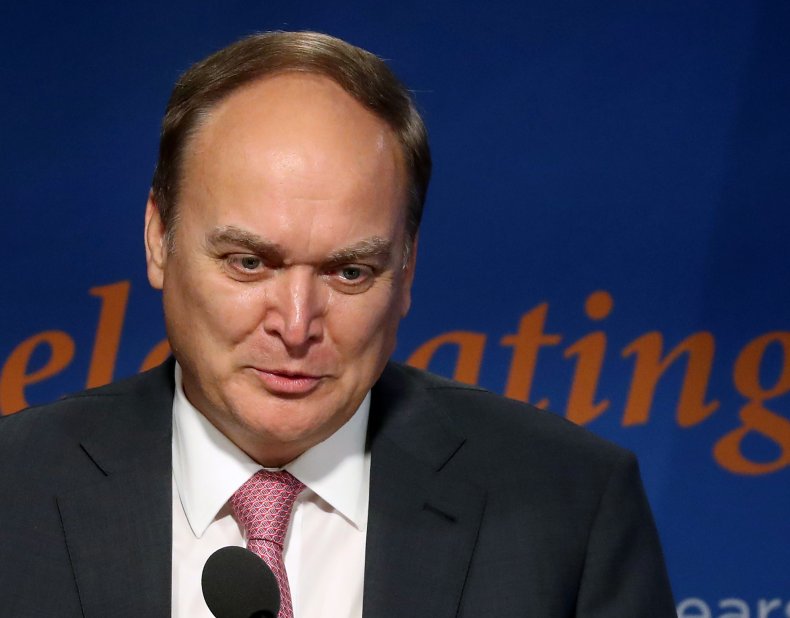 "Let me remind you that all Russian units withdrew completely from Bucha as early as March 30," he said. "All these days, the Ukrainian authorities have been remaining silent and now they suddenly show up with some sensational photos with a view to denigrating Russia and making our country give explanations."
Russia's Defense Ministry also issued a statement saying the photos and videos from Bucha were "another provocation" and a staged "production" by Kyiv.
Antonov echoed parts of the ministry's statement, saying "not a single local resident" was harmed while Bucha was under Russian control. "On the contrary, our military units delivered 452 tons of humanitarian aid to citizens," he said.
Antonov also alleged the United States "deliberately says no word about the fact that immediately after the withdrawal of Russian troops, the Ukrainian Armed Forces shelled the city of Bucha. This is what could have led to civilian casualties." Newsweek could not independently verify that claim.
Antonov added that it is "obvious" that Ukraine is "trying to shift the blame for all its atrocities to Russia." Russia has asked for a meeting of the U.N. Security Council on Monday to discuss the events in Bucha.
U.S. and Ukrainian authorities have been contacted for comment.
U.S. Secretary of State Antony Blinken called the images from Bucha "a punch to the gut" on CNN's State of Union on Sunday.
"We have said before Russia's aggression that we thought it was likely that they would commit atrocities," he said. "Since the aggression, we have come out and said that we believe that Russian forces have committed war crimes."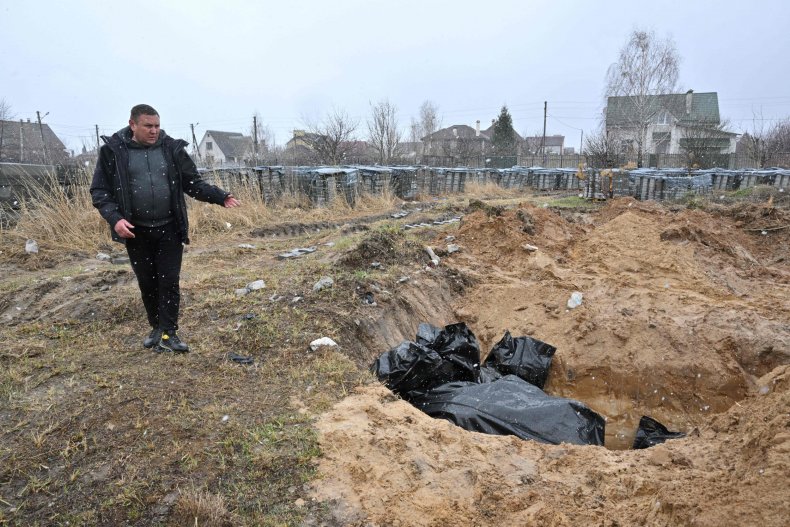 Blinken added: "We will look hard and document everything that we see, put it all together, make sure that the relevant institutions and organizations that are looking at this, including the State Department, have everything they need to assess exactly what took place in Ukraine, who's responsible and what it amounts to."
Russia has previously denied that civilians have been targeted since Russian President Vladimir Putin ordered Russian troops into Ukraine on February 24 for what he described as a "special military operation" to "demilitarize" and "de-Nazify" the country.
But Human Rights Watch said in a recent report that it had documented numerous cases of war crimes, including rape and executions, carried out by Russian soldiers in Ukraine.