Zelensky Praises Biden for Calling 'Genocide' by Its Name
Ukrainian President Volodymyr Zelensky has praised President Joe Biden for accusing the Russian military of committing "genocide" in Ukraine.
Biden described the Russian invasion as a genocide for the first time during a speech in Iowa on Tuesday, while also referring to Russian President Vladimir Putin as a "dictator." A short time later, Zelensky praised Biden as a "true leader" on Twitter, stressing the importance of "calling things by their names" and appealing for additional U.S. military support.
"True words of a true leader @POTUS," Zelensky tweeted. "Calling things by their names is essential to stand up to evil. We are grateful for US assistance provided so far and we urgently need more heavy weapons to prevent further Russian atrocities."
Biden made the genocide remark during an event in Menlo, Iowa, announcing new initiatives to lower the cost of energy, which has risen sharply following the Russian attack. Biden referred to a "Putin price hike," a term that the president and his allies have recently used repeatedly in reference to the increasing cost of gasoline.
"Your family budget, your ability to fill up your tank—none of it should hinge on whether a dictator declares war and commits genocide a half a world away," Biden said.
"To help deal with this Putin price hike, I've authorized the release of 1 million barrels per day for the next six months from our strategic petroleum reserves," he continued. "This is by far the largest release of our national reserve in history."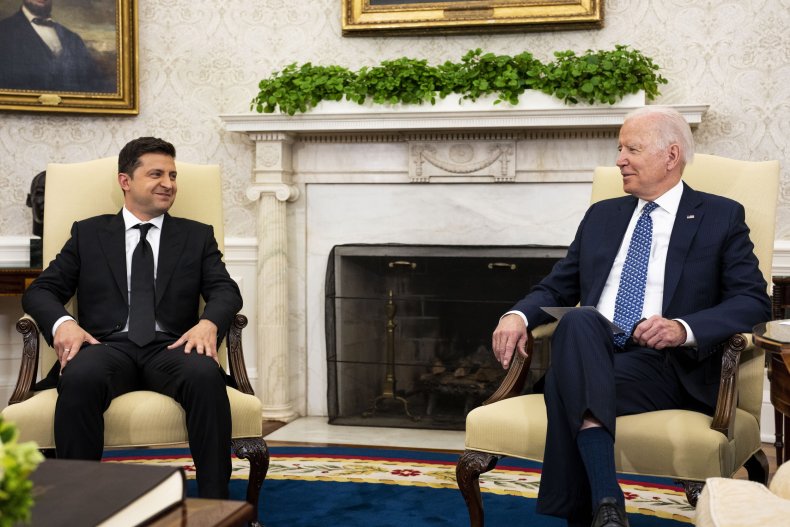 Biden has previously called Putin a "war criminal," while he and other U.S. officials have accused Russia of war crimes by deliberately targeting civilians in Ukraine. However, the president's remarks on Tuesday marked an escalation in the rhetoric directed toward Russia.
During an April 4 press briefing, White House National Security Adviser Jake Sullivan stressed that the U.S. had "not yet seen a level of systematic deprivation of life of the Ukrainian people to rise to the level of genocide," before adding that the government would "continue to monitor" the situation.
The term "genocide" was developed to describe Nazi Germany's attempt to exterminate Jews in Europe during the Holocaust. The United Nations Office on Genocide Prevention and the Responsibility to Protect defines the term as actions that are taken with the "intent to destroy, in whole or in part, a national, ethnical, racial or religious group."
Others who have used the term in reference to alleged crimes by the Russian military include Kyiv Mayor Vitali Klitschko, who said that "what happened in Bucha and other suburbs of Kyiv can only be described as genocide" during an interview with the the German newspaper BILD earlier this month.
Holocaust expert Eugene Finkel, the author of Ordinary Jews: Choice and Survival During the Holocaust, told Newsweek last week that he was "a firm believer that we are dealing with a genocide" in Ukraine.
Despite a steady stream of reported atrocities, Russia has repeatedly denied directing targeting civilians. Last month, a Kremlin spokesperson said that Biden's labeling of Putin as a "war criminal" was "unacceptable and unforgivable."
Newsweek reached out to the White House and the Embassy of Russia in Washington, D.C., for comment.