Mariupol Civilian Death Count Could Surpass 20,000, Mayor Says
The mayor of the besieged city of Mariupol said the number of civilians killed could surpass 20,000 since Russia invaded Ukraine, calling the number of casualties "genocide."
In a televised address, Mariupol Mayor Vadym Boichenko said it's been difficult to calculate the exact number of casualties since the war began nearly 50 days ago, but his latest estimate was about 21,000 civilian deaths.
"We know and there is evidence that bodies disappear from the streets," Boichenko said according to Aljazeera. "We know that there are so-called 'concentration places' where they hide bodies and they then plan to destroy the evidence of tortures they committed in the city of Mariupol. We call it 'genocide', we call it 'war crime.'"
Head of Donetsk regional military administration Pavlo Kyrylenko spoke to CNN on Tuesday backing up the mayor's estimate.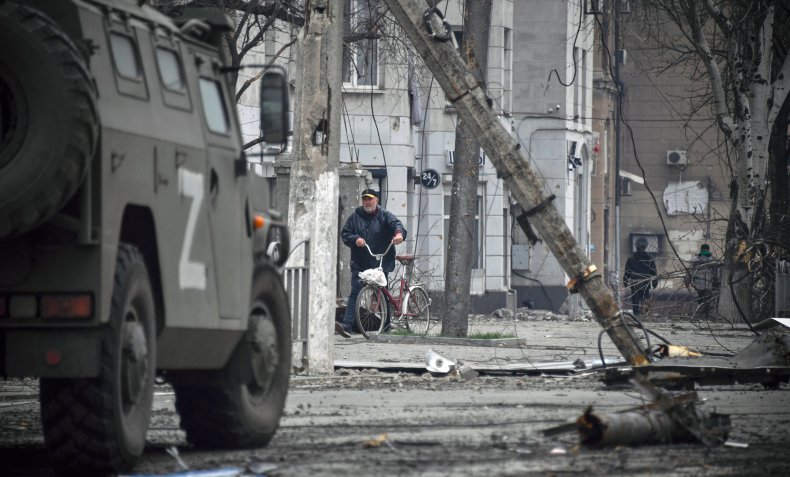 "The Mariupol situation makes it difficult to comment on the number of casualties, the city is under siege and blockaded," Kyrylenko said. "We are currently discussing 20,000 to 22,000 people dead in Mariupol."
However, the United Nations is reporting a much lower number than Ukraine officials. As of April 12, the Office of the UN High Commissioner for Human Rights (OHCHR) reports that 1,892 Ukrainian civilians have been killed in the country, and 2,558 injured.
"OHCHR believes that the actual figures are considerably higher, as the receipt of information from some locations where intense hostilities have been going on has been delayed and many reports are still pending corroboration," the agency said.
Kyrylenko also commented on a possible chemical attack in Mariupol the day before, which has yet to be confirmed by the Pentagon. On Monday, Ukrainian officials claimed that Russians dispersed "a poisonous substance of unknown origin" in the city, describing victims as having "respiratory failure."
"We know that last night around midnight, a drone dropped some so-far-unknown explosive device, people who were in the area in and around the Mariupol metallurgical plant, three people began to feel unwell," Kyrylenko said according to Ukrainian news agency UNIAN.
"What we have heard was that there were three people who were affected, taken to hospital, given medical assistance, at the moment their lives were not in danger," he continued.
Pentagon Press Secretary John Kirby said U.S. officials are aware of the claims but have not been able to confirm the alleged chemical attack.
"We are aware of social media reports which claim Russian forces deployed a potential chemical munition in Mariupol, Ukraine," Kirby said in a statement Monday evening. "These reports, if true, are deeply concerning and reflective of concerns that we have had about Russia's potential to use a variety of riot control agents, including tear gas mixed with chemical agents, in Ukraine."
Newsweek reached out to the Ukrainian Embassy and Russian Federation for comment.