More mass graves containing the bodies of Ukrainian civilians have been discovered in the Bucha region, officials said Thursday. The news came as Russia was accused of burying up to 9,000 Ukrainian civilians in the besieged city of Mariupol.
The Kyiv Region Police released images on social media Thursday, saying officials discovered two mass graves in the town of Borodyanka, in the region where Russian forces have been accused of killing hundreds. The Kremlin has denied all accusations that it has targeted civilians.
The two mass graves were inspected by Kyiv Region Police Chief Andriy Nebytov, forensic scientists and investigators, according to a police statement accompanying the photographs.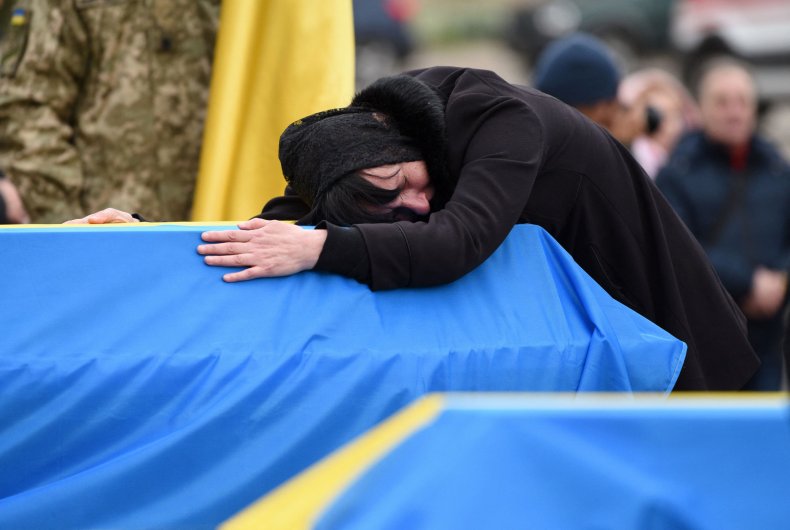 The body of a 15-year-old girl, a Ukrainian citizen, was found in one of the mass graves beside the bodies of two 35-year-old Ukrainian troops. In the other, local law enforcement officers found the bodies of four men and two women, of which four of the victims were identified as residents, the post said.
Nebytov said the bodies of some of the victims showed signs of being tortured.
"These people were killed by the aggressors, and there are signs of torture on some of the victims," he said in a statement. "I want to emphasize that these people were civilians."
He accused Russian military personnel of deliberately shooting dead civilians "who offered no resistance and posed no threat."
Kyiv Region Police said in its post that the bodies found in the two mass graves were transported to local morgues for further examination. The bodies that are identified will be given to relatives for burial, the post said.
Newsweek has been unable to independently verify the claims.
The news comes after the mayor of Bucha, a Ukrainian town near the capital of Kyiv, said on April 12 that officials had found the bodies of 403 people believed to have been killed by Russian forces.
On the same day, Russian President Vladimir Putin claimed during a press briefing with his Belarusian counterpart Alexander Lukashenko that the images of dead bodies in Bucha were "fake."
Elsewhere, near the besieged city of Mariupol, satellite images released Thursday appear to show mass graves, as local officials accused Russian forces of burying up to 9,000 Ukrainian civilians in the region.
Maxar Technologies, a satellite image provider, released the images, saying that they appear to show more than 200 mass graves in the town of Manhush, near Mariupol,
Russians are "hiding their military crimes" by burying the bodies of civilians in the town, Mariupol Mayor Vadym Boychenko charged.
Mariupol is a strategic port city on the Azov Sea that would provide a land corridor to Crimea, which the Kremlin annexed from Ukraine in 2014.
Newsweek contacted Russian authorities for comment.